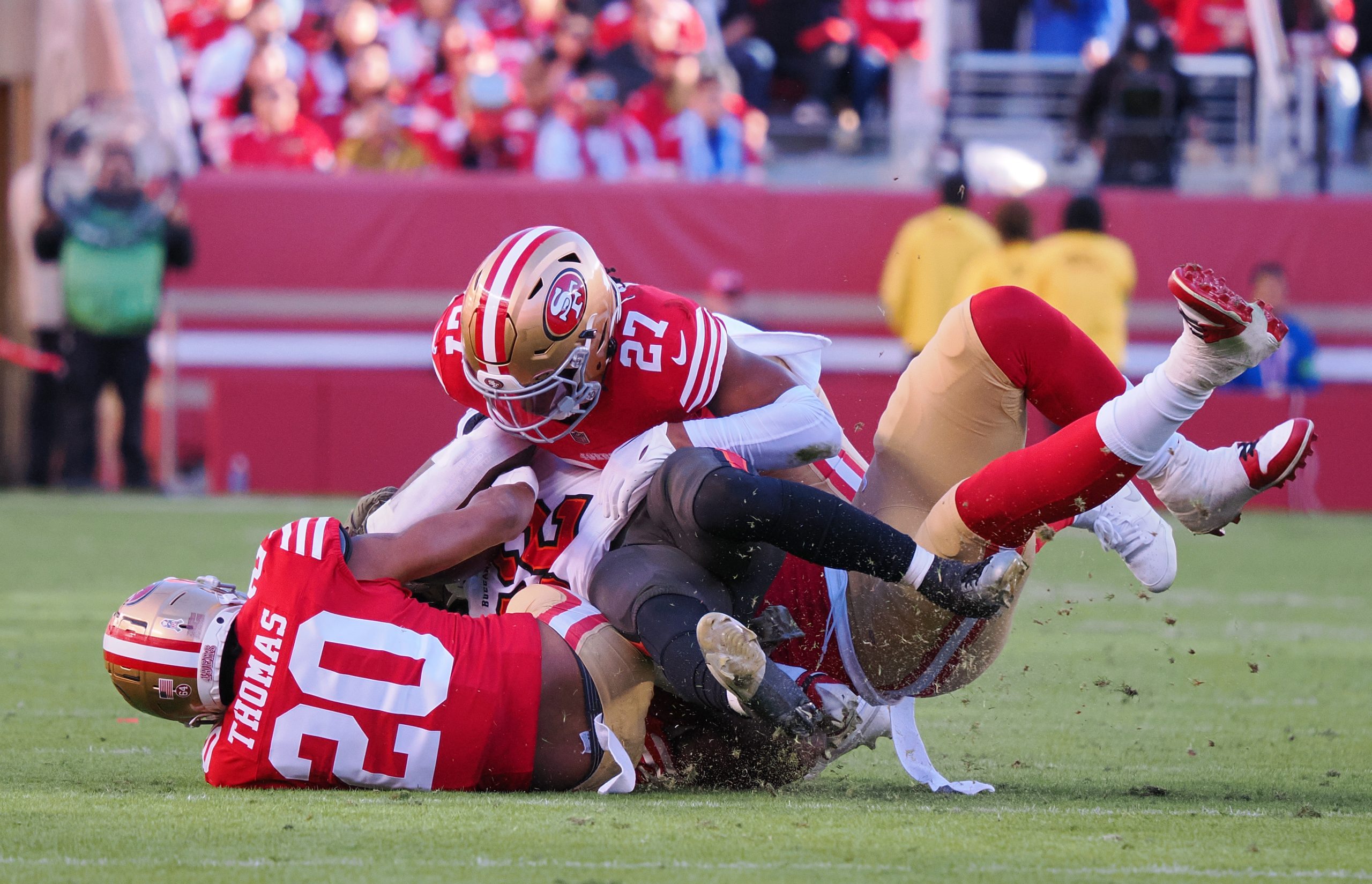 The 49ers, at least for now, have figured out their cornerback situation. For the second consecutive game Sunday vs. the Buccaneers their defense looked like one of the league's top units. Their turnaround after the bye week has coincided with Ambry Thomas' insertion into the starting lineup as an outside cornerback with Deommodore Lenoir moving down into the slot.
Thomas was very good again Sunday against Tampa Bay, allowing three catches for 16 yards on five targets. He did allow a touchdown to WR Mike Evans, but Evans is an exceedingly tough cover in the confines of the deep red zone. Beyond that small hiccup Thomas was good for the second consecutive week.
Down in the slot Lenoir was also terrific. After an up-and-down game vs. Jacksonville, Lenoir held Tampa Bay's receivers to two catches and 14 yards on three targets per Pro Football Focus. He also tallied a pass breakup vs. Evans on the first snap of the game.
For his part, Isaiah Oliver played one snap when Charvarius Ward got hurt in the fourth quarter. Oliver got home on a blitz and was credited for a pressure and a QB hit on a fourth-down incompletion that was broken up by rookie safety Ji'Ayir Brown. For now though it appears Oliver's role will be limited to backup duty as long as Thomas and Lenoir keep playing at a high level.
San Francisco's pass rush is going to be the tip of the team's defensive spear, but that pass rush is reliant on at least average coverage in the back end. If Thomas, Lenoir and Ward continue playing well at the corner spots, the 49ers might have the NFL's best defense heading into January.
Share This Story, Choose Your Platform!