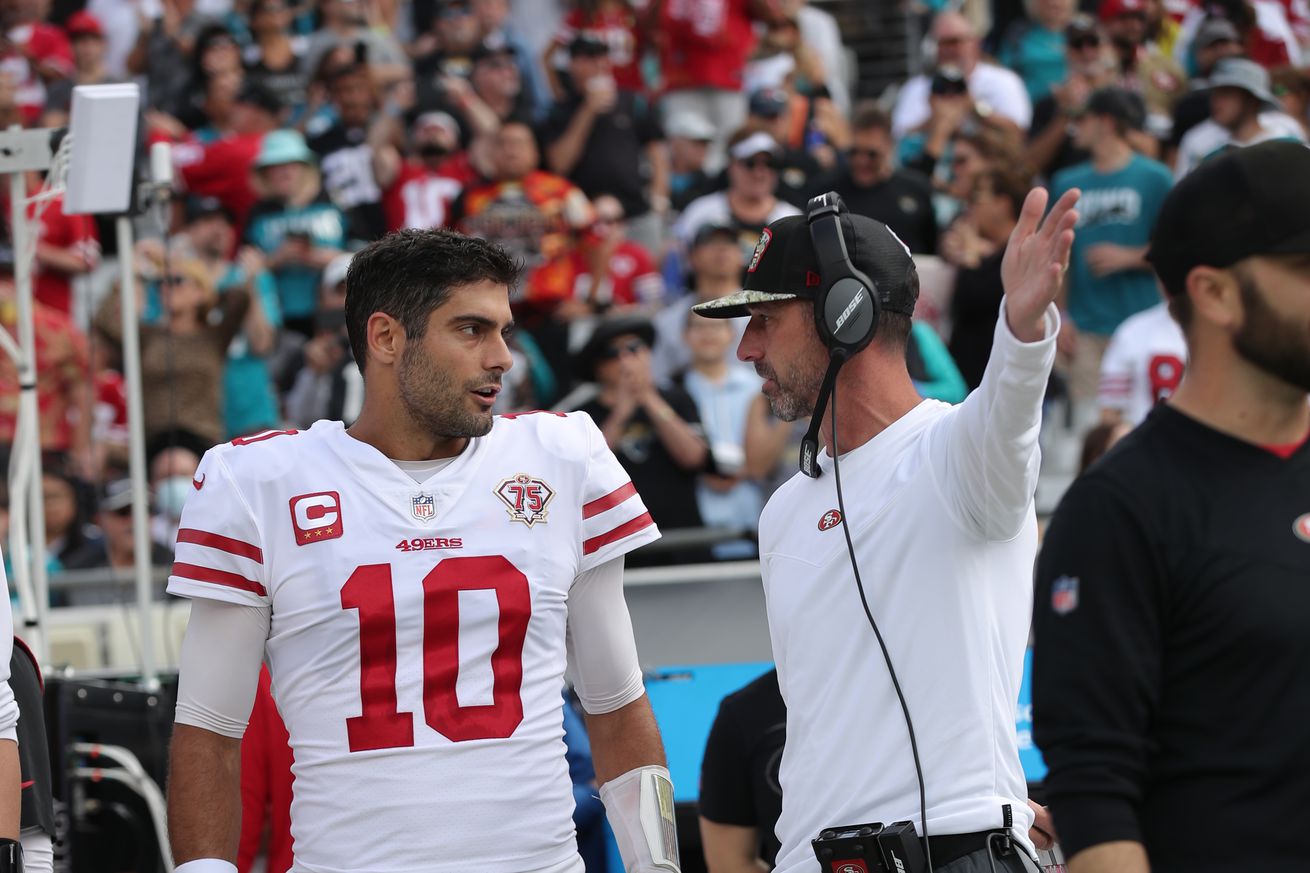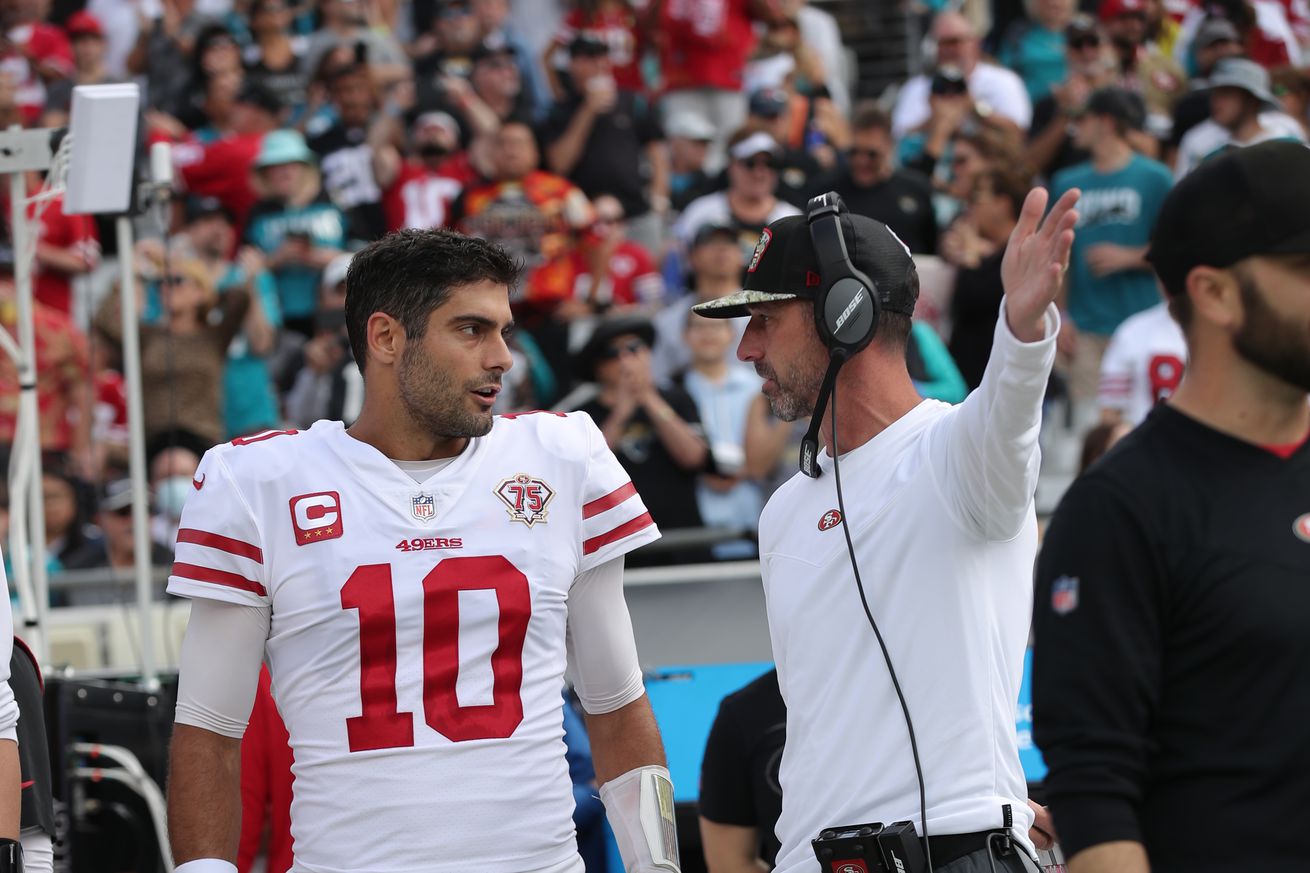 His recent appearance on KNBR might be some shade to his former QB
We can all agree the first touchdown the San Francisco 49ers had against the Jacksonville Jaguars last Sunday was lucky as hell. We know what Purdy was trying to do. And it doesn't take a quarterback guru to know throwing across your body in that situation is a huge no-no.
That's the difference though. At least many fans can see what Purdy was trying to do, no matter how much a cardinal sin the throw in question was. It was risky, but hey, it worked.
Kyle Shanahan obviously didn't like the throw, but he did love the risk. During his weekly podcast, Shanahan discussed the throw and maybe made a shot at one of his previous quarterbacks in the process:
"There's no doubt about it. I want a guy who gives us a chance to win the game, not a guy who's just hoping everyone else wins it for him. That's where you want it to start. But I am not worried at all about Brock not being that guy. Brock makes plays. He lets it rip. He's done that since the first game he got in, in Miami, halfway through, and he's done it every game since. So Brock, we have zero concerns about that [the first touchdown against Jacksonville]."
As you may suspect, there's been some takes on this.
There's been a dozen narratives about Jimmy Garoppolo's play, one that you may have heard is regarding if the team is/was simply good in spite of him and he has to play perfect for them to have a chance. Look to the 2019 NFC Championship game where he threw it 12 times to see this theory tested. I'd argue that he did win some games that year (New Orleans, the second Arizona game), but a lot of things had to go right.
Shanahan's comments in particular don't seem like a shot at Jimmy G as it is a shot at all the quarterbacks as a whole Kyle Shanahan has had with the 49ers; Bryan Hoyer, C.J. Beathard, Nick Mullens, Jimmy Garoppolo, etc.
Singling Garoppolo out, most his interceptions/bad passes aren't something you'd call "risky" but "what the heck are you doing?" Many of them seemed be ill advised, bad throws. Throws where many an armchair fan looks at the TV and says, "What the heck are you looking at? What were you thinking?". Whereas his decent accuracy came with his short accuracy. Compare those to a throw like the one Purdy made, which was also a bad throw, but it was him trying to fit it in and make something out of nothing or his timing was simply off. If that was picked off, there would be criticism, but at least we'd see where Brock was going with it. It wouldn't dismiss the pick but it's a different conversation than some of the throws seen by Garoppolo.
The other quarterbacks? There's definitely some miscommunication or simply holding the ball too long. The 49ers offensive line breaking down and quarterbacks being statues certainly doesn't help. And Garoppolo was a victim of this as well.
All of that criticism of Garoppolo aside, he still helped get a locker room in place that wasn't fractured and valued winning. He also brought stability to the position, no matter how much he depended on everyone else to win the game for him.
Do you think Shanahan was making a comment to Garoppolo, his quarterback room, or everyone's reading too much into this?
Share This Story, Choose Your Platform!