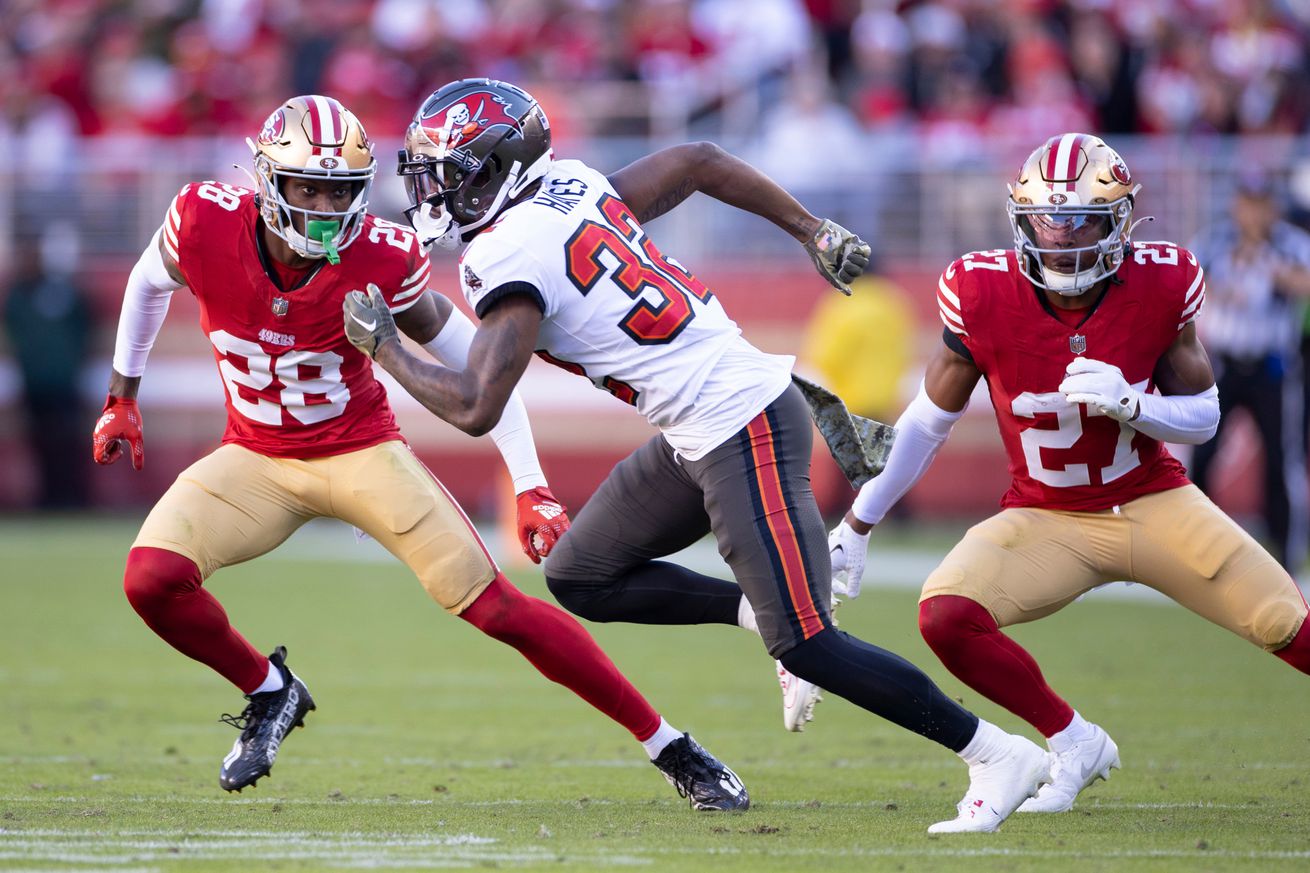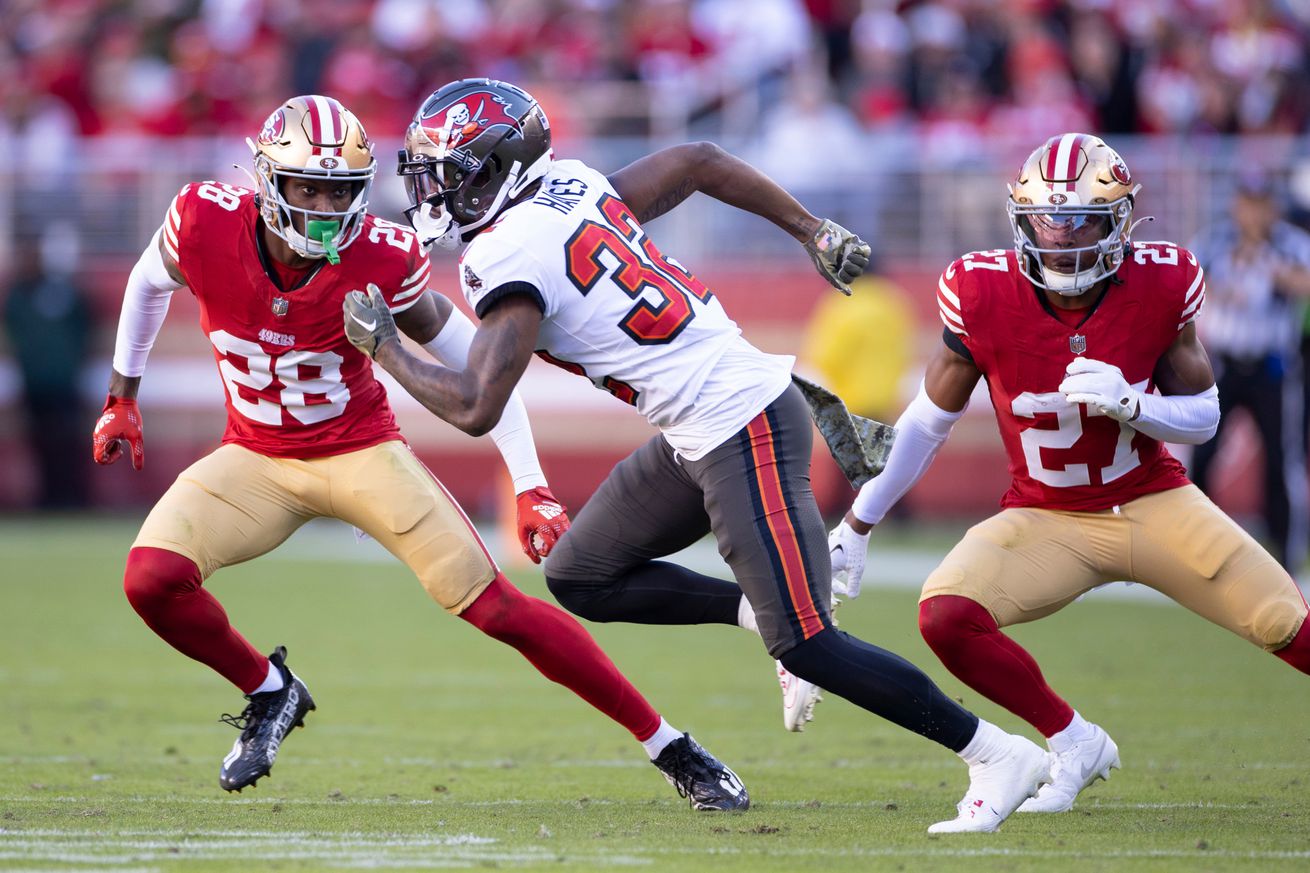 The 49ers safety earned heaps of praise from his teammates for stepping up on Sunday.
Despite a commanding 27-14 win over the Tampa Bay Buccaneers, the San Francisco 49ers had mixed emotions, as safety Talanoa Hufanga tore his ACL, which will sideline him for the rest of the season.
An All-Pro in 2022, Hufanga's youthful energy was a major presence on the team, and will now be missed for the remainder of the season.
However, Hufanga's injury opened up the first chance for the 49ers to see their top pick Ji'Ayir Brown in the field, and it came with primarily positive results, as the safety overcame an early misstep to make a number of plays at the end of the game, including the game-sealing interception.
Scout Team
It's been a whirlwind year for Brown, who has primarily emulated top safeties like Tampa Bay's Antoine Winfield on the scout team, but was immediately thrust into the spotlight and ultimately did his part.
It's been a constant development for Brown behind the scenes, who has impressed the coaching staff and his teammates with his ascension in practice, both with his scout team responsibilities and in earning reps with the defense during practice.
Over that period of time, one aspect that has stood out to fellow teammates has been Brown's instincts, which popped off the charts on his college film, translating to his ability to be a ball hawk.
"Yeah, Ji'Ayir, I mean, all the weeks so far he has given us a great look with playing safety, and then obviously, with Winfield being one of their best defenders on defense, Ji'Ayir did a great job with just all the looks. They did a bunch of stuff with Winfield and Ji'Ayir, even at practice was a ball hawk," quarterback Brock Purdy said of Brown's work on the scout team this week.
"He has great instincts and was just all over, just like Winfield. He gave us a great look. And then for him to go in the game and be ready to play for our defense and what we ask of our safeties, he did a great job. So, we're all pumped for him and really happy for him and going to see more of him. So, we're excited."
Brown's work on the scout team has certainly caught the eye of head coach Kyle Shanahan, who usually monitors the offense during practice.
"Oh yeah, [I've noticed his improvements] big time," Shanahan said after the game. "I noticed him all the time because he goes against the offensive scout team all the time. He's one of the guys who's consistently gets better each week on all the card looks, and we always split the reps with the one's and the two's anyways when the defense goes. He's really taken off here in this last month and was ready for his opportunity. You never know when it's going to come, and he's been preparing the right way."
To get on the field as a third-round rookie for the 49ers has been tough in years past, but it was clear to his teammates that Brown was willing to put the work in early, as his maturity levels for a rookie stood out.
Brock Purdy recognized that aspect early, which is why he wasn't surprised that Brown was able to put it together on the field in a game this early on.
"Oh, a hundred percent, [Ji'Ayir Brown's got a certain presence to him]," Purdy said. "I remember the first day, in summer we're working out and stuff, and he came up to me and was talking to me and just from talking to him, I could tell how mature he was. Sometimes with rookies and stuff, they're excited to be there and can be a little bit all over the place and whatnot, but he was very mature. I could tell this guy handles his business, and he's going to have a great career. So, to see him doing his thing now was great."
It comes down to the mentality of finding different ways to contribute, rather than trying to see defensive reps as soon as possible, which Brown embraced, leading to his development in practice, on scout team, and on special teams.
"Yeah, instead of being a rah-rah kind of guy but coming and being available for whatever the team is asking of you as a rookie, especially coming in and finding a role to help the team win," Purdy said. "Whether that's at practice or on the scout team giving a look, special teams running down on kickoff, or whatever it may be. I could tell Ji'Ayir had the mentality of I'm going to do whatever it takes to help this team win and whatever the coach is asking of me, I'm going to give my 100-percent to the best of my ability. He's done that, so now we're seeing it."
Role Models
During training camp, it didn't take long for Brown to catch the eyes of onlookers, as the safety was always one of the first two players out on the field before practice, a routine that fellow safety Talanoa Hufanga has embraced.
Prior to practices starting, Brown would get in extra work with Hufanga and the coaches, which has begun to pay off.
During the process, Brown has learned from both Talanoa Hufanga and Tashaun Gipson, as well as underrated defensive backs coach Daniel Bullocks, who have all served as role models for the rookie.
"Every step of the way. I've been here since day one with those guys (Tashaun Gipson and Talanoa Hufanga), just watching them, watching how they prepare, watching how they watch film. The DB Coach [Daniel Bullocks], he's a hell of a guy," Brown said after the game. "All of them, the whole secondary, they've just been great role models, great leaders for me, helping me through this transition to the NFL. I'm glad I could go out there and help them today."
In addition, Brown is locker mates with breakout wideout Brandon Aiyuk, who has seen his own experiences of overcoming setbacks, serving as another role model for the rookie.
Being ready
One of the toughest elements of being a rookie off the bench is the readiness factor, as players never know when their number will be called, nor have they experienced the game environment before, setting up a difficult transition when that opportunity does come.
Early on, in order to be ready for that moment, Brown understood the preparation that came with the task, which kept him ready for when his number was called on Sunday.
"Someone just said over there, and it's the same way I feel, the biggest thing you can ask for is for a young guy to be ready. Every week, I've been preparing for that day. I never knew when that day was going to come, but I was just preparing consistently every day. We were working hard, meeting for extra time with the coach. And, when my number was called today, I was fortunate enough to go out there and execute the job," Brown said.
He's certainly had help along the way, learning from the likes of his safety room, as well as star linebacker Fred Warner, who reminded him about the value of those scout team reps in order to be ready for the moment.
"He's been working his tail off. He's been obviously on the scout team against the offense and making plays. I see him, flashing, doing his thing, taking it serious, I have side conversations with him letting him know he needs to make sure that he's using these reps to his advantage to, to get better as a player," Warner said.
"You're never going through some sort of like redshirt year. You never know when your opportunity is going to come. He was obviously fully ready when his time came."
The Game
Fast-forward to the game, it was a tough learning curve for Brown, who was immediately targeted and caught flat-footed, leading to a 41-yard catch for Rakim Jarrett.
However, Brown quickly bounced back from that with a bevy of important plays.
First came a fourth-down pass breakup in the red zone while matched up 1-on-1 against Mike Evans due to a cornerback blitz.
Isaiah Oliver's blitz seemed to mess with Baker Mayfield's timing, while Brown fought the hands of the talented Evans, leading to an incompletion.
What did Brown see on the play?
"We sent a blitz. I had to pick up Mike [Evans]. I knew it was a fourth down and a big play. Mike ran a flat and then turned it up into a wheel. I was just executing my job, staying inside out on him, playing with my eyes, and seeing that [QB] Baker [Mayfield] threw it up," Brown said.
"I had to locate the ball, see how high it was, and just wanted to play through the hands of Mike. He's one of the best receivers in the league when it comes to the jump ball. I had to see how high it was and just play through the hands of Mike and execute my job."
It was a quick acclimation for Brown, who had just given up the 41-yard catch to Jarrett one drive earlier, and was thrust into a high-leverage situation against a talented, bigger receiver in the red zone.
Linebacker Fred Warner acknowledged that wasn't a situation the team would usually put a rookie in, but praised Brown for his readiness in the moment, which led to the big play.
"Yes, I didn't even know [he'd be matched up with Mike Evans]," Warner said. "I turned around, I see him on [Buccaneers WR] Mike [Evans], and making the PBU [pass break up] in a big time moment. I'm sure we usually wouldn't put a young rookie in a position like that, but the dude is just ready. He has the right mindset and prepares the right way. So he was ready and I'm happy for him."
Following the first major play came the two game-sealing plays, as Brown's emerging presence as the oncoming safety seemed to catch tight end Cade Otton off-guard, leading to a bobbled catch and an incompletion in the red zone.
Then, on the following play, Brown was in the right position, fielding a tipped pass and securing the ball for the interception in the red zone that ultimately sealed the game for the 49ers.
Head coach Kyle Shanahan was nothing but impressed with Brown's response after the team lost Hufanga, pointing out the importance of the safety's technique to not get flagged on the pass-breakup.
"I thought he did a hell of a job. I mean to lose a player like Huf in the game and for him to come in and step it up big, make two huge plays," Shanahan said.
"I mean the pick was huge and then the fourth down, where you got an all-out blitz, and they just throw it up. Sometimes it's your biggest fear when they throw it up. It's like what happened to Buffalo, on that Monday night. When it's underthrown, it's so hard not to get a PI and for him to not PI the guy and to get back in from what I saw, it looked like he knocked it down. That was a hell of a play."
For Brown, while there's pressure in performing when his number is called, it's all about the fun of the game as well, while living his dream out.
"Always [having fun]. Especially me, I'm always enjoying it. Out there with [DL] Nick Bosa, [LB] Fred Warner, [DL] Chase Young, all these great guys. How can you not enjoy it? You're living the dream. I'm literally walking in my dream. So I'm enjoying every moment, every little detail. It's just been amazing for me," Brown said.
Now, the work is not done for Brown, as there's still a full season left to prove himself, which quarterback Brock Purdy acknowledged amid the strong performance.
"Obviously, there's still the whole season to go and stuff and a lot to prove and whatnot, but the way he carries himself and his presence is definitely a thing. So, very proud of him," Purdy said.
But, Sunday was a stepping stone for the new 49ers safety, who will look to follow in Talanoa Hufanga's footsteps and rise to the occasion as a rookie, which continues forward in a Thursday Night battle with the Seattle Seahawks this week.
Share This Story, Choose Your Platform!