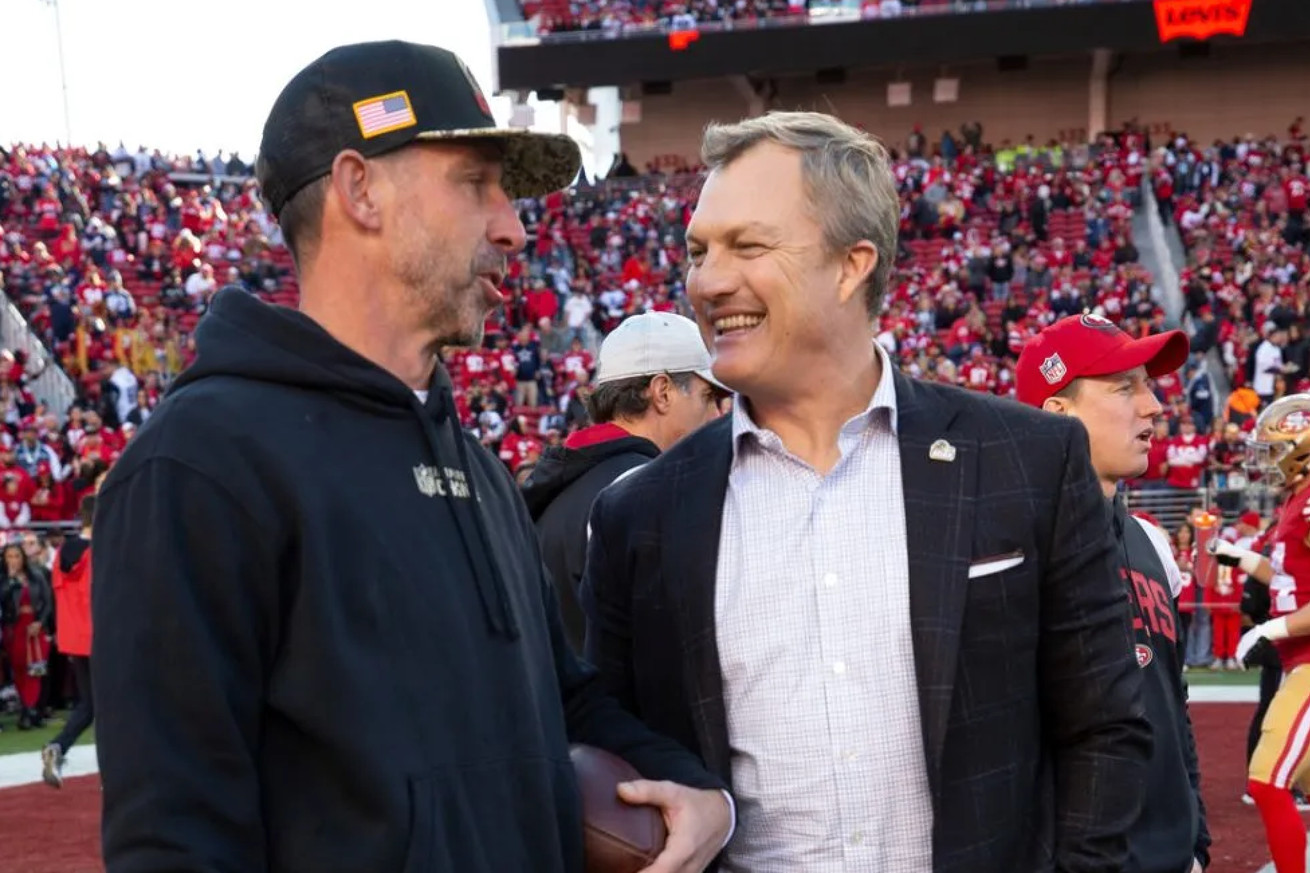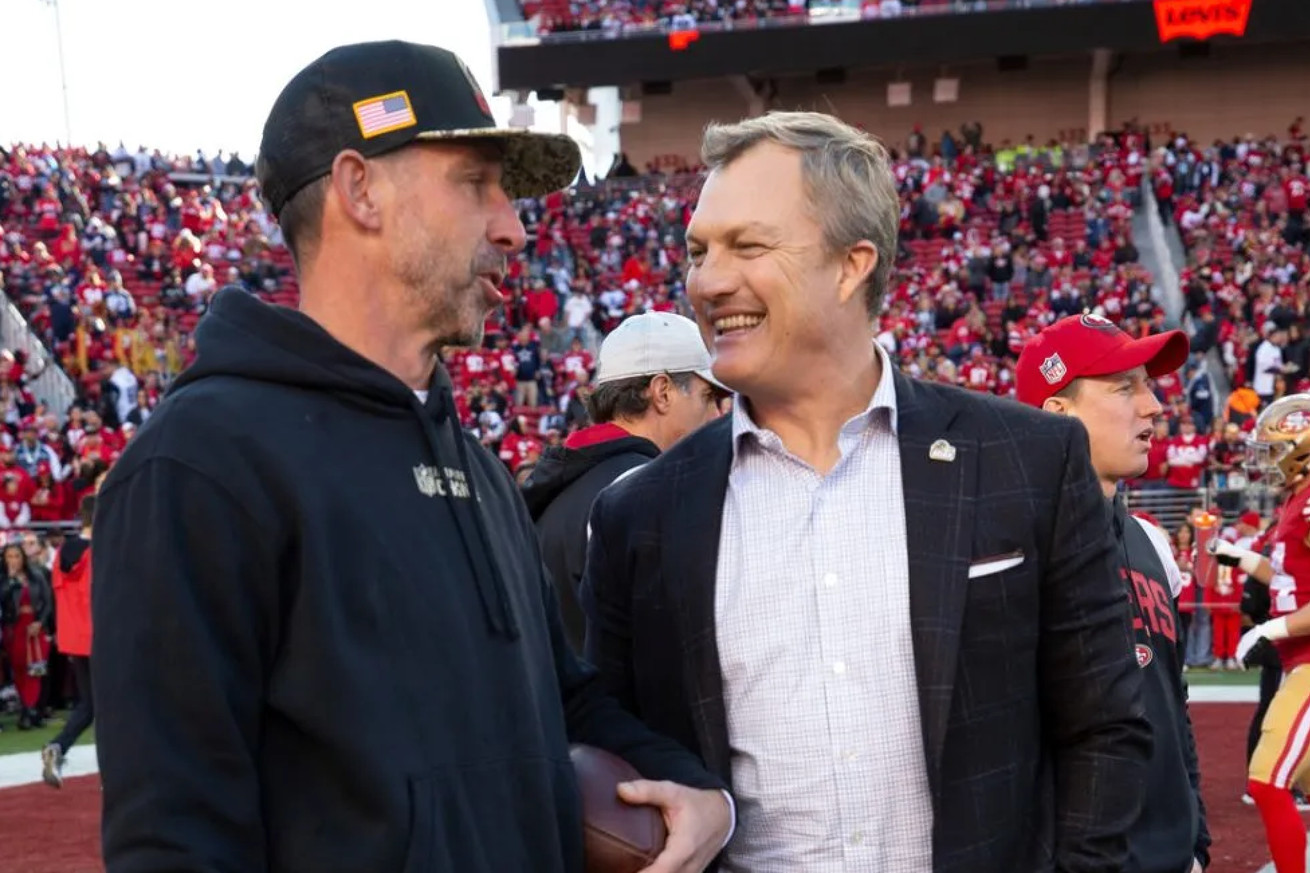 Your daily San Francisco 49ers news for Tuesday, October 31st, 2023
Silver: Can Kyle Shanahan, John Lynch find fixes for faltering 49ers at trade deadline? (paywall)
"As one person who witnessed the somber scene told me afterward, "That was the quietest locker room I've heard in years. You could've heard a pin drop."
49ers grasping to regain complementary identity as losing streak hits 3 games (paywall)
"That was a core part of the 49ers' problem when McCaffrey joined the team via trade a year ago. Their inability to run consistently hurt their ability to control game flow. It's far from the only problem now — there's also a chicken-and-egg component at play because defensive failures lead to deficits and deficits make it harder to run the ball — but it does mark one of the many focus points the 49ers will have to address coming out of the bye."
Kyle Shanahan says 49ers looked 'slow and tired' vs. Bengals: Minutia minute (paywall)
"Meanwhile, it seems as if the 49ers have decided that Ferrell is their second-best defensive end. He was on the field for 22 passing plays and responded with a half-sack (he shared with Bosa), a quarterback hit and five total pressures. He also forced a fumble at the San Francisco 4-yard line at a point when the Bengals were threatening to go up 11 points at the half."
49ers Notes: 2 injuries, trade deadline talks, and whether Wilks will come out of the booth
"An argument could be made at a number of spots, like interior offensive line, the defensive line and corner, but it does feel like the 49ers' issues are more scheme-based than with talent."
Before NFL trade deadline, Kyle Shanahan insists 49ers have 'answers in our building'
"When you sit and you watch tape, when it's out there on the field, and I know how these last two weeks, especially, I felt, but I do believe we have the answers in our building," Shanahan said. "I believe we have good players. I believe we have good coaches. It's up to me to get them to do better. I thought we started out pretty good, but there's some things that we haven't been able to hide here in these last few weeks. And that's why we've got to continue to push them in every aspect because some people do go on these losing streaks, and they don't have those answers, and you're just living in hope."
Kurt Warner defends Brock Purdy after 49ers' loss to Bengals
""Those ppl out there saying Brock Purdy is struggling aren't watching the games…," Warner said on X. "Young man is playing some really good football – making all kinds of plays (not w/o mistakes, but who does)!!! Quit looking at stats – they should back the narrative, NOT create it!!"
Tim Ryan explains why it might be a good idea for Steve Wilks to leave booth during games
"He's sitting down there with Johnny Holland and his linebackers coach: 'Johnny this isn't working…We've got to try something else. I'm telling you every time we line up in this, they're slow delaying running the hook in this spot,' whatever. Fred gets all that…This is a veteran defense that's played in a lot of big games and won a lot of big games. When Saleh and DeMeco are down on the sidelines, they're going to come up and say what's going on.
"Not only can they hear your thought process and their opinion, they can also feel it; they can sense the urgency of it," Ryan continued. "I think just being able to have something tangible that he can touch down on the field, that'll help."
Share This Story, Choose Your Platform!