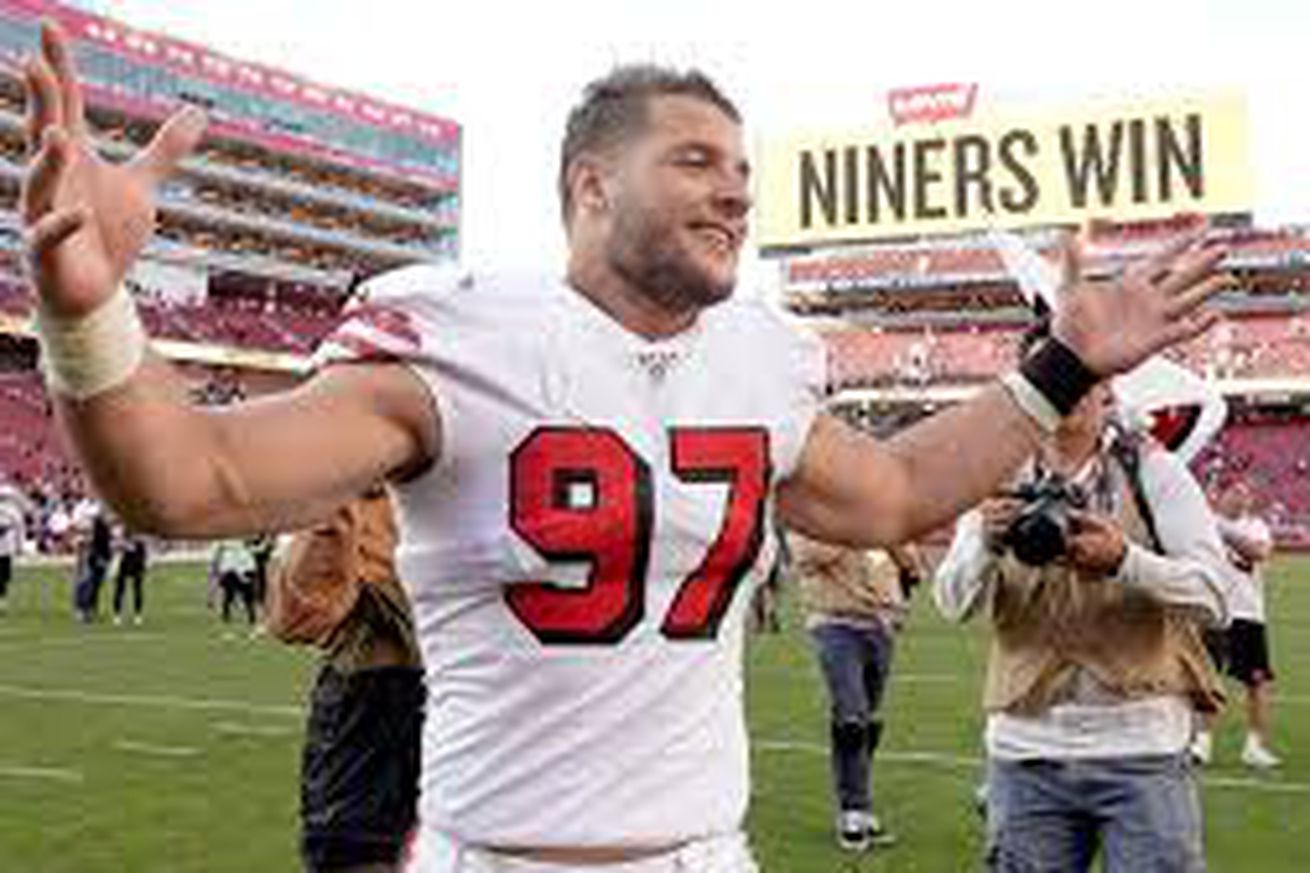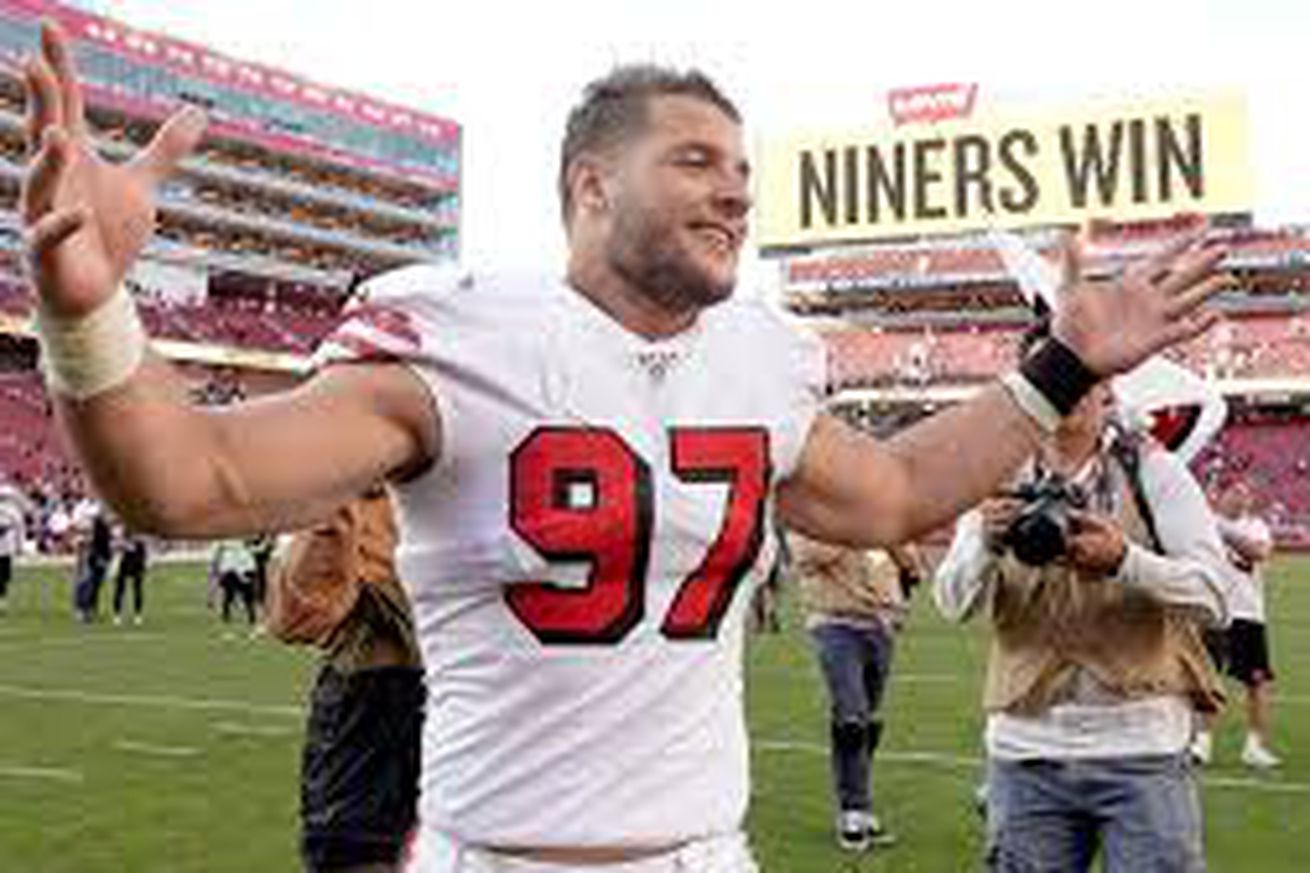 Your daily San Francisco 49ers news for Thursday, November 16, 2023
49ers Notebook: O-lineman done for the year, no more Bosa-Baker beef
"He's nice, Bosa said. "We said 'Hi.' I've never had anything against him. Just a joke as a rookie. It was fun."
Chase Young was asked about watching Bosa sack Mayfield three times in 2019 while he was still at Ohio State, and smiled about it.
"You get to chirping, he might just chirp back," Young said."
Jon Feliciano works his way into 49ers' permanent O-line mix
Burford and Feliciano played every snap against Jacksonville, and both players performed admirably as the 49ers gained 293 passing yards and 144 on the ground. The 49ers averaged 7.3 yards per offensive play.
Burford did not give up any quarterback pressures and had his best game of the season. Feliciano surrendered just one quarterback pressure
"I thought they played real well, did some real good things in the run game and the pass game," Shanahan said. "So I was very happy with them."
Feliciano is a ninth-year pro who was a backup for his first four seasons and a starter for the past four. He told NBC Sports Bay Area that he could have signed elsewhere to be a starter but preferred to compete for a starting job on a team he considered to be in the mix to win a Super Bowl.
Feliciano's day-in, day-out approach finally has put him in position to be more than a backup with the 49ers.
Shanahan said Feliciano's consistency convinced the 49ers to carve out some regular playing time for a player who served as the top backup at center and the two guard positions for the first half of the season.
"[We] hadn't thought how we would do it, yet," Shanahan said. "I just thought he [Feliciano] had earned to be out there a little bit, and unfortunately Aaron got hurt.
Branch: Brock Purdy aside, 49ers' past two drafts have been underwhelming (paywall)
"Jackson was inactive for five of the 49ers' final six games last season. It appears his second season also could end ignominiously: The 49ers placed him on injured reserve last week with knee tendinitis, a condition that hadn't caused him to miss their first eight games.
The timing appears telling. The transaction came a week after the 49ers traded for pass rusher Chase Young, which was preceded by their in-season trade for pass rusher Randy Gregory. The deals were made because Jackson wasn't developing after his disappointing rookie season, not managing a QB hit in seven games that followed his three-sack performance in the season opener."
Why 49ers' Bosa no longer holds grudge against Bucs QB Mayfield
"Mayfield also started against the 49ers in Week 5 of last season. He was sacked four times and threw an interception in the Carolina Panthers' 37-15 loss to the 49ers. It was one of three games all season in which Bosa did not record a sack during his NFL Defensive Player of the Year season.
The Bucs are in the thick of the NFC South race with a 4-5 record — a half-game behind the division-leading New Orleans Saints. Mayfield is having a solid season after signing a one-year, $4 million contract with Tampa Bay, completing 64.6 percent of his passes with 14 touchdowns, five interceptions and a 93.7 rating.
Bosa was quick to give Mayfield praise Wednesday.
"He's definitely scrappy," Bosa said. "He's tougher than he looks in the pocket with his escapability and his athleticism.
"And then he's good at whenever guys are open in the scheme, he hits them."
49ers add Michigan QB J.J. McCarthy in first-round of PFF Mock Draft
"If the Niners end up picking this late in the draft order, they probably won't consider this, choosing to roll with Brock Purdy. But if they're not picking as late, I like this idea. McCarthy has legit NFL arm talent and is showing that off at a higher clip this season. He is still learning to be a true processor, whether that be his timing, his reads or handling pressure. I'd be a fan of McCarthy getting to work with head coach Kyle Shanahan."
Share This Story, Choose Your Platform!