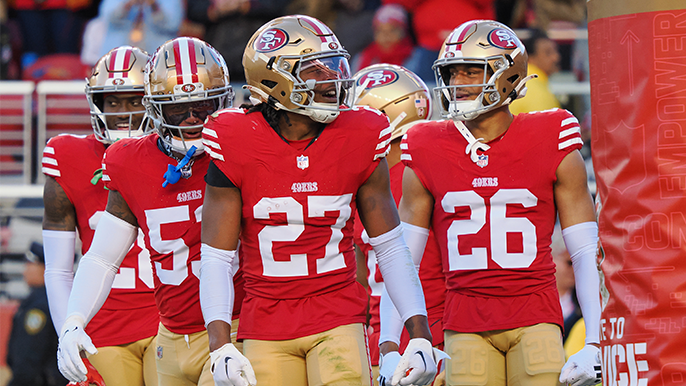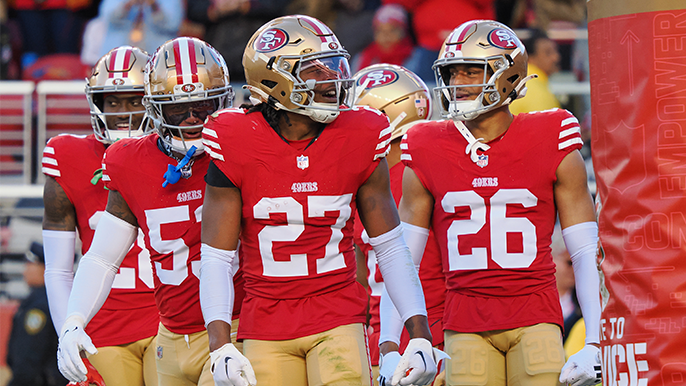 ---
The NFL is a zero-sum game.
One team's glory is another team's failure. If a player wants an opportunity, he's taking it from someone else.
Rookie safety Ji'Ayir Brown rose heroically Sunday. But that ascension required the departure of Talanoa Hufanga, who the 49ers believe tore his ACL.
Tests will have to confirm the injury. But in all likelihood, Hufanga — who was evaluated for 10 minutes in the team's blue medical tent before being carted off — is done for the year.
When he went out, Brown, who the 49ers' traded up for in the third round, got his long-awaited chance.
On Saturday night, Fred Warner reminded the rookie of the evergreen NFL adage: "stay ready."
Initially, he didn't look it.
On the opening play of the fourth quarter, Baker Mayfield tested him, and burned him.
He connected with Rakim Jarrett for a 41-yard completion on a seam shot down the middle. Tampa Bay scored two plays later to cut the deficit to 27-14, a margin which made the remainder of the game uneasy for the 49ers.
There wasn't a coverage mix-up. It was Brown's responsibility. He gave Mayfield credit for the throw, and said he saw him taking peeks at Brown when he replaced Hufanga. He didn't blame him.
"When I stepped out there, I kind of felt that Baker kept peeking at me. Midway through his cadence, [he] kept peeking over there at me," Brown said. "I kind of knew he was coming for me, which is the right thing to do, but I was ready."
He said that mishap was, "nothing to me."
He didn't have time to sulk if he wanted to. He had special teams duties to attend to. And for the record, he said he wasn't nervous. He's a Penn State alum.
"I was not nervous at all," Brown said. "I was ready for the moment. I done been in big games before. I done played in front of 110,000. I've played in front of a lot of people. I really believe, strongly believe, football was one of my one of the things I do, that I was made to do it."
And when his number was called again, the rookie was more than ready.
The Bucs, seemingly dead from the moment the 49ers extended to a 27-7 lead, were perpetually almost knocking on the door. Brown made sure it never got serious.
On a 4th-and-4 at the 49ers' 12-yard line, Brown broke up a pass destined for Mike Evans touchdown. It was a ball that rookies typically turn into a pass interference. Brown, as Kyle Shanahan noted, did not. He got his head turned for a moment, then played through the ball like a veteran.
When a Deven Thompkins 51-yard punt return brought Tampa Bay immediately back to the red zone, Brown was there again. He delivered a crunching hit on Cade Otton to prevent him from recovery a bobbled, would-be touchdown.
The very next play, Brown secured his first career interception to seal the game.
He was swarmed by teammates, but stayed down in the end zone.
"Not again," the whole of Levi's Stadium thought.
Like Nick Bosa in the playoffs of his rookie year, he had the wind knocked out of him. Unlike Bosa, he wasn't accused of milking it.
I got the wind knocked out of me. I hear Fred and all the guys, "Man, get up and celebrate, get up!"

In my mind, I'm like, "Agh, I gotta get up for the guys." But it would not let me get up. I was aired out.

They knew [I wasn't milking it]. I was shaking my head. I was responding, but wasn't nothing coming out. So they helped me get up and I got to celebrate. Probably one of the best moments I ever had.
Brown was surrounded by media when locker room availability opened, and initially couldn't locate the interception ball. By the time Shanahan's post-game presser ended and another scrum enveloped him, it had been delivered.
He said the ball is going in a case for his kids, then "my kids' kids." He stared glowingly at the ball like he was seeing the work that led him to this moment, and the future he's hoping to build.
His appreciation for the moment was evident.
But just as soon as he was asked to revel, he was asked to confront the reality that Hufanga's season was over.
It's a bizarrely human thing to have to face a tragedy wrapped around an otherwise happy moment. We don't really possess the tools to deal with those emotions inside the same space.
Brown was asked to shift from the highs of achievement that validated a lifelong pursuit, to its foil: the reality that his joy came at the cost of a likely season-ending injury for one of his closest teammates. That is a gordian knot of emotions no one should have to try and untie.
But that's the brutal reality of the NFL.
When asked about Hufanga's likely season-ending injury, Brown answered with that puzzle in mind. He offered thoughts for Hufanga, but in order for him to appreciate a moment that will be rightfully etched in his mind for the rest of his life, he couldn't tread down that path.
"I don't know what the situation is, what's gonna happen," Brown. "I'm not even thinking that far to be honest with you."
He had to appreciate the moment in a vacuum without tainting it by circumstance. Through time, it may not even be tainted.
In an ideal scenario for the 49ers, this sets up Tashaun Gipson Sr. retiring triumphantly with a Super Bowl ring on his finger, alongside the two young safeties he's mentored.
Next year, Hufanga returns with a now battle-tested Brown alongside him.
As it stands, it's hard to imagine Brown not taking this chance in stride. Steve Wilks spoke highly of his recent development this week and Kyle Shanahan said he's "taken off" in practice over the last month.
What is most encouraging, aside from his speed, aggression, and playmaking ability, is his disposition. He speaks with the same appreciation of opportunity and desire to learn like his veteran mentor, Gipson. That's not just obvious to media members getting to know him. Nick Bosa said it's clear to his teammates, too.
"Whenever we kind of huddle up as a defense on Saturdays, he always has something pretty cool to say and very mature," Bosa said. "And he's got an opportunity here, hopefully Huf's alright, obviously, but if he has his opportunity, I think he'll make the most of it."
That was the tenor of the locker room on Brown and Hufanga. That hope for Hufanga tucked inside an acknowledgment that if he's done for the year, Brown is ready for his moment.
Share This Story, Choose Your Platform!