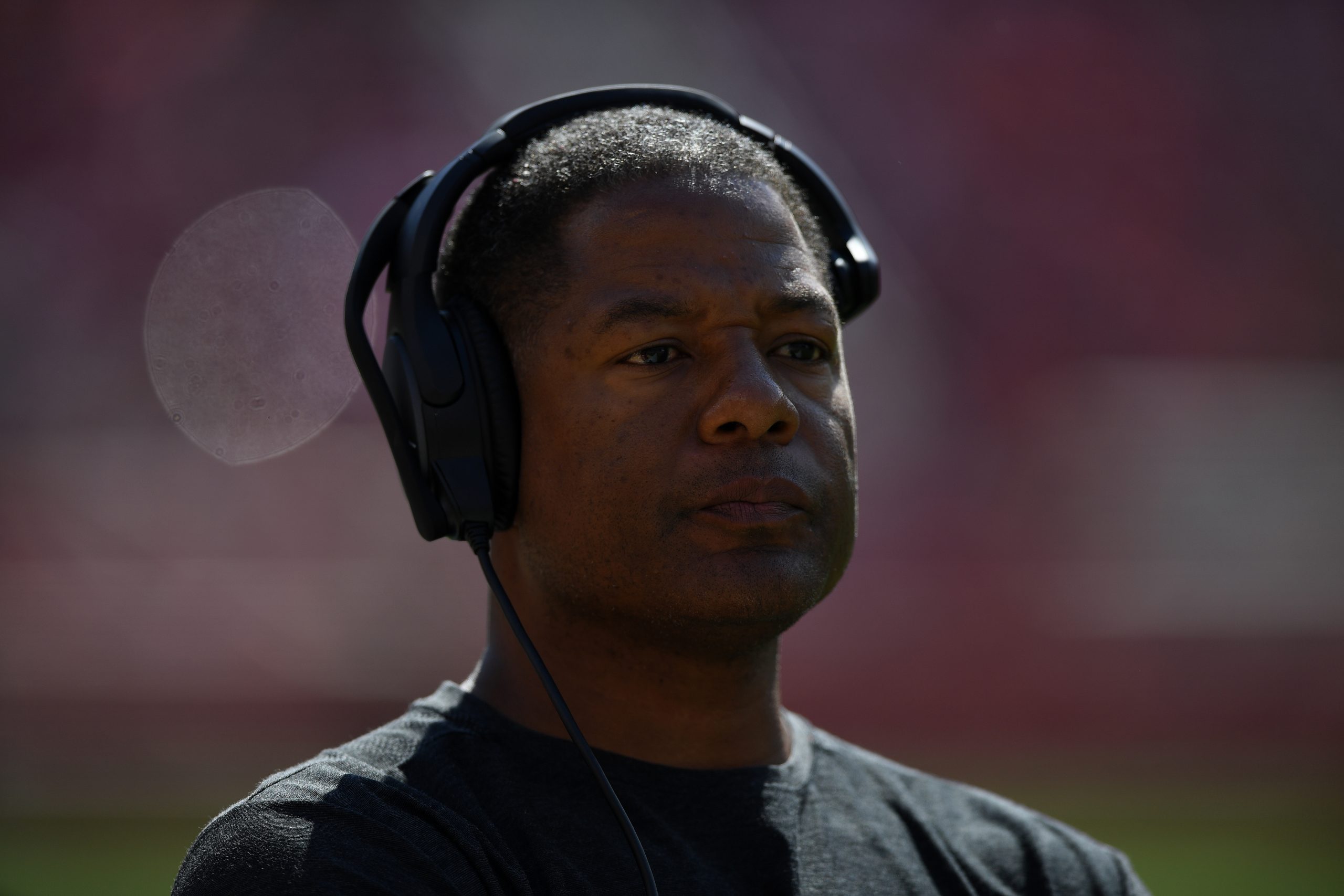 One of the 49ers' adjustments over the bye week was a move for defensive coordinator Steve Wilks. He's called each game from the coach's booth this season, but after his defense struggled the last three weeks he made the decision to start calling plays from the sideline.
The last two defensive coordinators for San Francisco have been on the sideline so this is a logical change that may or may not have much impact. Wilks downplayed the decision and indicated that communication with his players was the biggest key in the move.
"Oh, I mean guys to me, just very candid, I think we're making a bigger deal out of it than it needs to be, to be honest," Wilks said in his Thursday press conference. "I just want to be able to communicate with the guys a little bit more during the game. Certain things that I'm seeing, I'd rather be able to talk to them directly than to communicate with coaches. I think our coaches do a great job, number one, throughout the week, but also in-game adjustments. That's one of the things that I really pride ourselves on and how we communicate as a staff and making the right things throughout the game. So, it is just really with me just wanting to be able to communicate with those guys a little bit more."
Former 49ers defensive coordinators Robert Saleh and DeMeco Ryans were both demonstrative when coaching from the sideline, but bringing that type of energy wasn't why Wilks made the switch. Instead he emphasized that communication was a significant factor.
"Well to be honest, when you look at our guys, and I've been doing this for a while, I don't think that's part of what they're missing and what they need," Wilks said. "Sometimes it can be good. I think we all feed off each other, coaches, we feed off one another. I feed off the players. So, it depends. But, I think it's more or less in the communication part that we can have that dialogue, direct face-to-face and try to make the adjustment that we need to make throughout the game."
Making adjustments during games is something the 49ers have struggled with in their three consecutive losses, so if the move to the sideline helps Wilks in that realm it'll be worth it.
There'll have to be more to it for the 49ers though. They've been getting beat in ways a team as talented as theirs shouldn't be getting beat. There are schematic changes that needed to be made during the bye week, and whether those changes are made and effective will have a much bigger impact on the success of San Francisco's defense than where Wilks calls plays.
Share This Story, Choose Your Platform!