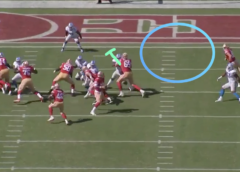 In today's 49ers film room article, we're going to be breaking down one of the most important plays from the San Francisco 49ers 30-27 win over the Detroit Lions in week 2 of the 2018 season- Jimmy Garoppolo's 11 yard TD pass to Garrett Celek.
Down and Distance– 2nd and 5 on Detroit's 11
Time– 13:33 in the 3rd
Score– 49ers 13- Detroit 10
Offensive Formation– Heavy 13 personnel unbalanced formation towards the wide side of the field. Two TE's- George Kittle and Cole Wick on the left of the line and Garrett Celek lined up on the right. Pettis is the lone WR on the left.
Defensive Formation– The Lions are in Nickle personnel with a single-high look. Linebacker #52, Christian Jones, is on the line of scrimmage playing heads-up on the Tight End.
Play/Concept– Faking the Outside Zone Run.
Receiver Routes/Responsibilities
Celek- Quick Slant making sure he gets an inside release against the wide 9 technique.
Pettis- Outside release and runs a fade to the corner of the endzone.
QB/RB/Lineman/Other TE's- selling the outside zone run to the left.
The 49ers win on this play because they devote 9 players to sell the run fake- the entire offensive line, TE's on the left side of the line, Garoppolo and Alfred Morris.

This run fake pulls Lions MLB Jarrad Davis out of the middle of the field leaving it wide open for Celek. Right Tackle Mike McGlinchy does a good job of freeing up the hole for Garoppolo.
Garoppolo delivers a perfect pass and Celek uses his strength to take two defenders with him into the end zone. After Robbie Gould hit the extra point, this TD puts the 49ers up 20-10 with a little more than 13 minutes left in the 3rd and gave them an 88.5% win probability. The 49ers would add to their lead later in the 3rd Quarter with a long TD run by Matt Breida, and in the 4th when Gould hit his 3rd field goal of the day. The Lions made a run late in the 4th with two late TD's but the 49ers held on for a 30-27 win, their first of the 2018 season.
Check out the complete video breakdown below:
Share This Story, Choose Your Platform!