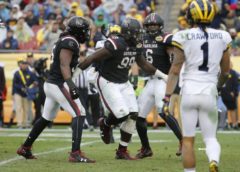 The San Francisco 49ers filled three immediate needs during the 2020 NFL Draft, but were first-round draft picks DT Javon Kinlaw and WR Brandon Aiyuk — and new starting LT Trent Williams — worth the cost?
This is the first in a three-part series analyzing the San Francisco 49ers' 2020 "draft masterclass." The Niners' draft has been ranked by analysts as one of the NFL's best, although it takes years before a draft class can be properly assessed. So instead of merely grading these college talents before their first NFL snaps, we'll take a look at the 49ers' picks — and more importantly — the 49ers' process.
San Francisco's general manager John Lynch and head coach Kyle Shanahan were full of surprises during the 2020 NFL Draft, beginning in the first round. Every 2020 mock draft was immediately ripped to shreds as the vast majority of fans and analysts expected the Niners to trade away one of their prized first-round picks for additional draft capital. Instead, the 49ers traded both of their Day 1 picks but ended the evening with just two players, and no selections for the second day of the draft.
Lynch and Shanahan started their "draft tradefest" in a dream scenario: on the clock with the consensus top-2 wide receivers in the draft — Jerry Jeudy and CeeDee Lamb — on the board, and the Tampa Bay Buccaneers on the phone. The Bucs wanted to move up a single spot to the No. 13 selection — the pick the receiver-needy 49ers obtained via their trade of star defensive tackle DeForest Buckner — which would leave at least one of the two top receiver prospects on the board for San Francisco.
The two teams executed the trade, which scored the Niners a fouth-rounder in exchange for one of the 49ers' seventh-round picks. Minutes later, San Francisco was back on the clock, and both receivers were still on the board. But instead of taking advantage of the situation they lucked themselves into, the Lynch and Shanahan did what they seem to do every year — follow their collective gut or the opinion of a trusted contact outside the organization — and drafted Buckner's hopeful replacement, South Carolina defensive tackle Javon Kinlaw:
49ers Draft Pick No. 14: DT Javon Kinlaw
On Tuesday, Lynch spoke about the decision on FOX Sports' The Herd with Collin Cowherd:
"We were incredibly comfortable with Will Muschamp because he gave us such an accurate depiction of Deebo Samuel last year. I didn't know Will. I met him once. But we called on Deebo and he hit all his strengths, but he also hit his, not really weaknesses, but just realities of who the person is. And he depicted Deebo so well, a year later I said, 'Kyle, we've got to pick up the phone and call Will about Kinlaw because he was so darn honest." -John Lynch
Despite Muschamp's biased opinion of his former player, there's a lot to like about the raw Kinlaw:
The #49ers took @JavonKinlaw to fill a big hole in the defensive line.@BaldyNFL breaks down what Kinlaw is bringing to the Bay Area. pic.twitter.com/DsrfzEXWTS

— Fourth and Nine (@fourth_nine) April 24, 2020
Standing at 6-foot-5 and 324 pounds, he is shorter and stouter than his predecessor. And surprisingly, given his massive size, the DT has proven to be a better defender against the pass than the run. In 2019, Kinlaw received a 90.7 pass-rushing grade from Pro Football Focus (PFF), despite logging just six sacks during the season, and 10 only sacks over his three-year college career:
49ers DT Javon Kinlaw – College Defensive Statistics
Tackles
Def Int
Fumbles
Year
School
Conf
Class
Pos
G
Solo
Ast
Tot
Loss
Sk
Int
Yds
Avg
TD
PD
FR
Yds
TD
FF
*2017
South Carolina
SEC
SO
DL
7
12
5
17
2.0
0.0
0
0
0
1
2
1
*2018
South Carolina
SEC
JR
DL
10
15
15
30
9.0
4.0
0
0
0
5
0
2
2019
South Carolina
SEC
SR
DL
12
15
20
35
6.0
6.0
0
0
0
2
2
0
Career
South Carolina
42
40
82
17.0
10.0
0
0
0
8
4
3
Since there are no easy games in the NFL, the 49ers hope they drafted the overpowering and productive version of Kinlaw and not the version who disappeared when South Carolina faced weaker opponents.
Bonkers play by Kinlaw. Straight through the center's chest, then runs the loop to chase down Tua for the sack. Rare combo of power, length and athleticism. pic.twitter.com/n2SjsehuPl

— Jon Ledyard (@LedyardNFLDraft) March 4, 2020
My initial assessment of the Kinlaw selection is I like the player, but I'm not a fan of the 49ers spending the draft pick they acquired in exchange for Buckner on a less-talented but cheaper version of the stud defensive lineman. San Francisco should have entered this year's draft with one primary goal: improving their 2020 roster enough to win one more game than they did in 2019 — and "trading" Buckner for Kinlaw makes the Niners worse, albeit richer, in the short term.
Perhaps this pick would have been a bit sweeter if Lynch didn't promptly waste the fourth-round selection he just obtained from Tampa Bay. Unfortunately, the 49ers' fourth-year GM — in the role normally played by his partner-in-crime Shanahan — fell in love with a prospect and wasted valuable draft capital to unnecessarily trade up for the one player he desperately needed to draft.
We'll break down the San Francisco 49ers' second first-round selection — and how the Niners got there — next.
Share This Story, Choose Your Platform!