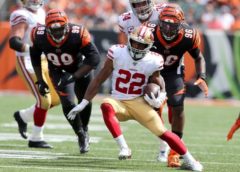 Game balls and highlights from the San Francisco 49ers' 41-17 victory over the Cincinnati Bengals in Week 2 of the 2019 NFL regular season.
On yesterday's Locked On 49ers Podcast, host Brian Peacock provided a rundown of the Niners' game — including game notes and key takeaways — and handed out four game balls to the San Francisco 49ers from their Week 2 blowout win over the Cincinnati Bengals.
The 49ers made a statement to the rest of the league during their second consecutive road victory to start the 2019 NFL regular season. Outside of a long garbage-time touchdown given up in the final minute of the matchup, the 49ers' defense was dominant, finishing the game with four sacks, nine tackles-for-loss and one interception.
But despite holding the Bengals to just 25 yards on 19 rushing attempts, San Francisco's offensive unit shined the brightest in Week 2 — which brings us to our first game ball:
49ers HC Kyle Shanahan
San Francisco's offensive attack was nearly unstoppable in Week 2, and much of their success should be credited to 49ers head coach Kyle Shanahan, who called one of his best games since arriving in the Bay Area over two seasons ago. The Niners tallied 572 net yards on offense at an 8.4 yards-per-play clip, and were forced to punt the ball just once during meaningful play, prior to the final two minutes of the game.
Shanahan — the 49ers' de facto offensive coordinator — was always one step ahead of the Bengals' defense, which was constantly confused by the Niners' flurry of misdirection plays. With Cincinnati's defenders forced to play both passively and reactionary, 49ers quarterback Jimmy Garoppolo took advantage by throwing for 297 passing yards and three scores. Garoppolo executed on the field, but he had Shanahan's superb game plan to thank for his FexEx Air Passer of the Week nomination, as well as his 131.2 passer rating and his 11.9 yards-per-pass-attempt — both of which were tops in the NFL in Week 2.
49ers RB Matt Breida
Prior to the beginning of the regular season, many analysts wrote 49ers running back Matt Breida off as either a potential change-of-pace option in San Francisco's backfield or a player who would simply ride the bench in 2019. But just two games into the season, Breida has officially put that talk to rest by claiming his well-deserved spot at the top of the 49ers' running back depth chart, even after fellow RB Tevin Coleman eventually returns from injury.
Breida was electric on Sunday as he tallied 121 rushing yards on only 12 carries, and added 11 yards through the air on one reception. The former undrafted free agent may never be a 25-carry feature back, but it's hard to ignore a runner who averages over 10 yards-per-touch. Breida's outstanding Week 2 performance was  highlighted by a 34-yard gain on a third-and-short run, where he looked a lot more like Hall of Fame running back Barry Sanders than a bench player who should be relegated to the sidelines:
Here's your Victory Monday dose of #49ers RB Matt Breida @MattBreida from #SFvsCIN. That 3rd-and-1 run… #MovesOnMoves #49wz pic.twitter.com/Aaunox2zBB

— Chris Wilson (@cgawilson) September 16, 2019
49ers Offensive Line
Although Breida has the speed and agility necessary to break off long runs after making defenders miss, he surely didn't mind running through some of the gaping holes the 49ers' offensive line provided on Sunday. Breida wasn't the only beneficiary of San Francisco's big men up front, as the 49ers' trio of running backs graded out as the NFL's top unit of the week by Pro Football Focus (PFF). Recent practice-squad RB Jeff Wilson found the end zone for a pair of scores in the contest, and dual-threat running back Raheem Mostert followed his blockers on long runs and screen passes en route to a spot on PFF's "NFL Team of the Week" for Week 2:
#49ers RB Raheem Mostert @RMos_8Ball, LB Kwon Alexander @kwon and EDGE Ronald Blair @superblair are all featured in @PFF's NFL Team of the Week. The @49ers' running backs also graded out as the #NFL's top group of RBs in Week 2. https://t.co/zbfzmMtEs0

— Chris Wilson (@cgawilson) September 18, 2019
It was a near-perfect day for the Niners' offensive line, as they also kept Garoppolo's jersey clean for the vast majority of the game. But a dark cloud fell over the group in the third quarter of the team's Week 2 victory, when left tackle Joe Staley sustained a fractured left fibula which will keep the 49ers' top lineman out of action for approximately six to eight weeks.
49ers LB Kwon Alexander
Last week, linebacker Kwon Alexander received a game ball from Shanahan in the 49ers' locker room after the team's 31-17 victory over the Tampa Bay Buccaneers, despite his early exit from his Niners debut. Alexander was ejected from the contest when his helmet made contact with the helmet of former teammate Jameis Winston, when the quarterback awkwardly went to the ground at the end of a third-down scramble. In the limited time prior to his questionable ejection, Alexander looked like the player Shanahan and general manager John Lynch hoped to sign, as the 25-year-old linebacker flew around the field making plays and hyping up his teammates.
Last Sunday, Alexander earned his 49ers game ball for his leadership in the locker room and his passion for the game. This Sunday, Alexander earned Locked On 49ers game ball for his leadership in the locker room, his passion for the game and his production on the field. Alexander not only brought the same level of intensity to Cincinnati, but the linebacker was also one of the best — and most productive — players on the field in Week 2. With a key interception, three defended passes and six tackles, Alexander earned PFF "NFL Team of the Week" honors, and our final game ball of the week:
In case you thought #49ers LB Kwon Alexander @kwon only gets hyped up when he's facing his old squad. #SFvsCIN #49wz pic.twitter.com/FqwYfcQSA9

— Chris Wilson (@cgawilson) September 16, 2019
Listen to Locked On 49ers host Brian Peacock's review of the San Francisco 49ers' Week 2 victory over the Cincinnati Bengals — including game notes and key takeaways from the Niners' second matchup of the 2019 NFL regular season — on yesterday's Rapid React podcast:
Share This Story, Choose Your Platform!