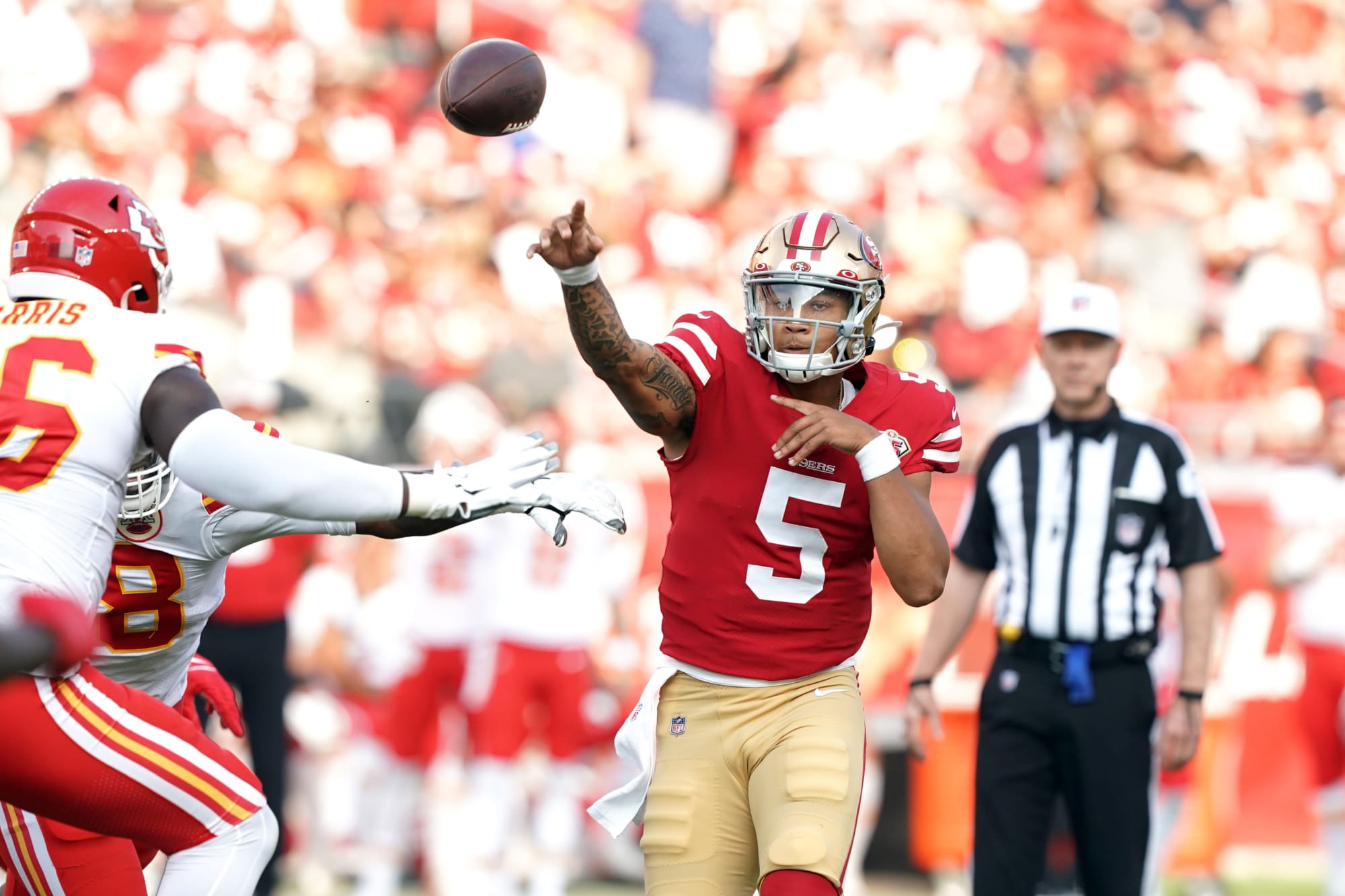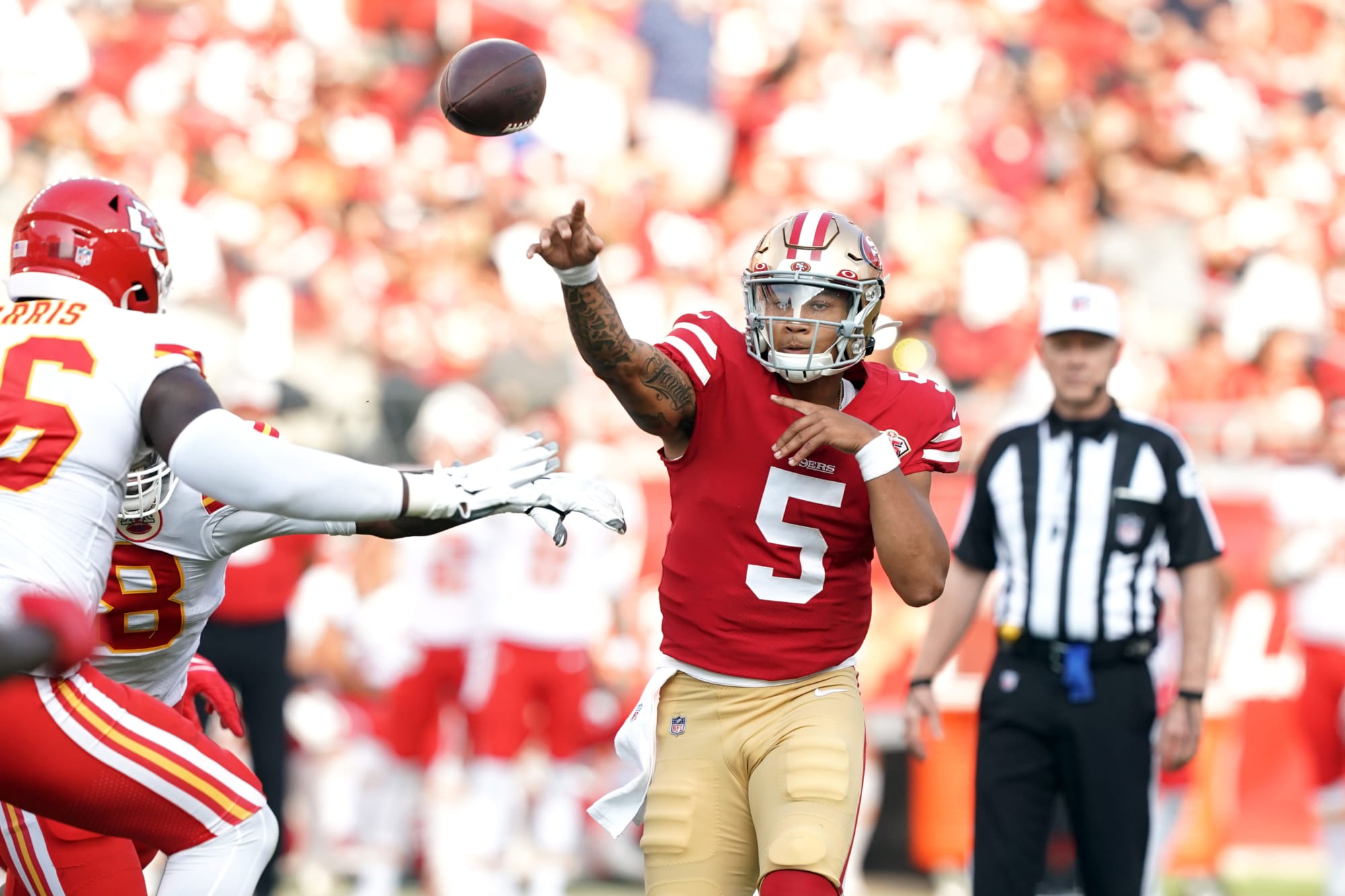 49ers rookie QB Trey Lance's 80-yard touchdown pass to Trent Sherfield was a sight to behold, but paled in comparison to the Twitter responses that followed.
We've been waiting a long time for a small taste of San Francisco 49ers football. And when fans and the media finally received that first taste Saturday night, even in a meaningless preseason game against the visiting Kansas City Chiefs at Levi's Stadium, it proved to be a little too much for them to handle.
The addition of rookie quarterback and new Niner hero Trey Lance, who was acquired at great expense over the offseason by San Francisco shipping off two additional first-round NFL Draft picks, plus a future Round 3 selection to move up to No. 3 overall, only added fuel the fire.
Deep in the midst of a "non-competition" with the incumbent starting quarterback, Jimmy Garoppolo, Lance was the player everyone wanted to see on Saturday night at Levi's Stadium.
Not surprisingly, Lance received quite the ovation when he took the field following Garoppolo's lone offensive series.
Lance's first series didn't go so well. His first pass attempted was a dart to wide receiver Brandon Aiyuk, only Aiyuk dropped it aft the ball hit him in the wickets.
Yet Lance quickly put the worries to rest on his second drive, rolling right and tossing an 80-yard touchdown bomb to wide receiver Trent Sherfield:
The collective ramp-up of noise inside Levi's Stadium seemed to follow the arc of the ball traveling from Lance's arm. It was the culmination of anticipation to finally see the rookie quarterback's talents.
And once the ball landed in Sherfield's hands and he took it to the house, needless to say, those attending and watching at home finally identified their quarterback of the future.
49ers Twitter reacts and overreacts some more to Trey Lance TD
Needless to say, that's a throw Garoppolo either wouldn't or couldn't have made. And while the rest of Lance's inaugural NFL night had its up-and-down moments, including more drops from receiving targets and trying to operate behind a makeshift offensive line, the rookie's first efforts will forever be known for this touchdown bomb.
Now, the question is whether or not the hype and reaction can help fuel the 49ers towards starting Trey Lance right away.
Read More: Jimmy Garoppolo has priceless reaction to Trey Lance touchdown
Head coach Kyle Shanahan has continued to stress that Garoppolo is still the Niners' starter. And while Garoppolo certainly has the experience over Lance, who still only started one full year in college, Lance's natural abilities and gifts are far more explosive.
It'll only be a matter of time. Garoppolo knows that, too.
And judging by Twitter, so does everyone else.
Share This Story, Choose Your Platform!