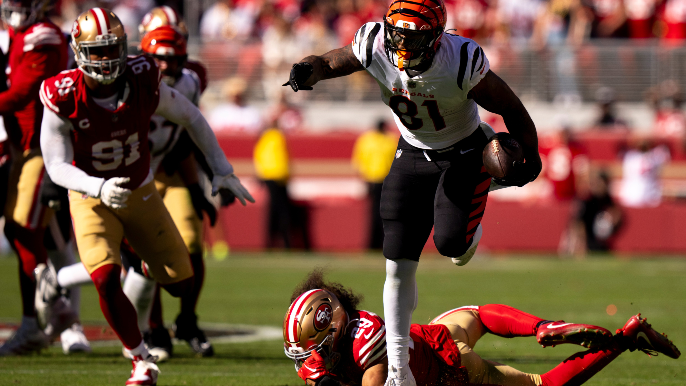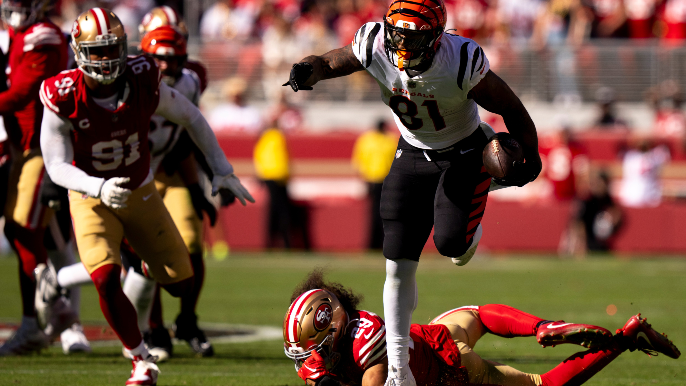 ---
The 49ers' free fall has been arrested by the bye week.
Kyle Shanahan admitted how thankful he was for the respite in a Monday conference call, when he added two names to the injury report and discussed a few other issues.
Injury report
Dre Greenlaw will enjoy this bye week perhaps more than other player on the roster. He seemed to be in pain after every hit against the Bengals and is dealing with a shoulder sprain that comes with a day-to-day designation.
Left guard Aaron Banks, though, will likely miss some time. He sustained a turf toe injury on the second-to-last drive of the game. Shanahan said he is expecting Banks to miss three weeks, which would be the next two games after the bye.
The interior of the offensive line has been a clear weak spot, and while high-priced backup lineman Jon Feliciano will slot in for Banks, it would not be a shock to see the 49ers look for help on the interior.
As for Trent Williams, Shanahan said he thought earlier in the week that Williams would have been good for Sunday, but that on Saturday night it became clear that he wasn't close to playing. Shanahan is hoping for his return after the bye.
Trade deadline
That said, don't expect too much. While the 49ers have reportedly had interest in star Bears corner Jaylon Johnson and are looking into edge rushers, according to The Athletic's Dianna Russini, nothing is imminent.
Shanahan said that general manager John Lynch has been on the phones, but something might need to budge.
"If we think there's a chance to improve us, we'll do it," Shanahan said. "Doesn't sound like there's a lot of options out there, but doesn't mean for sure no. We'll see if anything changes."
An argument could be made at a number of spots, like interior offensive line, the defensive line and corner, but it does feel like the 49ers' issues are more scheme-based than with talent.
Wilks out of the booth?
The first half of Sunday's 31-17 loss to the Bengals was perhaps as poor a half as this 49ers' defense has played.
It has been evident that they are not defending the run or pass particularly well, and that's a generous description.
This has to be a week for solutions. The new variable introduced to the defense is defensive coordinator Steve Wilks, who is calling plays from the coaches booth instead of the sideline, like his predecessors DeMeco Ryans and Robert Saleh.
Shanahan admitted that he will consider having Wilks call plays on the field going forward.
"That's something we'll discuss this week just the two of us," Shanahan said. "If he thought it was something that would help him, then that's something we'll try."
He was taken aback, in particular, by the defense's energy level.
This is typically a unit that flies around the field with aggression and speed. Shanahan saw the inverse of that.
"To me [what] sticks out on the tape the most is just how slow and tired I thought we looked," Shanahan said. "When that does happen, I think it leads to bigger holes. I think it leads to more mistakes. I think it leads to missed tackles. I could see on tape a different type of energy that was disappointing, but I also know that they need this rest. That showed the most."
You can be sure that Shanahan will be involved in self-scouting his defense this week.
Share This Story, Choose Your Platform!