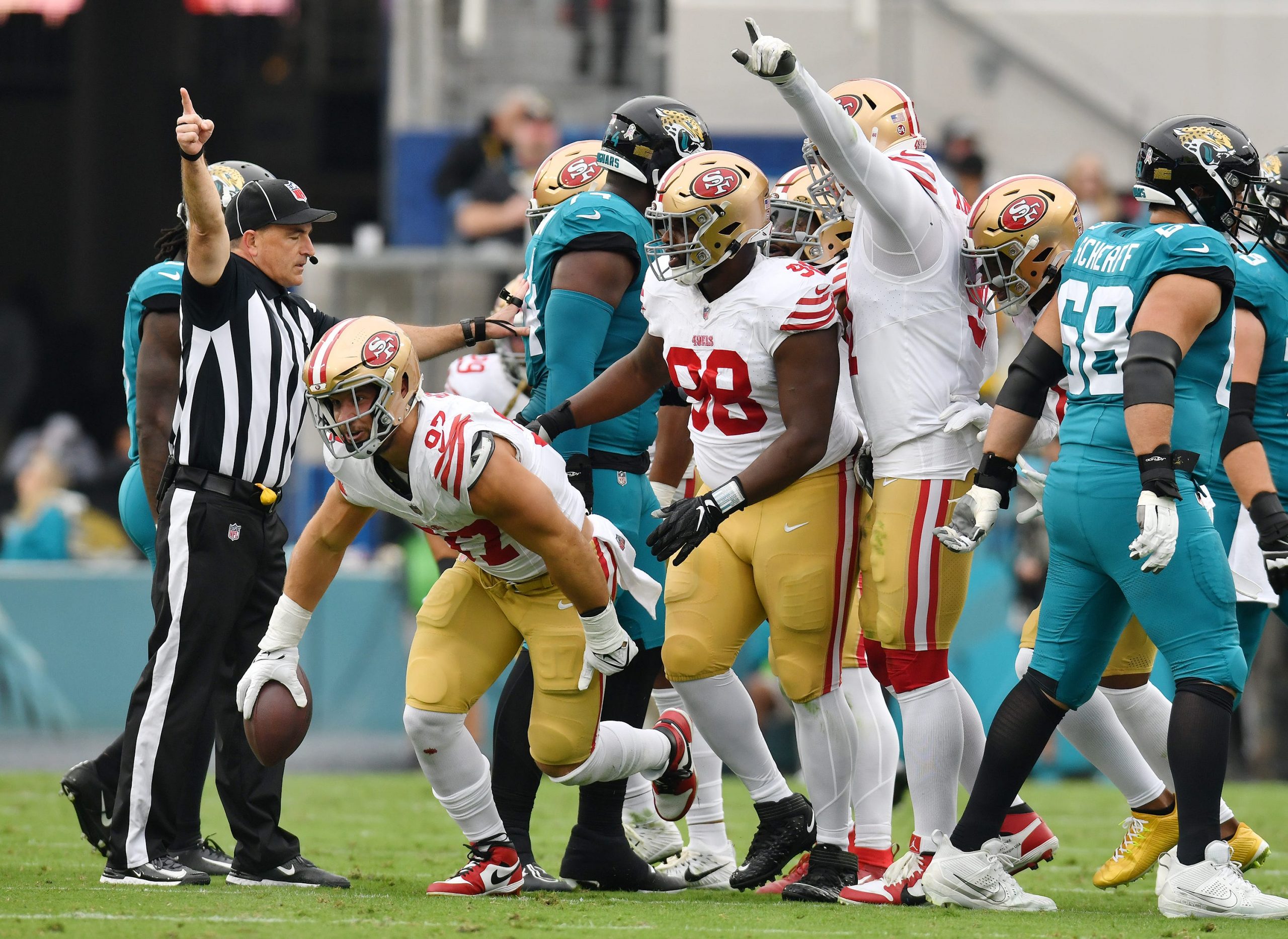 The 49ers despite a three-game losing skid have managed to stick around in the top three of the USA TODAY Sports NFL power rankings. They moved from No. 5 to No. 4 during the bye week, and then jumped up to No. 3 after obliterating the Jaguars 34-3 in Jacksonville on Sunday. The 49ers now sit behind only the Eagles and Chiefs in the rankings.
A big reason San Francisco never saw a precipitous drop in the rankings is because of their injury situation. Left tackle Trent Williams and Deebo Samuel were either playing hurt or out of all of their three losses in a row. Their return coincided with the 49ers looking like the dominant team that sat atop these same power rankings after six weeks.
Via USA TODAY's Nate Davis:
Told you they'd be fine with All-Pro LT Trent Williams and WR Deebo Samuel back in the lineup. And let's give a little more love to Pro Bowler George Kittle, who's now surpassed 500 receiving yards in all seven of his professional seasons – the fourth tight end in NFL history to manage the feat.
Williams helped pave the way for the 49ers' best game on the ground since Week 5 against the Cowboys. Samuel didn't have a huge day, but his 23-yard rushing touchdown late in the third quarter effectively ended the Jags' hopes of a potential comeback.
Kittle was excellent and hauled in a 66-yard touchdown on perhaps the best throw of quarterback Brock Purdy's career, and running back Christian McCaffrey still put up 142 all-purpose yards despite not scoring a touchdown.
While the offense looked like a juggernaut again, San Francisco's defense registered five sacks of Jaguars quarterback Trevor Lawrence, forced four turnovers, and held Jacksonville to just 221 total yards.
It was a dominant all-around effort that serves as a reminder that this 49ers team is built to win a Super Bowl this year. They looked like a top-three NFL team Sunday. Now their next task is ensuring they look that way for the rest of the season without suffering another major slip up.
Share This Story, Choose Your Platform!