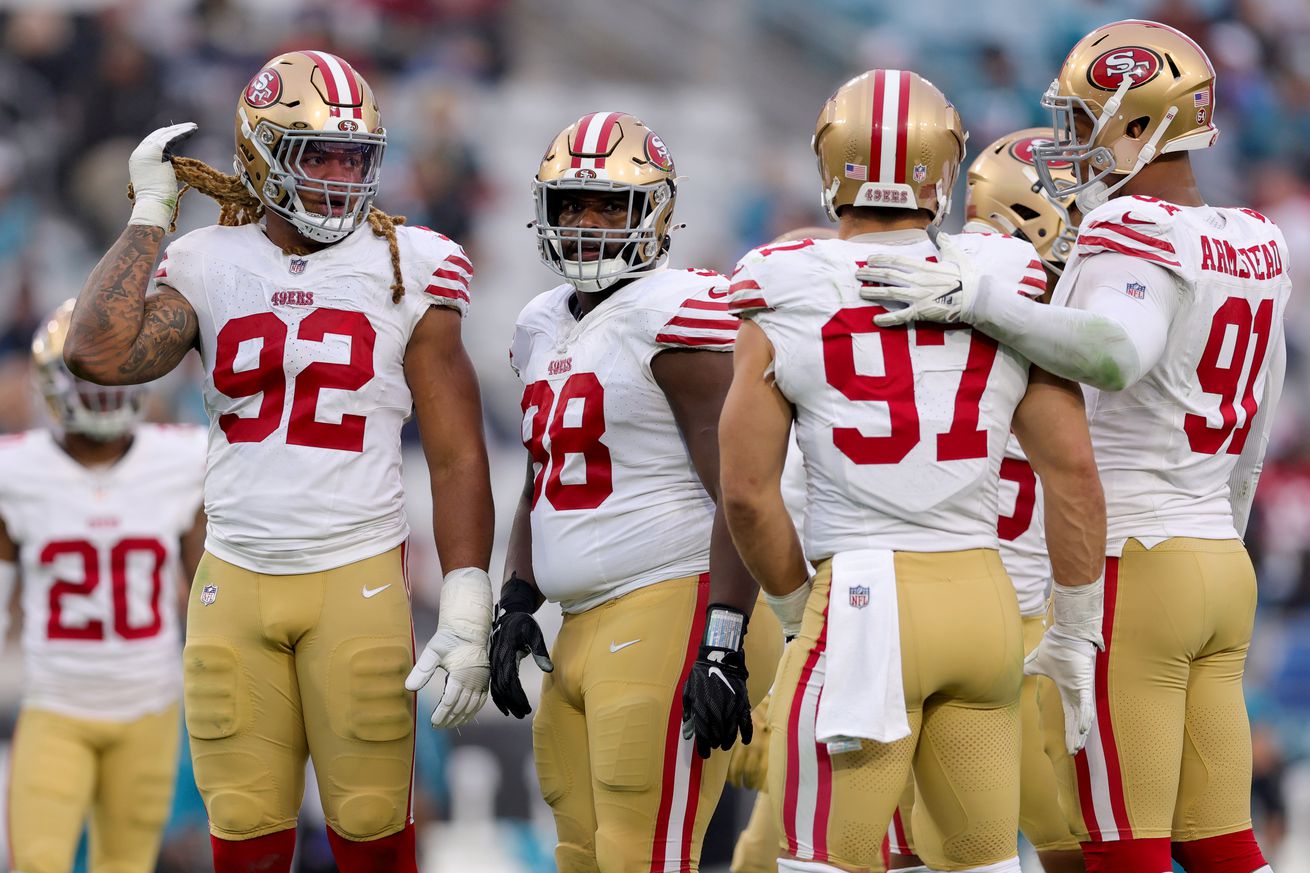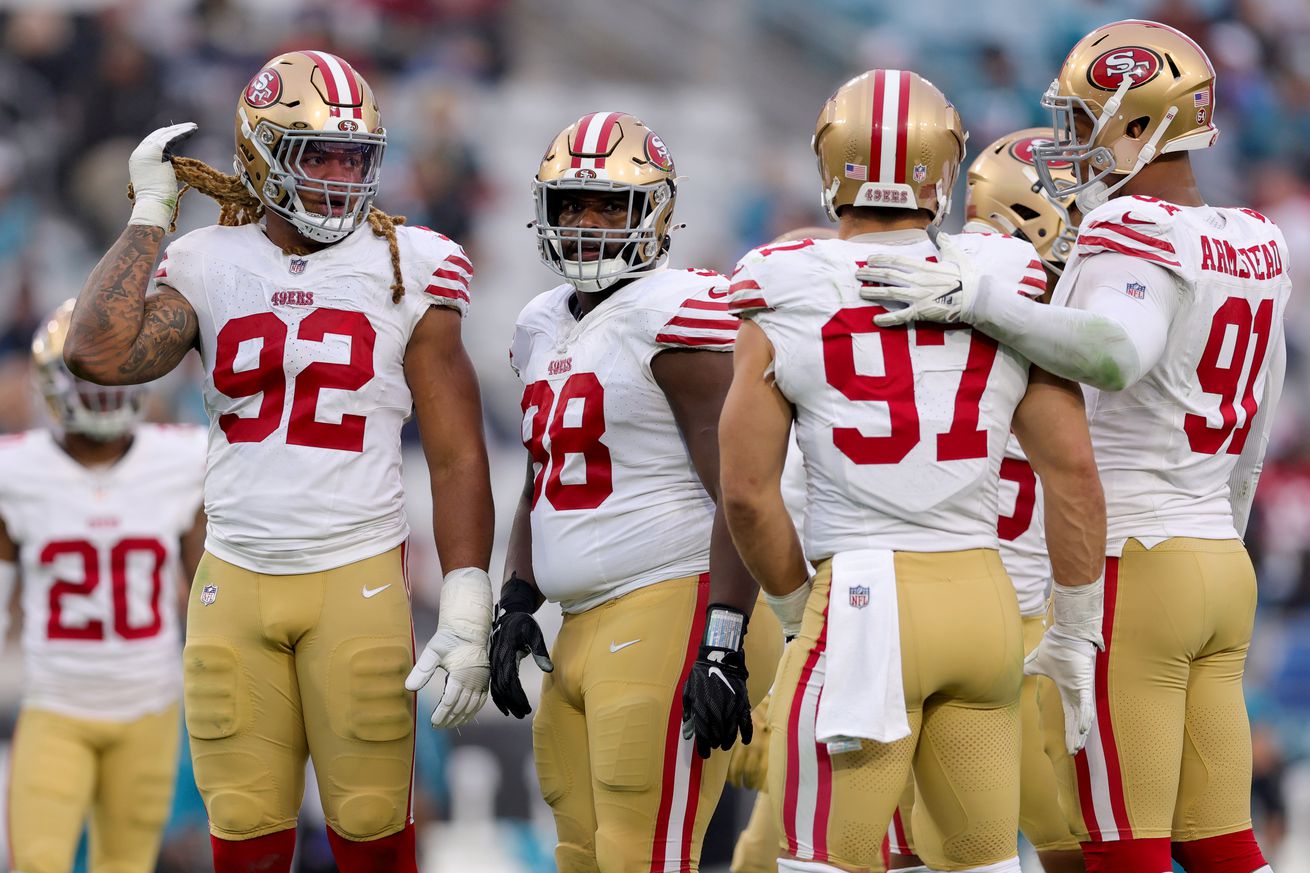 Tampa Bay's roster still has some pieces remaining from their Super Bowl victory in 2020. But not enough pieces to hold the advantage over San Francisco.
Following their best game of the season, San Francisco gets the chance to keep the momentum going against a middle-of-the-pack Bucs team. Their roster is a mix of aging veterans and promising young pieces. Tampa Bay is still in the hunt for the NFC South crown, but are they up to the level of a true contender like the Niners?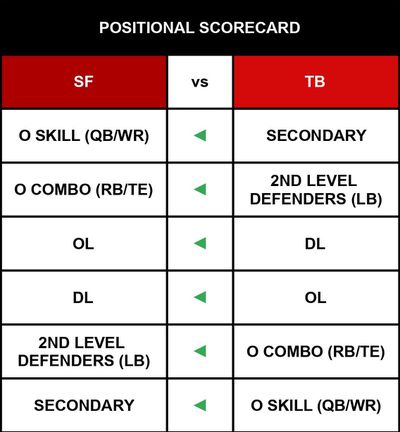 SF O SKILL (QB/WR) VS. TB SECONDARY
Advantage: SF
Tampa Bay's starting cornerback tandem of Jamel Dean and Carlton Davis have started a combined 135 games for the Buccaneers. They were both day-two draft picks of the franchise and have been stalwarts of a pretty solid defense the last half decade.
This year, however, they are 31st in passing yards allowed per game, and the issues start on the outside. Dean is allowing 69.0% completion and has given up three touchdowns in coverage. Davis, 70.7% and four scores. Neither has grabbed an interception, and they have five total pass break-ups between them.
If the game plan flows through Brandon Aiyuk this game, it should be a successful afternoon. Aiyuk only had two catches, one for a 32-yard touchdown, in this matchup last season (a 35-7 49ers victory), but it was Purdy's first career start. George Kittle and Deebo Samuel led the team with four catches in that game, the latter finding the end zone on a 13-yard run.
The main difference this year is the addition of safety Antoine Winfield Jr. for the Tampa defense. Winfield missed last year's contest and could make the difference for their secondary. The former second-round pick is one of the best in the league as a deep defender.
His 87.5 PFF overall grade is second-highest among safeties (min. 100 snaps). His 74.6 coverage grade is the best on the Bucs roster, and he is allowing only 44.4% completion as the primary coverage defender, the fifth-highest mark in the league.
SF O COMBO (RB/TE) vs. TB 2ND LEVEL DEFENDERS
Advantage: SF
It was great to see Purdy trust Kittle in a one-on-one situation last week with a Jaguars linebacker. Kittle came through, and when their connection is strong, the whole offense inevitably hums along. This week the Niners combo group will face the heartbeat of the Buccaneers defense.
Lavonte David is one of the most underappreciated linebackers of the last ten years. Even though he is getting long in the tooth, David still carries elite awareness and leadership, holding down the middle of the field. His running mate, Devin White, has had an up-and-down career, but has found a knack for making the big play. White has 24 sacks, six forced fumbles, and four interceptions since being selected as the fifth overall pick in 2019.
White will be the guy Shanahan circles in the film room as they craft their designs for attacking the Tampa defense. He's susceptible to misdirection and can be caught out of position. He will bite on play action and has struggled shadowing running backs and tight ends, posting the sixth-worst coverage grade among all linebackers (min. 100 snaps).
If it isn't White they pick on, expect the offense to target the starting safety opposite Winfield, Ryan Neal. In his first season with Tampa, the former undrafted free agent has given up four touchdowns and is allowing an opposing passer rating of 158.3 with 20 completions in 21 attempts as the responsible defender.
SF O LINE vs. TB D LINE
Advantage: SF
In last year's matchup, the 49ers rushed for over 200 yards as a team at 5.8 per carry. However, the Bucs dominant nose tackle, Vita Vea, left that game with a calf injury after only four snaps. He's an important cog to the success of their defensive line, as he consistently eats up double teams and can be an immovable force at times. When Vea is in the lineup, it's a much stingier group. They're giving up the sixth-fewest rushing yards per game this season.
The rotation aside of Vea is deep, with five other interior linemen logging at least 100 snaps. However, none have been as deft at stopping the run, all grading out under 60.0 in PFF run defense.
Their 2023 first overall pick, Calijah Kancey has at least shown an aptitude for getting after the quarterback, recording two sacks and the third-most pressures on the team. Kancey, Logan Hall, and William Gholston are the primary defenders splitting snaps on the inside next to Vea.
Tampa hasn't gotten the production off the edge like they did when they won the Super Bowl just a few years ago. Their ESPN Pass Rush Win Rate of 38% is 25th in the league. Shaquil Barrett has entered the back nine of his career, but is second on the team with four sacks.
Former first rounder Joe Tryon-Shoyinka hasn't developed into much and rookie Yaya Diaby has cut into the snaps to help boost pressure on opposing quarterbacks. While this won't be the biggest test for the Niners offensive line this season, the interior group's attempt to move Vea off his anchor will be worth watching.
TB O LINE vs. SF D LINE
Advantage: SF
There's been a nearly full transformation of the Buccaneers' offensive line from a year ago. All-Pro tackle Tristan Wirfs has switched to the left side but has continued his elite level of play. His 85.1 pass blocking grade is third among all tackles (min. 100 snaps).
I would be lying if I said it doesn't sting knowing the 49ers front office could have taken Wirfs in the first round of the 2020 draft instead of trading back with Tampa Bay, and instead opting for Javon Kinlaw.
With Wirfs move, Luke Goedeke has taken over the right tackle job after primarily playing left guard last season; however, he has popped up on the injury report (foot). Undrafted free agent journeyman Matt Feiler is now the starting left guard, and also on the injury report (knee).
Rookie Cody Mauch from North Dakota State has slotted into right guard. Center Robert Hainsey is the only returning lineman to have taken 100% of snaps in the same position between 2022 and 2023.
It's been an underwhelming unit with all of the transitions. Even with Wirfs dominance, the Buccaneers rank dead last in ESPN's run block win rate. They're a slightly better pass protection group (16th in PBWR), but the right side especially has struggles. Goedeke and Mauch have each given up 20 pressures and a combined eight sacks. Look for big games all around from the Niners pass rush that is coming off the heels of their best performance of the year.
TB O COMBO vs. SF 2ND LEVEL DEFENDERS
Advantage: SF
Running back Rachaad White is behind only Christian McCaffrey in receiving yards at the position this season. White leads the Bucs with 429 yards on the ground, but this is without question the worst rushing team in the NFL.
Again, the offensive line's poor run blocking grade is a big reason for that, but the stats are only more concerning. They are dead last in rushing success rate (28.1%), rushing EPA/play (-0.214), and yards per carry (3.1). They have one rush this season over 20 yards, and it was from their quarterback.
Combined yards before contact per rush

Sum of each offense and defense's YBC/carry.

High number: Good run-blocking o-line vs. bad run-defending D (blue)

Low number: Bad run blocking o-line vs. stout D against the run (red)

Happy Keaton Mitchell boom week? pic.twitter.com/fj4gwIfn2Y

— Ian Hartitz (@Ihartitz) November 16, 2023
So offensive coordinator Dave Canales has leaned on White in the short passing game as an extension of a running game. Tight end Cade Otton is developing into a solid player and safety net in the passing game in his second season. His drop rate of 3.2% is sixth-lowest among tight ends with 40+ targets. But he isn't a mismatch for the 49ers' linebackers or safeties. Fred Warner and Dre Greenlaw probably smell blood in the water. It could be a huge day for the linebackers if Tampa Bay is forced to be one-dimensional early.
TB O SKILL vs. SF SECONDARY
Advantage: SF
Although there isn't a large enough sample size yet, Tampa Bay should be content with their return on Baker Mayfield. He hasn't been great, but he also hasn't looked as bad as he was in his final season in Cleveland. He ranks 11th in adjusted EPA/play. Furthermore, he isn't the guy everyone expected when he was taken first overall, but he's handling the adversity he has faced fairly well.
Despite teams knowing the Buccaneers can't run, Mayfield is asked to lead a vertical passing attack and has been efficient in pushing the ball downfield. His average depth of target is 9.1, the fifth-highest clip in the league according to Pro Football Reference.
And even though his big-time-throw rate is towards the bottom of NFL quarterbacks, he hasn't been putting the ball in harm's way like he was the last few seasons. He does have five interceptions and two fumbles so far, but his turnover-worthy-throw rate of 2.7 is around league average.
With that being said, if it were a better quarterback (like Tom Brady) running the offense, the advantage could slide to Tampa Bay due to their dynamic pass catching duo of Chris Godwin and Mike Evans. However, the Niners secondary looked like they got their groove back last week with the defensive adjustments, especially at nickel. And Charvarius Ward and company were dominant the last time these two teams played, holding Evans to four catches on nine targets for 44 yards and Godwin to 5/9/54, which was with Brady.
This isn't a prediction post, but if it were, I'd guess something like 0 rushing yards for Tampa Bay who turns the ball over six times. Niners win big and post a shutout. Just a hunch.
Share This Story, Choose Your Platform!