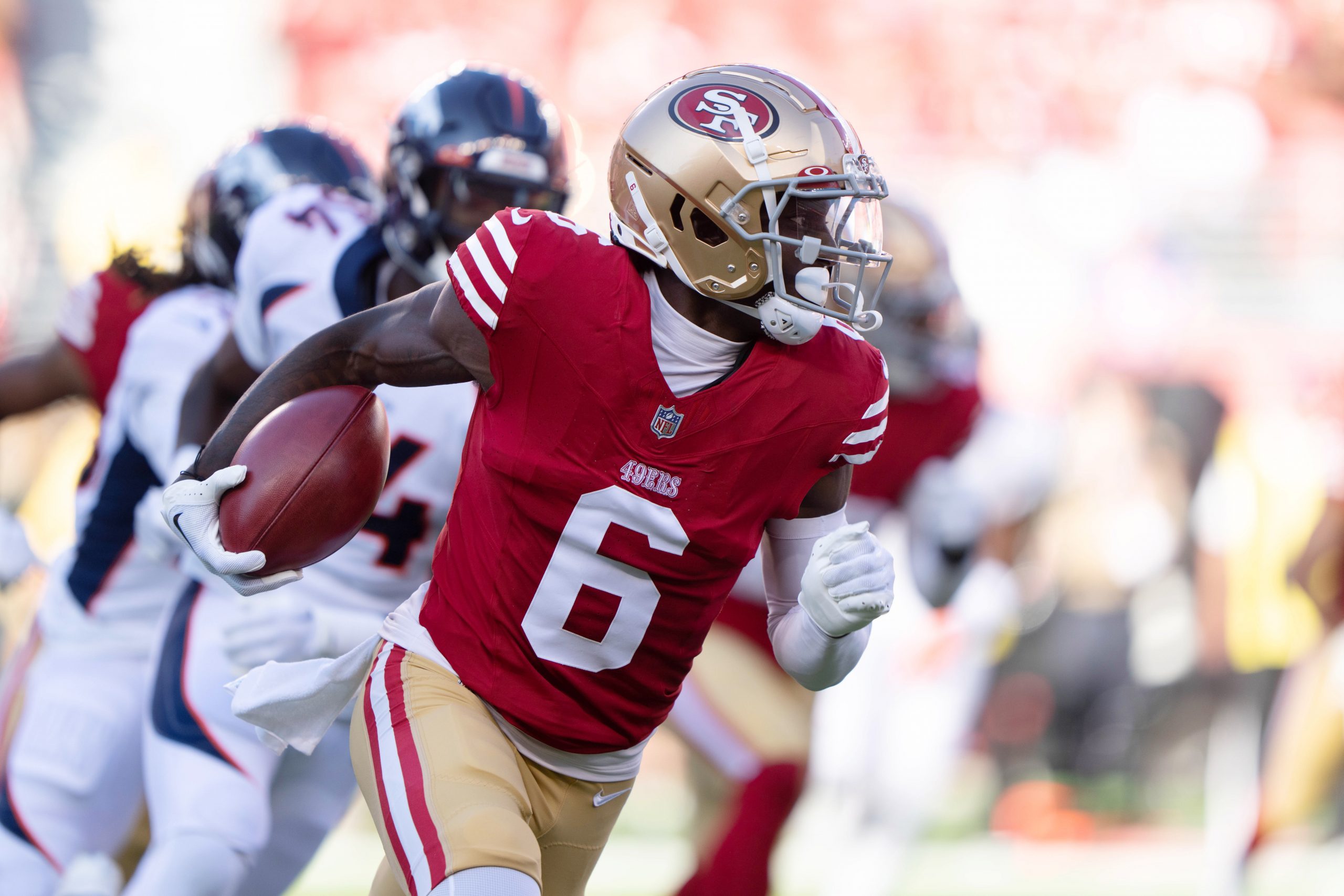 There was some hope that 49ers wide receiver Danny Gray would find his stride in his second NFL season. An injury in training camp that landed him on IR after he made the initial 53-man roster derailed the start of his season, but he's healthy now per head coach Kyle Shanahan which begs the question: why isn't Gray active?
Shanahan was asked in early November about the team's overall speed and gave an answer that did not include Gray. That wasn't a particularly good sign for the receiver the 49ers selected in the third-round of the 2022 draft in part because of his game-changing speed.
At that point, however, it wasn't clear where Gray was health-wise while recovering from an SC joint sprain he sustained in his shoulder late in the preseason.
General manager John Lynch indicated all the players on IR were healthy enough to go. He didn't explicitly say anything about Gary though. It was certainly not encouraging when the team opened practice windows for three players on IR and PUP before Week 10 and left Gray on IR.
Shanahan was asked more directly Friday about Gray's availability and made it clear that there's no role for the second-year WR on the current 53-man roster.
"Danny's good to go. He is getting right there," Shanahan said. "He's in that same situation. We'll see how it goes with these numbers, but I think he's right around now able to come back and help us. So we'll see when we need him with the numbers."
This isn't a good sign for Gray's progress in his second NFL training camp. That the team isn't in a hurry to bring him back says that the roles for him on special teams are few, and even fewer on offense. Gray was supposed to challenge for a third WR job this year and instead can't find his way onto the 53-man in Week 11.
Perhaps there's an injury in the receiving corps or elsewhere that opens a spot for Gray. Even if he makes the roster though it's tough to imagine there'll be much of a role for him given what Shanahan said.
It's still just Year 2 for Gray so there'll be more opportunities for him, but the sophomore season breakout doesn't sound imminent.
Share This Story, Choose Your Platform!