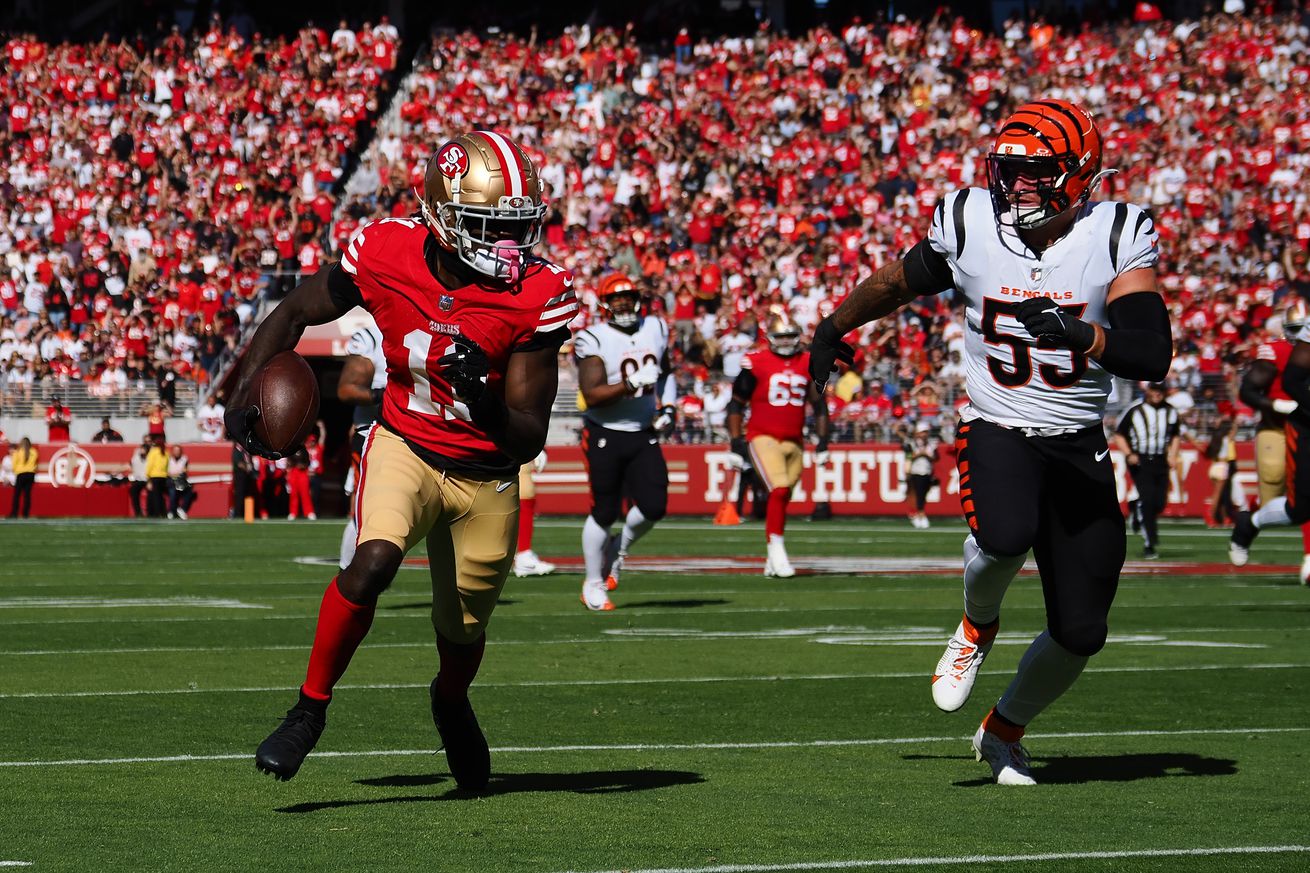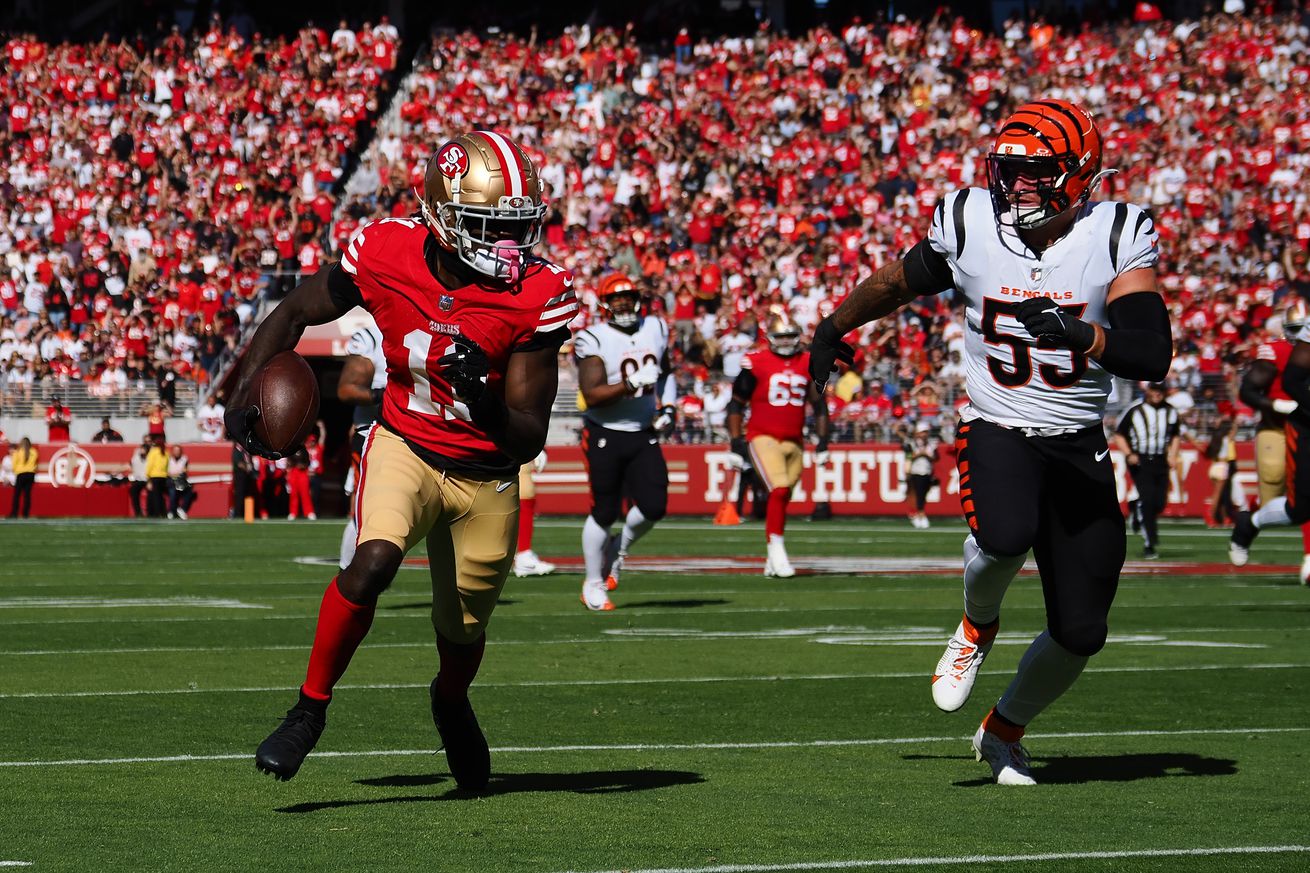 A look at Aiyuk's stats will tell you just how impactful he's been for the 49ers this season
Entering his fourth season in the NFL, expectations were high for San Francisco 49ers wideout Brandon Aiyuk, who had yet another strong training camp in the offseason, setting himself up for a big year and a potential hefty extension in the offseason.
Through eight games, Aiyuk has paced the team in catches, targets, yards, and explosive plays in the air.
But, has Aiyuk's season been on par with expectations through the first half of the season? Let's take a deep dive into the numbers.
The Numbers
Like I mentioned above, Aiyuk currently paces the team in various receiving statistics, indicating the impact he's had on his team.
But, how do those numbers relate to the rest of the NFL?
Through eight games, Aiyuk has caught 35 passes on 51 targets for 620 yards and two touchdowns.
While his 51 targets rank 38th in the NFL, Aiyuk's 620 receiving yards currently sits at 11th in the NFL, and that's with the wideout missing a game this season as well.
Nine of the 10 receivers above Aiyuk have played at least eight games, with five playing nine thus far, creating a disparity at the top.
Looking at a per-game average, Aiyuk's 88.7 receiving yards a contest ranks ninth in the NFL, ahead of players like Cincinnati's Ja'Marr Chase, Los Angeles's Cooper Kupp, and Kansas City's Travis Kelce.
Despite not seeing an ample number of targets like his counterparts, how has Aiyuk been able to generate 620 receiving yards?
It's due to a 14.6-yard average depth of target mark, which means that Aiyuk has consistently been targeted downfield in 2023, hence the 13 explosive plays (20+ yards) he's created, which ranks eighth in the NFL.
Now, Aiyuk also operates with yards after the catch, hence his 17.7 yards per catch mark (yes, you're reading that right), which ranks fifth in the NFL behind New Orleans's Rashid Shaheed, Houston's Noah Brown, Detroit's Josh Reynolds, and Green Bay's Christian Watson, all seen as pure deep threats.
The downfield threat of Aiyuk has been apparent in 2023, as the wideout accounts for 42.37 percent of the team's total air yards, which also ranks fifth in the NFL.
What do all of these numbers mean?
Well, Aiyuk isn't getting targeted at a high clip, at least not at the rate of the other elite receivers around the league, as seen by his 51 targets, which ranks 38th in the NFL.
But, he's clearly making the most of his opportunities, being inside the top ten in nearly every important statistical category for receivers, and his elite efficiency is highlighted by Aiyuk's 3.25 yards per route run mark, second to only Tyreek Hill.
Additionally, Aiyuk is primarily being targeted as a downfield threat, as seen by his 14.6-yard average depth of target mark, as well as his 17.7 yards per target, which is top five in the NFL.
To make matters even better, Aiyuk has just two drops this season and a drop rate of 5.4 percent.
While those two drops were ugly, with both coming in deep situations, Aiyuk's hands have been consistent for the most part, which has provided the 49ers with those explosive plays, making their offense more variable thus far.
Aiyuk's two touchdowns aren't as high as some of the other elite receivers around the NFL, but he's certainly made his mark this season, likely leading to a well-deserved hefty contract extension in the offseason.
However, let's dive into those touchdown numbers and see why he hasn't generated many scores, despite the 49ers ranking second in the NFL with four red zone scoring opportunities per game.
The Red zone
Through eight games, the 49ers have been one of the more consistent teams in terms of getting to the red zone, with four opportunities per game, as I shared above.
How have those opportunities gone?
Well, the 49ers have scored 21 touchdowns in the red zone on 32 attempts, with their 65.63 percent success rate ranking fifth in the NFL.
So, the 49ers are being efficient with their red zone opportunities for the most part. But, if San Francisco has 21 touchdowns and 32 attempts, why hasn't Aiyuk scored more?
Here's the entire breakdown of rushing and receiving touches and touchdowns for the 49ers in the red zone.
Rushing
Christian McCaffrey: 110 rushes(most in NFL), 8 rush TDs
Brock Purdy: 5 rushes, 2 TDs
Deebo Samuel: 5 rushes, 1 TDs
Jordan Mason: 3 rushes, 1 TD
Kyle Juszczyk: 3 rushes
Elijah Mitchell: 3 rushes
Receiving
Christian McCaffrey: 7 targets, 3 TDs
George Kittle: 7 targets, 2 TDs
Deebo Samuel: 5 targets
Brandon Aiyuk: 4 targets, 2 TDs
Kyle Juszczyk: 4 targets, 1 TD
Elijah Mitchell: 2 targets
Ronnie Bell: 1 target, 1 TD
Ross Dwelley: 1 target
Ray-Ray McCloud: 1 target
Looking at the numbers, the 49ers run the ball at an exorbitant rate in the red zone, with Christian McCaffrey's 110 rushes outpacing the rest by at least 13 carries.
That's also led to eight rushing touchdowns for McCaffrey in the red zone, while the 49ers as a whole have 12 rushing touchdowns, with Brock Purdy taking two in via scrambles and Deebo Samuel rushing for one as well inside the 20-yard line.
That leaves just nine passing touchdown opportunities for the 49ers in the red zone, with Purdy throwing for just 12 touchdowns total on the season thus far.
Looking at the receiving distribution, George Kittle and Christian McCaffrey have outpaced the group with seven targets a piece, generating a combined five touchdowns with those opportunities.
Scrolling down the list, you finally find Brandon Aiyuk, who has four targets, of which two were catches and both went for touchdowns.
Coincidentally, both scores came in the red zone during the first week of the season, when Aiyuk had an eight-catch, 129-yard, and two-touchdown performance against the Pittsburgh Steelers.
The answer to the touchdown debacle is pretty simple.
The 49ers run the ball more in the red zone, with Christian McCaffrey taking up eight rushing touchdowns, and for good reason. Then, in the passing game, they've distributed the ball around, targeting McCaffrey and Kittle at a high rate, leaving less opportunities for Aiyuk.
Now, can you truly complain that Aiyuk isn't earning more targets in the red zone? Not really, given that the 49ers have converted on 65% of their opportunities, a top-five mark in the NFL, and get to the area at a high rate.
But, there's a reason for Aiyuk's lack of touchdowns, and it's certainly not because of a lack of production.
Share This Story, Choose Your Platform!