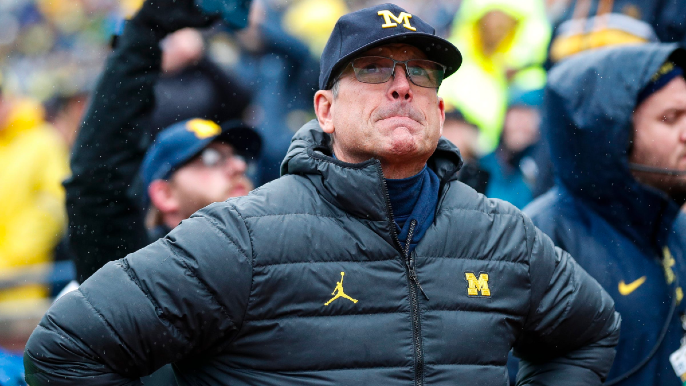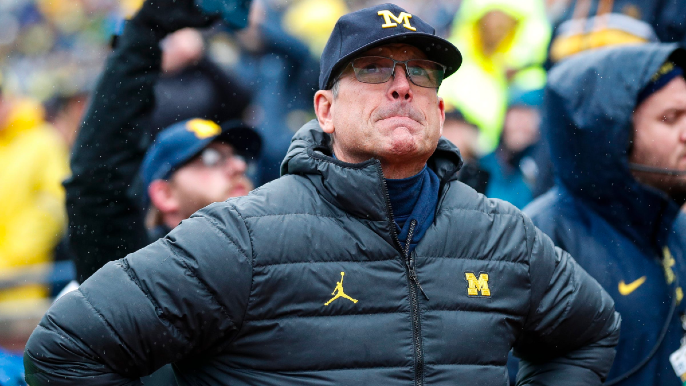 ---
The Big Ten has made it's ruling on the Michigan sign-stealing scandal, and it's a significant one.
Jim Harbaugh will no longer be allowed to coach on game day for the remainder of the season, the league announced on Friday. That will include Saturday's marquee matchup vs. No. 10 Penn State, although Harbaugh and Michigan is seeking a court order "preventing this disciplinary action from taking effect."
Michigan was found to be in violation of the Big Ten Sportsmanship Policy for "conducting an impermissible, in-person scouting operation over multiple years, resulting in an unfair competitive advantage that compromised the integrity of competition," the conference said in a statement.
Harbaugh denies any knowledge of the program engaging in sign stealing, and the staffer accused of the impropriety, Connor Stalions, resigned last week.
Michigan says the punishment is premature and unfair, citing that the ruling by commissioner Tony Petitti "disregards the Conference's own handbook, violates basic tenets of due process, and sets an untenable precedent of assessing penalties before an investigation has been completed," according to a statement.
This is the second punishment levied against Harbaugh this season. In August, Michigan self-imposed a three-game suspension for Harbaugh to begin the 2023 season, for recruiting violations that allegedly took place during the COVID-19 dead period.
As of now, Harbaugh will be allowed to continue coaching the team during the week.
Share This Story, Choose Your Platform!