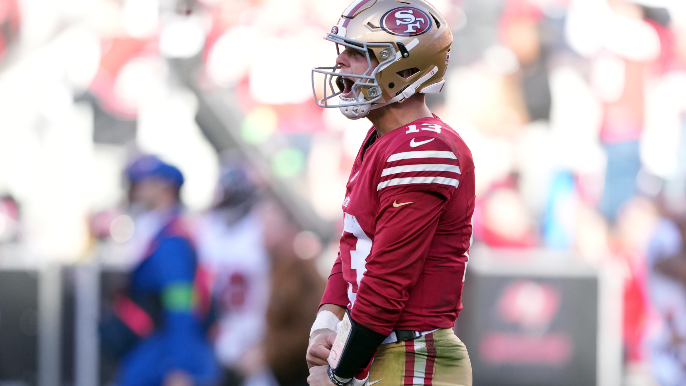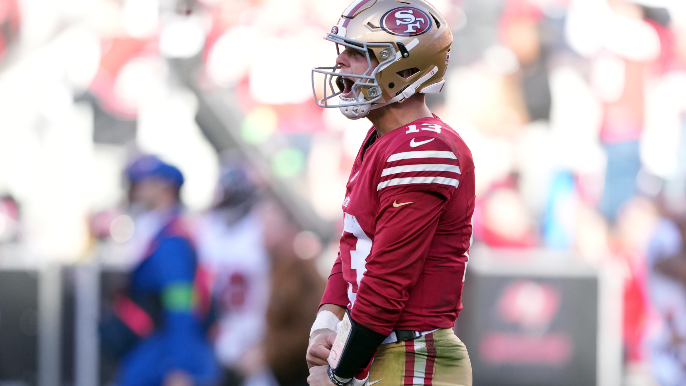 ---
One of the top concerns about Brock Purdy coming out of college and so far through his young NFL career, is arm strength.
He does not have the elite pedigree of some of the top prospects, and some of his throws hang up in the air for what seems like an eternity. But for the most part, those throws reach their target.
And for the past two weeks — after missing on a few deep balls earlier in the year — Purdy has connected on those deep shots, both of which were walk-in touchdowns. Against Jacksonville, he stepped up into a closing pocket to connect with George Kittle down the right sideline for 66 yards. Sunday, he found Brandon Aiyuk down the left sideline for a 76-yard touchdown, the longest pass play in the NFL this season.
Kyle Shanahan was asked about Purdy's arm strength Monday, in the context of those two touchdowns, compared to how the 49ers graded him coming out of college.
"I think it's definitely stronger than what we thought it was when we drafted him," Shanahan said.
But he clarified that he thinks there is a misconception in evaluating quarterbacks. It's not solely about arm talent, it's about the processing that's paired with it. He pointed to Purdy having enough arm strength to execute what he needs to, though he's maybe not the best quarterback to launch a 70-yard Hail Mary.
I think when people talk about arm strength — can he sit there and take three hitches and make the wrong decision and just wait and throw it 70 yards down the field? Probably not. But when do you ever want a guy to do that? On a Hail Mary, maybe?

We like guys who can make all the throws in the timing of the play, which is usually going by the right decisions. When to throw it deep, when to throw it short, when to check it down, when to go over the middle, and Brock's always had the arm strength to make all those throws.
On Sunday, Purdy became the first 49ers quarterback since Joe Montana (1989) to post a perfect passer rating of 158.3 in a single game. In Purdy's last two games, he has a 157.3 passer rating, the highest for any NFL quarterback over two starts since quarterback starts were tracked in 1953.
Shanahan's point is not that Purdy is the greatest thrower of the football that he's ever seen. But his arm talent is better than the 49ers expected when he was drafted, and it's more than functional given his processing ability.
Share This Story, Choose Your Platform!