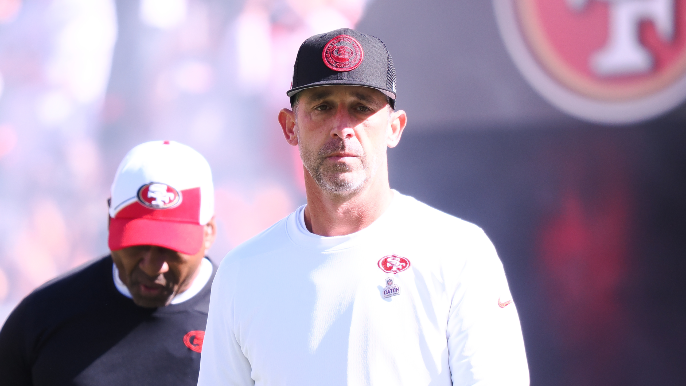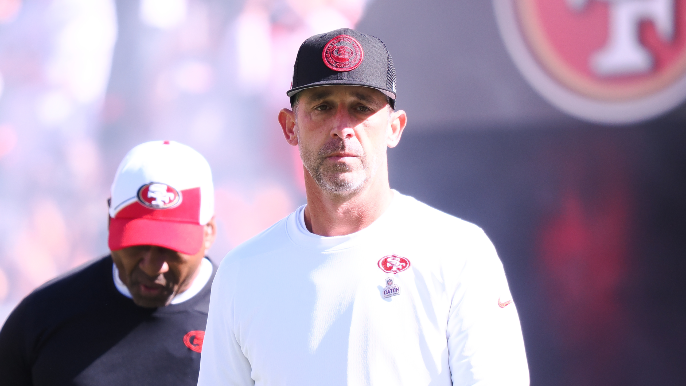 ---
On the heels of a three-game skid, Kyle Shanahan has plenty to ruminate over during his bye week.
The 49ers head coach joined Tolbert and Copes for his weekly chat and talked everything from Steve Wilks' potential move to whether criticism of Nick Bosa is warranted, to Brock Purdy's performance.
That last point is a major one after the second-year quarterback has thrown five interceptions over the last three games.
Is Purdy underperforming on the whole? Are his bad plays isolated? What's Shanahan's read on his performance?
As usual, Shanahan does not get into the general big-picture assessments that are frequent online. He assessed Purdy's performance on the whole while dissecting what happened on his two interceptions against the Bengals.
His first interception was a product of inexperience, Shanahan said. He missed a handoff and should have either taken a sack or run out of bounds because there was a guaranteed illegal man downfield penalty coming. Purdy didn't know that, he said, because he hasn't experienced that situation.
"I think that's what happened to Brock," Shanahan said. "He made a mistake at the beginning, he was scrambling, and he saw a guy wide open in the end zone. So he just reacted and threw it to him and it was gonna be illegal guys downfield which happens all the time on screens and then you learn from it, don't do it again. Unfortunately, the guy made a hell of a play and picked it."
Shanahan said that Purdy is part of the reason the 49ers have had a chance in games in the first place.
He said his playmaking and ability down the stretch gave San Francisco a comeback opportunity.
"Brock's been one of the reasons we've been in these games these last two weeks, and he has done some unbelievable stuff. But I also will say when you're down some points and you've got to get back into it, that quarterback is going to win it or lose it. That's part of the position because he's got to do some make some big time plays just to get us back in that. And I thought Brock made some big-time plays versus Cincinnati, a number of them scrambling, a number of them with his throws. And he was one of the reasons that we got a chance to at least be within one score at the end. And he's one of the main reasons we believe we're gonna be able to go down and score.
The issue was those errors.
Those two interceptions cost the 49ers massively, and Shanahan acknowledged that those mistakes will come. He credited Purdy's accountability for his turnovers, saying he was "sick" over them when addressing the team.
And Brock lets it rip. And when guys let it rip, sometimes you can't pull it back when you do it too fast. And he did that one time in the game on that throw over the middle. And that was just a bad pick that he had. But by no means does this change how he's playing. He's made a couple of mistakes at the end of the game, but if you watch that tape, just like you're saying how you think he's playing when you watch the game, you're dead right. He's playing at a very high level. But when you throw picks at the end when you're down points, that ends the game right there.

And that's part of playing that position and Brock is accountable for that. You should hear him talk to our team after the game. I mean, he's sick over those turnovers. I understand how they happen and we don't want them to happen but I can't tell you how much I believe in him.
San Francisco will use a much-needed bye as an opportunity for rest and self-scouting. It's an opportunity to get newly-acquired defensive end Chase Young acquainted with the 49ers' system and sort out issues on both sides of the ball.
Shanahan will hope that Trent Williams and Deebo Samuel make their returns in Jacksonville after the bye.
Share This Story, Choose Your Platform!