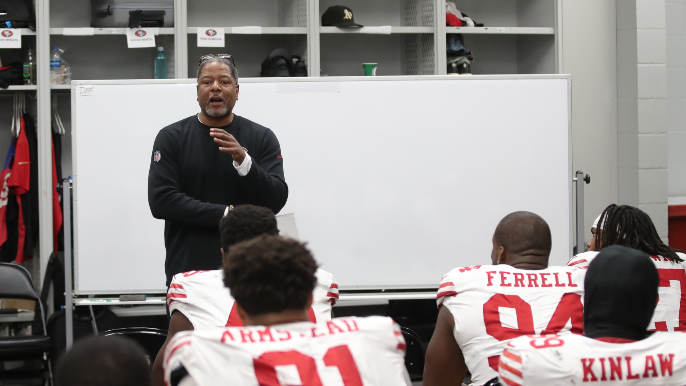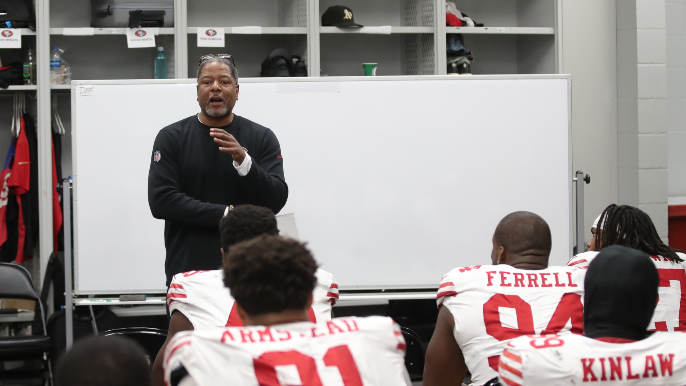 ---
If it's broke, fix it.
That seems to be the thought behind the 49ers' latest move, that will see defensive coordinator Steve Wilks move from calling plays in the booth to the field, starting Sunday in Jacksonville.
Head coach Kyle Shanahan made the announcement on Wednesday, continuing a weeks-long trend where Wilks has been the subject of discussion as the 49ers' defense has been engaged in a free fall.
"I kind of want him to be down and be near our players a little bit," Shanahan said during his Wednesday presser. "They've had that more with just the linebacker communication in the past and I want him to be down there so he can talk to guys a little bit more."
The 49ers defense looked like the best in the league through the first five games, then one of the worst during the recent three-game skid. It's hard to square considering the amount of blue chip talent on that side of the ball, and has many outside the organization pointing at Wilks, the lone variable who joined this season.
The criticism hasn't just come from outside the building. Shanahan called out a Wilks play call at the end of the first half vs. Minnesota, that led to a long touchdown for the Vikings. The 49ers defense struggled again the next week, giving up 31 points at home to the Bengals.
Wilks has traditionally preferred to work from the booth, but the 49ers defense is used to DCs on the field. Former defensive coordinators DeMeco Ryans and Robert Saleh both called plays from the sideline, and were known for their fiery personalities. The idea in moving Wilks down is to a) shake things up and b) re-create a situation that the 49ers' defensive leaders are used to.
Previously, Wilks was relaying play calls to linebackers coach Johnny Holland, who would then relay it to Fred Warner.
"I think it will be a flawless transition, whether it be him giving the calls or staying with Johnny," Warner said. "Having him down there connecting with us on the field is gonna be great… I think more so than anything, I think him just wanting to be down there as our leader of the group just to be down there and make adjustments on the fly, when need be, just being down there with us, looking at us in our eye when we're down there, just little things like that (will help)."
If there was pressure was on Wilks before, it's even greater now. In addition to this somewhat bizarre public move, the 49ers acquired another high-level pass rusher, Chase Young, in a trade last week. If the defense continues to struggle after these changes, Wilks may be out of excuses, and possibly out of a job.
Share This Story, Choose Your Platform!