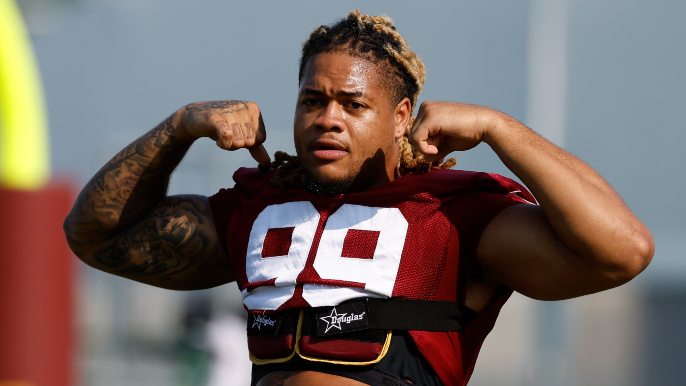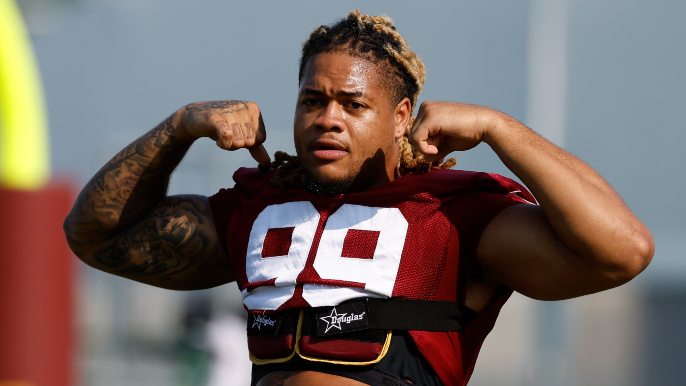 ---
Chase Young made his practice debut with the 49ers Monday and it immediately made clear that the 49ers' defensive end depth is substantial.
Nick Bosa, Young, Randy Gregory, Clelin Ferrell and Drake Jackson compose a five-man group that probably leaves one of them the odd man out.
NBC Sports' Matt Maiocco examined that hierarchy and where Young fits into the mix. He joined Tolbert and Copes after Monday's practice to discuss the situation.
Young has been used heavily in Washington this season. Maiocco expects that will continue.
"Considering he was playing so much with the Commanders — he was playing a lot of snaps — we're talking 50, 60, 70 snaps a game, I'd expect him to play a lot," Maiocco said. "They're not saving him for anything. He's signed through this year. Very unlikely that he re-signs with this team after the season is over. So I would expect to see him — I don't know if he'll start. I think probably Clelin Ferrell has done well enough to hold on to that starting job at least for this first week. But then it's kind of ride the hot hand."
One of those five names — perhaps Jackson — will likely find themselves the odd man out on gamedays. Rookie edge rusher Robert Beal Jr. also opened his three-week practice return window from injured reserve, but it's hard to see how he'd fit into the current picture.
Regardless, Maiocco thinks Young will be heavily involved.
So they'll have four defensive ends active. You know, Bosa is going to be active and Young and Ferrell and probably Gregory and then you want to be able to rotate guys and keep them fresh few snaps at a time. But if Chase Young is looking like he did for the seven games he played with Washington, then maybe they ride him a little bit too. Not to the level of Bosa and maybe they're able to kind of split up the snaps a little bit and not have Bosa play 100 percent of snaps like he did last game. But I fully expect Chase Young will get a lot of action. We're talking, in my mind, probably upwards of 50 percent of the snaps.
San Francisco is coming off its bye and has three days of practice from Wednesday through Friday before heading to Jacksonville.
Listen to the full interview above. You can listen to every KNBR interview on our podcast page at knbr.com/podcasts or wherever you listen to podcasts.
Catch Tolbert & Copes weekdays from 2 p.m. – 6 p.m. on KNBR 104.5 / 680 and streaming live on KNBR.com.
Share This Story, Choose Your Platform!