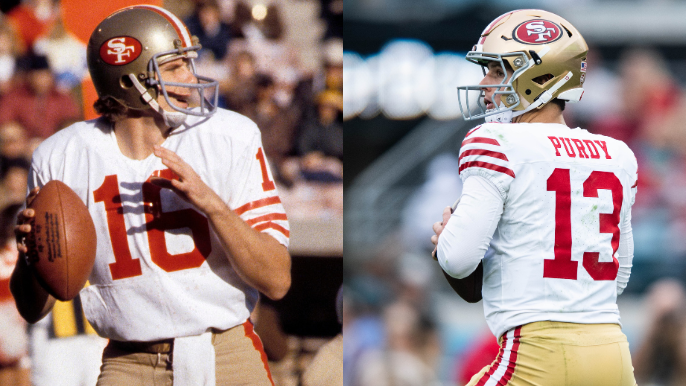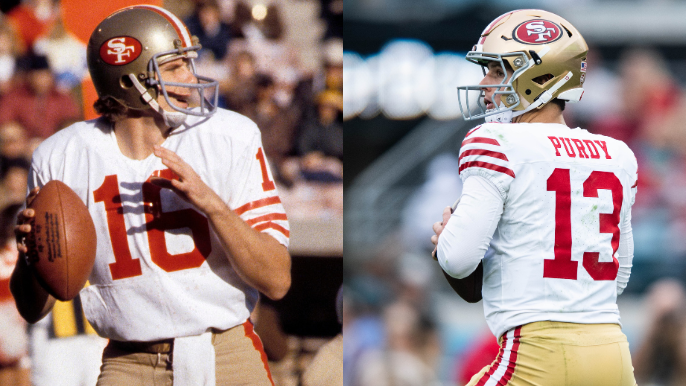 ---
It's the type of comparison that will turn heads in any context.
Joe Montana is by a large consensus the second best quarterback of all time. Brock Purdy has started 14 career regular season games. Yet, despite their dispirate resumes, former NFL head coach Mike Martz sees similarities in the playing styles of the two 49ers quarterbacks.
Martz said as much after Purdy's excellent showing in the 49ers' 34-3 win on Sunday over Jacksonville, in which Purdy threw for 296 yards, three touchdowns and posted a QB rating of 148.9. He also made the comparison when he joined Papa & Lund on Tuesday.
"Not just the physical style that he plays with," Martz began on KNBR. "His demeanor, how calm he is, how stoic he is, the confidence that he has, the humility he plays with. Everything kind of relates back to me, the way I remember Joe playing."
What can't be discounted is Purdy's production this season. He leads the NFL in quarterback rating at 109.9, and has thrown 15 touchdowns to just five interceptions. Purdy went through a blip during the 49ers' recent three-game losing streak that saw him get loose with the ball late in games, but Martz doesn't believe that is an indicator that defenses are starting to figure him out.
"I don't think so," Martz said. "He has such great confidence in the receivers and where they're going to be. His anticipation is outstanding with these receivers. There's a great connection and great feel for them.
"The whole thing with quarterbacks, when you put an offense in…you know Steve Young at Tampa, was at the bottom of the league as a quarterback. He goes to San Francisco, and of course he becomes a Hall of Fame quarterback. Along the way, there's a transition into a program, that really is specific, and creates a great environment for the quarterback. Like Shanny's done there."
One thing that Purdy and Montana certainly have in common is that the 49ers win when they are on the field. In 14 regular season games as a starter, the 49ers are 11-3.
Martz believes that's in large part to Purdy's demeanor with the ball in his hands.
"You don't see him with his head on a swivel looking for something because he's confused, that's just not going to happen," Martz concluded.
Listen to the full interview above. You can listen to every KNBR interview on our podcast page at knbr.com/podcasts or wherever you listen to podcasts.
Catch Papa & Lund weekdays from 10 a.m. – 2 p.m. on KNBR 104.5 / 680 and streaming live on KNBR.com.
Share This Story, Choose Your Platform!