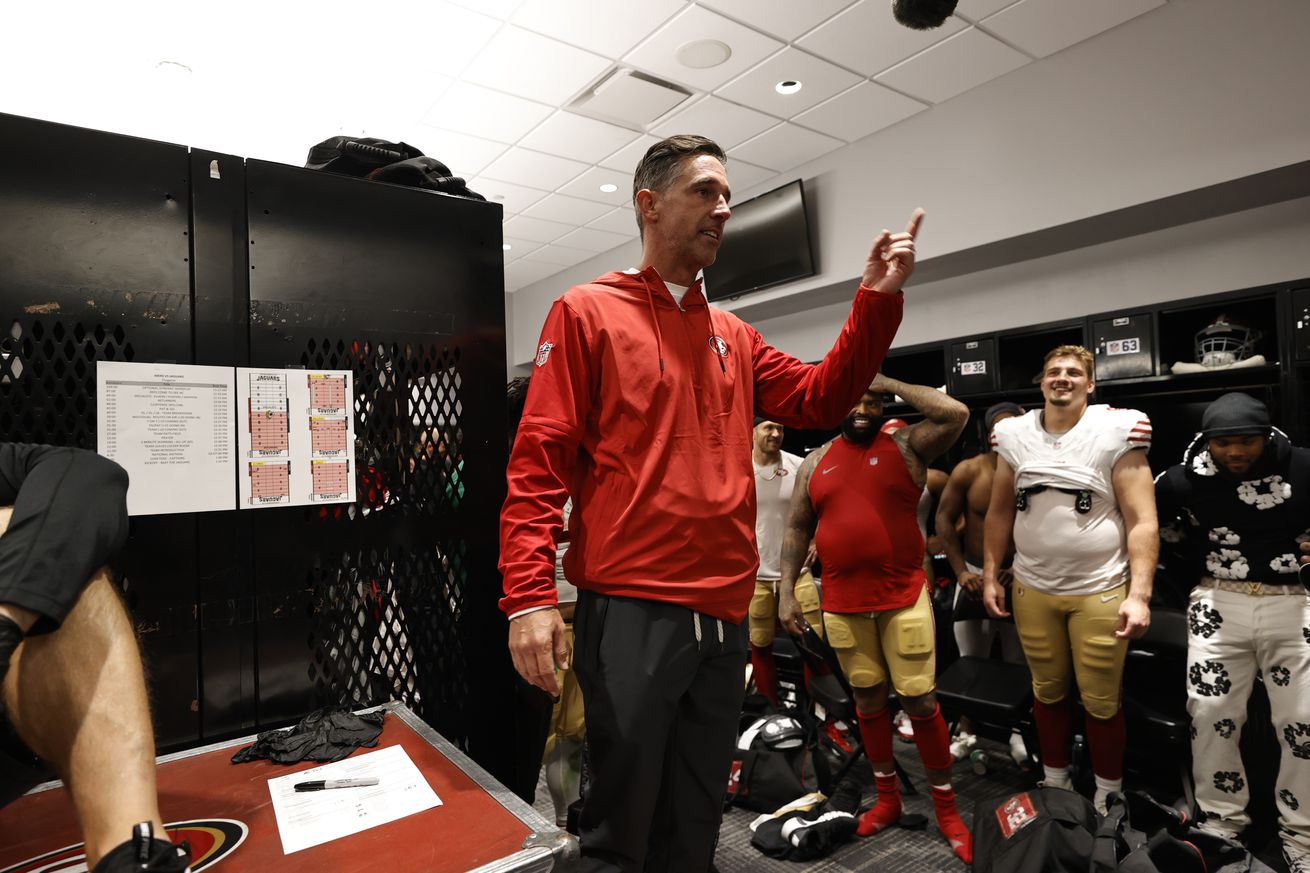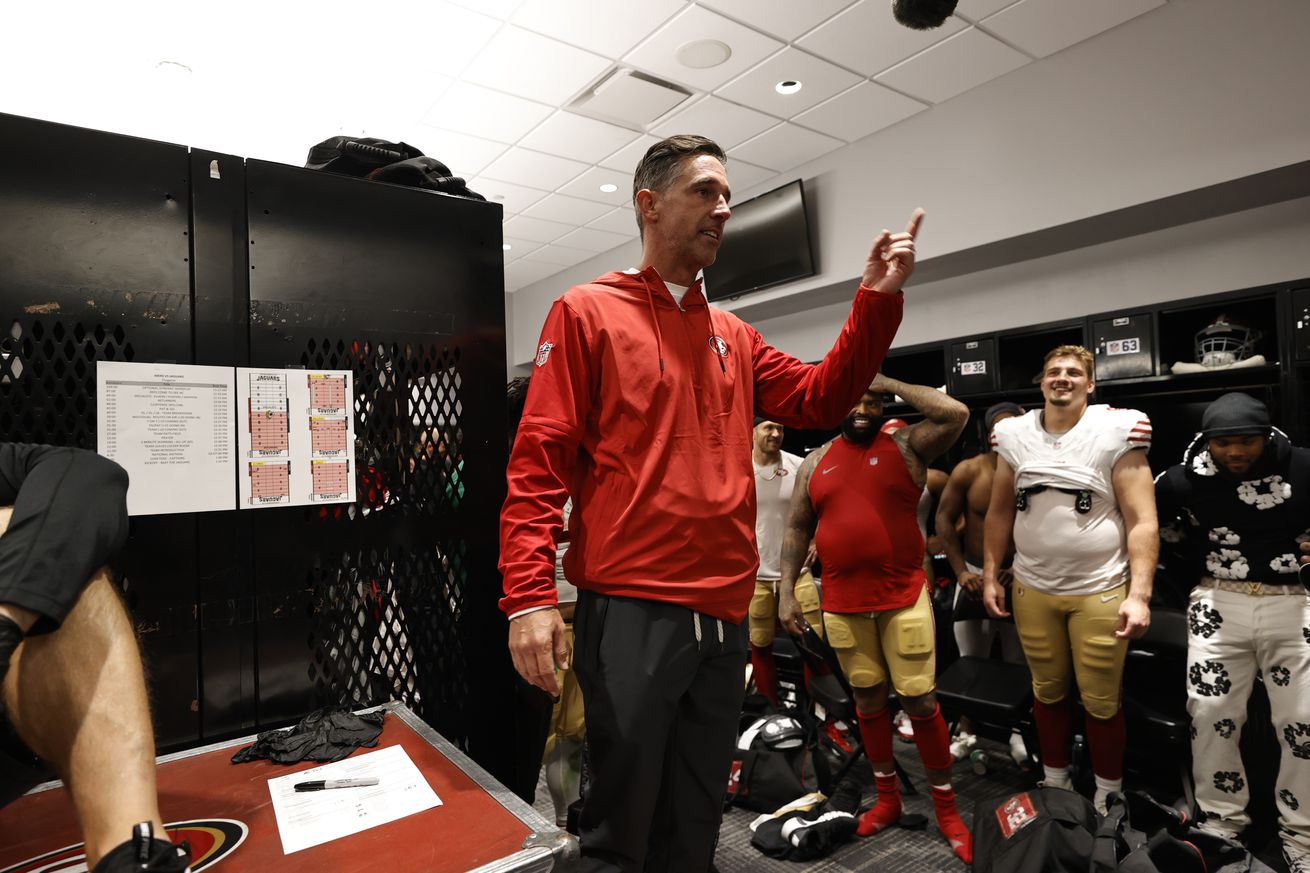 Seattle's loss puts San Francisco sole possession of first place.
For one fleeting moment, the Seattle Seahawks were on top of the NFC West, then they lost. Then they lost again. And now they are behind the San Francisco 49ers once more.
It's not time to crown the 49ers NFC West Champions, they have a tough stretch of a schedule coming up; a gauntlet of sorts to go through before we can start handing them T-shirts and hats. They have the Seahawks this Thursday, on short rest, then they go to Philadelphia to take on the Eagles, and then they host the Seahawks.
This isn't as brutal as "The Gauntlet" from 2019, but it's still going to be a testing schedule. Especially with Seattle, where all sorts of weirdness happens.
As far as NFC playoff positioning is concerned, two very beatable teams played tonight, too bad the Philadelphia Eagles won. That means for the 49ers to even have a shot, the Eagles need to drop a game along with getting beat by San Francisco.
For the 49ers, they are basically needing to run the table at this point and hope for some help from some of the Detroit Lions' opponents. As far as running the table, the 49ers did manage that last year.
If the 49ers can get out of this by getting two wins over the Seahawks, they should have a shot of at least wrapping up the division and sealing the deal with their visit to the Arizona Cardinals.
Seattle Seahawks (6-4)/Los Angeles Rams (4-6)
Thanks Rams!
The Los Angeles Rams managed to get lucky and have the Seattle Seahawks miss a field goal in the final minutes of their game. Outside of the loss, the big news coming from the game was quarterback Geno Smith leaving the game with an elbow injury. Smith would return and nearly win the game for the Seahawks, but then the aforementioned miss with 3 seconds to go sealed the game.
Per Seahawks head coach Pete Carroll, Smith should be good to go for the matchup on Thursday. The Seahawks always play the 49ers tough but even if they were to lose out on the division, they have a wild card spot to snag.
As for the Rams, they will get to play the Cardinals in what I will call right here a fun game.
Arizona Cardinals (2-9)
I think it bears repeating, since I've said it here several times: The Cardinals are definitely not tanking. That's not to say they don't stink because, well, they aren't very good, but they are not folding up and calling it a day.
Texans quarterback C.J. Stroud, who right now has everyone wondering why he wasn't selected sooner, did not play his best game. He went 27 for 37 (72 percent completions) for 336 yards, two touchdowns and three interceptions. We've seen worse, but Stroud was breaking all sorts of rookie records coming into this game. Against the Cardinals he somewhat came back to earth.
The Texans certainly did their best to not capitalize on anything in the second half and did everything they could to not put the game away. A missed field goal early on didn't help and Stroud's interceptions made one think the Cardinals could run away with this.
Credit though to the Cardinals. They gave the Texans everything they had. Kyler Murray wasn't exactly efficient either. (20/30, 1 TD, 1 interception), but he certainly had some moments.
The 49ers play their second game against the Cardinals in Week 15, the week following the Seattle game. That one is no gimmie. If current trends continue, the Cardinals will probably be out of playoff contention by the time that matchup rolls around. It will be interesting to see what Steve Wilks has in store for Kyler Murray, a quarterback that has given other 49ers defensive coordinators migraines.
Into Week 12
It's an NFC West kind of Week 12. The 49ers go into their gauntlet facing the Seattle Seahawks in Seattle. Good thing the away game happens first rather than to close out the season. On paper, this should not be close, but it's worth reminding that the Seahawks play the 49ers hard and have a lot to lose on this one. Expect a pretty close game. Unless Brock Purdy throws up a perfect passer rating again.
The Cardinals and Rams will be squaring off in another divisional matchup. As said earlier, this might be a pretty fun game to watch. It also might be an absolute trainwreck. I'll go with the former.
In any case, the 49ers play on Thanksgiving which lets most of us watch the rest of the NFL on Sunday. Hope to watch it in a good mood.
1st: San Francisco 49ers; Next: at Seattle Seahawks
2nd: Seattle Seahawks; Next: vs. San Francisco 49ers
3rd: Los Angeles Rams; Next: at Arizona Cardinals
4th: Arizona Cardinals; Next: vs. Los Angeles Rams
Share This Story, Choose Your Platform!