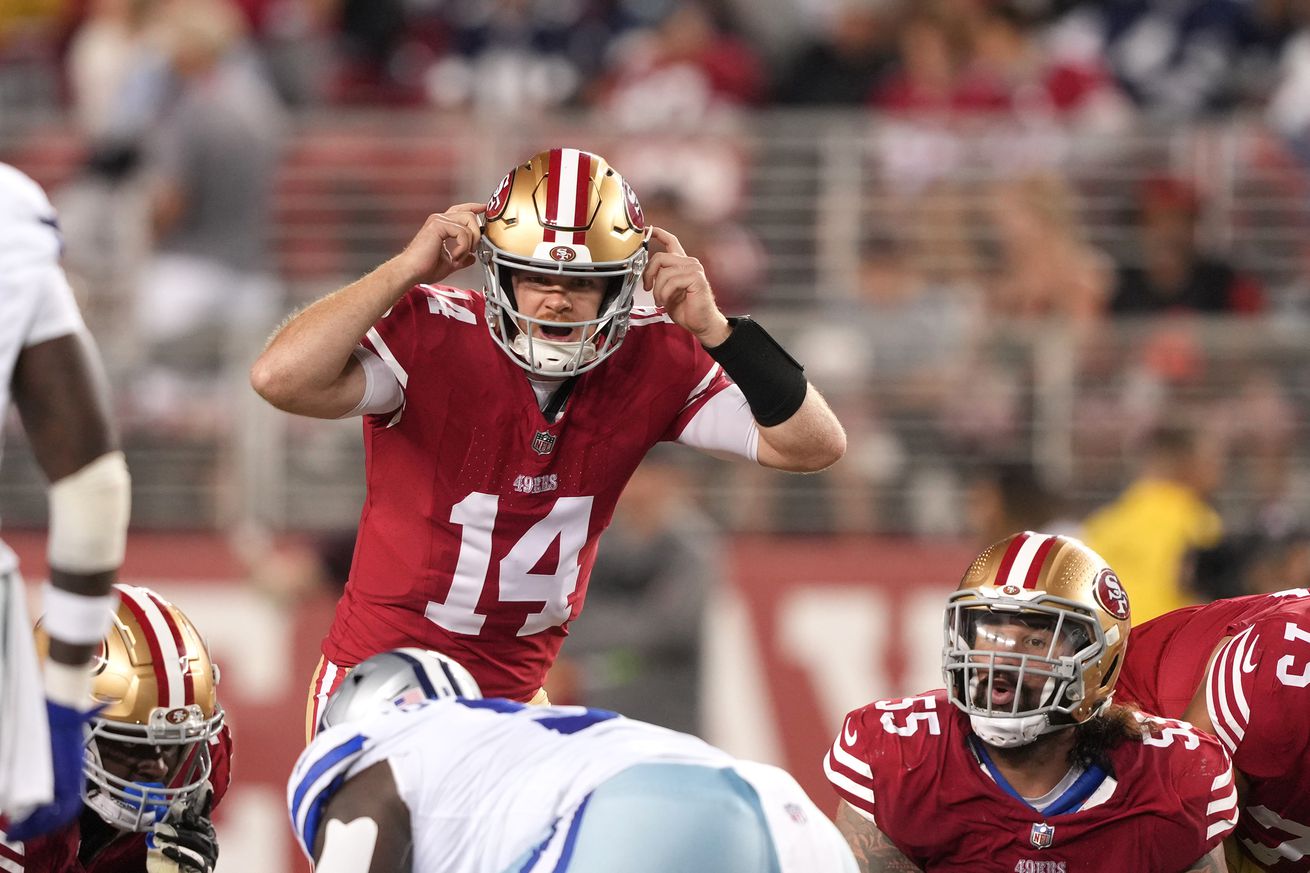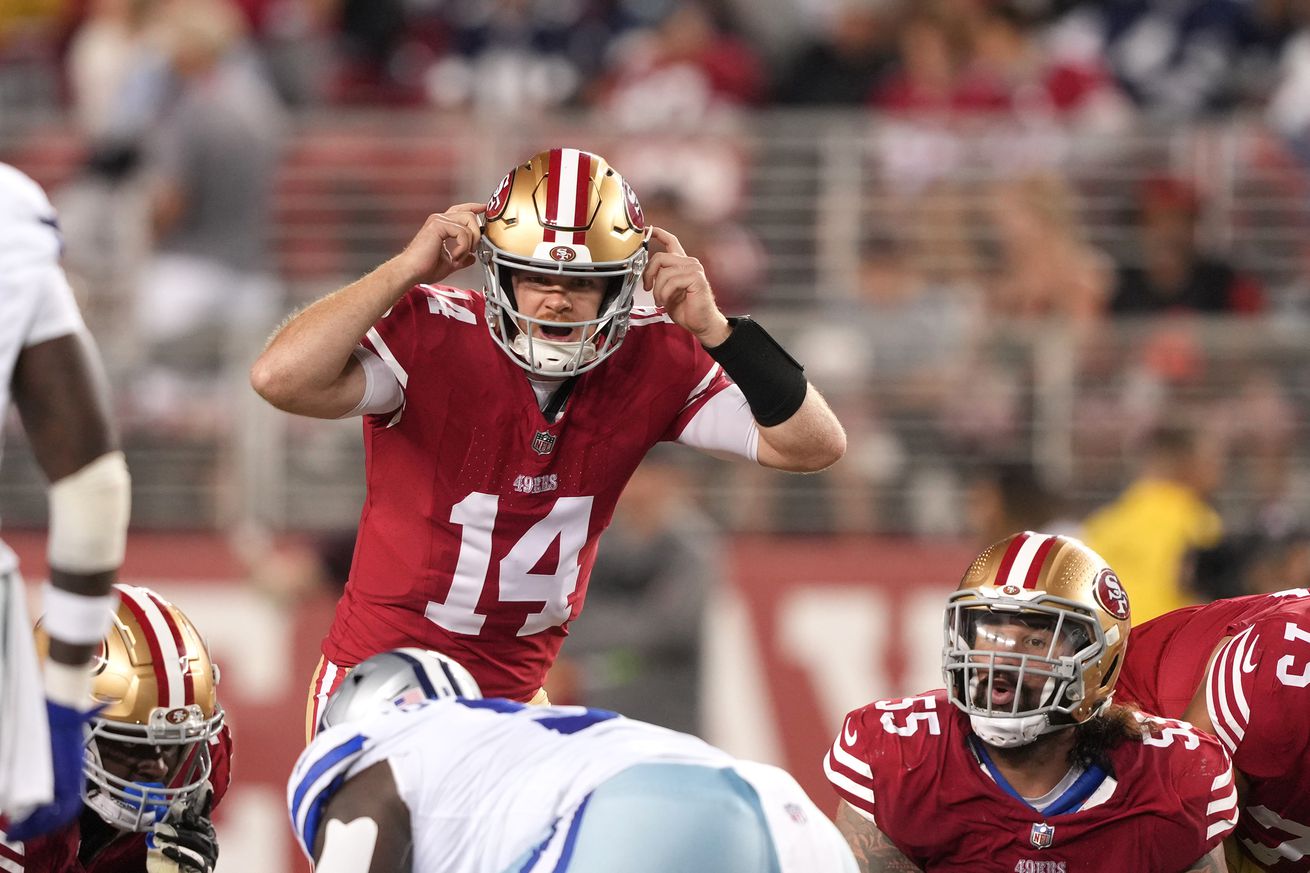 Step away from the ledge.
So you all remember the comparisons of Purdy's worse game to Jimmy Garoppolo's career stats? Yeah…about that. But let's not get too hasty in calling for Sam Darnold. And it seems like most tend to agree, but there are still a few wondering about that other quarterback. This is for that minority.
Pump the brakes. It's not time for that yet. Really, it shouldn't be a consideration, Purdy hasn't played on the level where such a rash decision is necessary, but we know how fans can be. Even if you aren't impressed, even having this conversation is ridiculous.
Purdy played another "bad" game for his career. Well, if you want to call it that. While he went 22 for 31 (71 percent completion) he still threw an interception—and passes—best described as "uncharacteristic". The one enjoyable action was Purdy taking off on the regular when he didn't like what he saw. This could be invaluable later to keep defenses honest against a pocket passer like Purdy.
That is, if there is a "later" due to those aforementioned interceptions. When the 49ers started throwing it and leaving the run, it seemed like the correct move. Against the Minnesota Vikings, they stubbornly kept running Christian McCaffrey for no reason at all. It seemed like the same thing was going to happen with the Bengals. Then Purdy started throwing and it was working.
Until it didn't.
Purdy threw two picks for the stat sheet. One of which that can be called lucky based on a broken play. And while there were some impressive dimes, there also were reasons why the 49ers maybe don't go to pure throwing. Purdy is at his best with a balanced offense. It seems like if he has to start chucking it downfield, expect issues. To be fair, this might be the criticism people could have been right on.
That's all moot for this post, though. The question is, after everything, should the 49ers go to Darnold? The answer is no. Not yet, if ever. If you are part of the minority calling for Darnold, settle down. For starters, Brock Purdy isn't the problem.
But if you are considering this scenario and think the 49ers are going into a bye makes a transition seems appropriate, it's difficult to come back from a quarterback switch. There's a fine line in relationships and the mental game that comes into play.
The moment Kyle Shanahan calls Purdy into his office to say Darnold is starting brings a whole new can of worms. While Purdy has shown the cold, under pressure mentality you want with a quarterback, that news is devastating to a relationship. In other words: if the 49ers go to Darnold, there's no going back without some sort of repercussion.
Plus, if we try to think rationally here, and consider this the first game where Purdy maybe was part of the problem, he still isn't the problem. And yes, the Bengals' loss is not Purdy's fault. To put it solely on him would be ignoring the defensive performance, the Brandon Aiyuk drop, and the team bathing in a shower of yellow flags. The 49ers defense was gashed yet again and remains a major problem.
While we can toss the Cleveland Browns loss to Jake Moody's miss and the Vikings nose dive to his concussion, the Bengals don't have as much cushioning. Trent Williams and Deebo Samuel, both out due to injury, were not factors in those picks on Sunday. One of those picks was a pure mistake. It's surprising the Kittle catch he threw across his body didn't get nabbed either.
Is this enough to have Kyle Shanahan rip up the entire season for Purdy and go to Darnold? Especially when Purdy has had success moving the ball down the field? That's for you to answer. And man, if you say yes, you got some crazy expectations. Purdy has struggled on a few drives, but has he struggled that much? Even against the Bengals he didn't play bad, just inefficient when it mattered. The first time also if you're keeping track.
By the same token, the 49ers need answers, and fast. They are now second place in the division and two games back in seeding. If this continues, the Trey Lance debacle will be forgotten and this team's massive collapse as a Super Bowl favorite will be the new punchline.
Brock Purdy is a second year quarterback. That seems to be forgotten. A second year quarterback having what appears to be growing pains. And if we're being honest, Purdy hasn't looked terrible.
It's too early to go to Sam Darnold yet, but the 49ers are running out of time. If Shanahan thinks Purdy is the future, then you let him develop and essentially go into the postseason with what you will, warts and all. If you still think this team is better than it is, you have to start taking notes. Given the expectations of this group and how disappointing they've looked the last few weeks, the leash on Purdy unfortunately may need tightened.
But how long of a leash do you give him if you even think it's necessary?
Share This Story, Choose Your Platform!