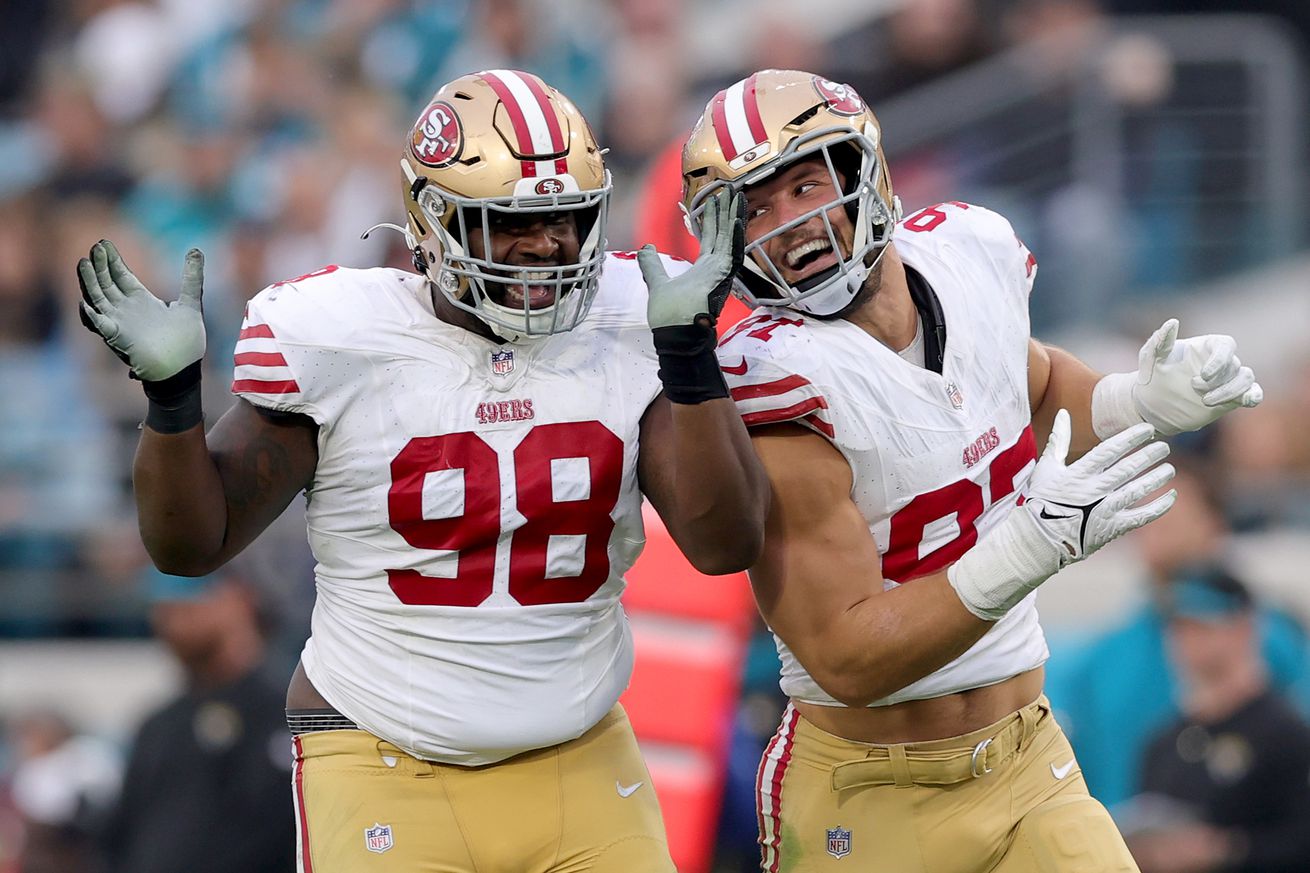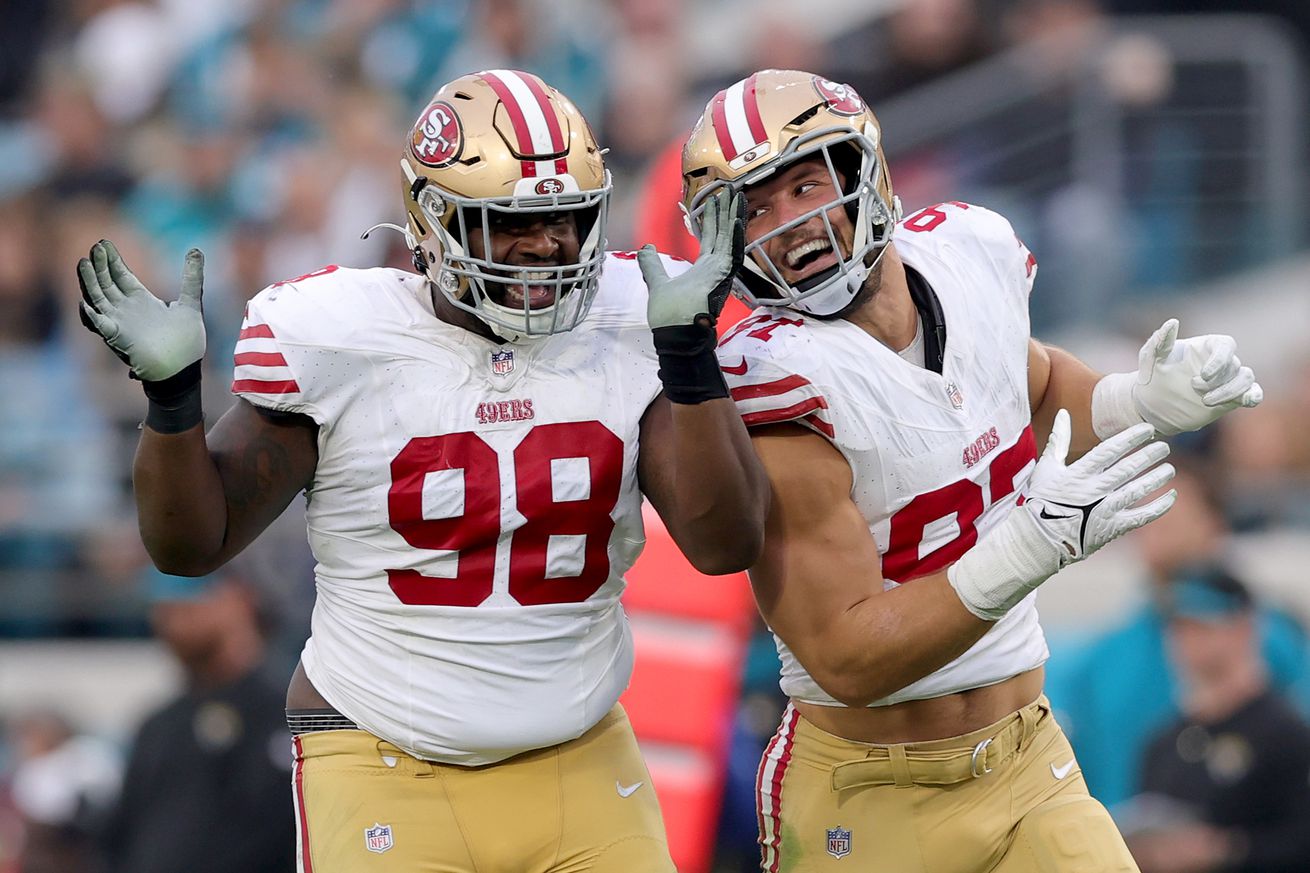 The 49ers reminded the NFL that there's plenty of time for them to reemerge as a juggernaut.
The San Francisco 49ers crushed the Jacksonville Jaguars on Sunday, ending a three-game losing streak with a 34-3 blowout victory. With both teams well rested coming out of their BYE week, the Niners looked refreshed and like they had taken advantage of the hiatus to make some necessary adjustments.
Here are position-by-position grades from the game:
Quarterbacks: A-
Brock Purdy finally broke out of the worst stretch of his young NFL career with arguably his best all-around game. Purdy's combination of patience and aggressiveness paid massive dividends on Sunday, resulting in several big throws downfield. Purdy completed three touchdown passes, each of which traveled more than 20 yards in the air.
He completed one rolling to his left and throwing to his right, one from inside the pocket, and one rolling to his right and back to his left. Purdy still has his limitations, after all, his touchdown throws to Brandon Aiyuk and George Kittle were underthrown, but he gives his supporting cast a chance to make plays, and that was rewarded.
Running backs: A
Christian McCaffrey may not have been able to keep his active touchdown streak alive, but he still accumulated 142 yards from scrimmage on 23 touches. Kyle Juszczyk also hauled in a touchdown pass and had two receptions for 26 yards.
Tight ends: A
George Kittle turned Purdy's first downfield throw of the second half into a 66-yard touchdown by embarrassing a Jaguars' defender in 1-on-1 coverage. Kittle does not get that kind of opportunity much, even on Sunday, only catching three passes for 116 yards, but it was a reminder that there's a reason opposing defensive coordinators dedicate so much effort to scheming Kittle out of games.
Wide receivers: B+
There were only so many passes to go around on Sunday and the Niners wideouts happened to fall short of the incredible production of some of their peers, but that's not really a knock on Brandon Aiyuk and Deebo Samuel. Not every starter is going to end up north of 100 yards from scrimmage. And even in that "lesser" performance, they combined for 114 yards from scrimmage and two total touchdowns.
Offensive line: A
Unsurprisingly, Trent Williams' return stabilized the offensive line. The line was consistently blocking into the second-level on rushing attempts, helping McCaffrey rack up nearly six yards per carry despite zero carries of at least 20 yards. They also consistently gave Purdy ample time in the pocket.
Defensive line: A+
Oh, 49ers fans have been waiting for a game like this. The 49ers defensive line combined for five sacks, with Arik Armstead and Javon Hargrave wreaking havoc from the interior while Nick Bosa and newly-acquired Chase Young were game wreckers from the outside. They combined for nine quarterback hits, five sacks, three tackles for loss, forced fumble, and a hit that directly led to an interception.
Linebackers: A+
Fred Warner's Defensive Player of the Year case got back on track against the Jaguars, recording seven tackles, a pass defended, quarterback hit, and an interception. Warner obviously benefited from playing alongside a rejuvenated Dre Greenlaw, who looked far closer to 100% coming off the BYE week.
Cornerbacks: A
Ambry Thomas was robbed off a forced fumble returned for a touchdown by a pair of rookies preemptively running onto the field, but the former third-round pick's insertion into the lineup at outside corner, which shifted Deommodore Lenoir to the slot and took Isaiah Oliver off the field, clearly paid massive dividends.
Safeties: A
Talanoa Hufanga always seems to end up with a turnover when the 49ers defense is firing on all cylinders, and he finished Sunday with an interception. Tashaun Gipson also had an impressive pass defended.
Special teams: A-
Jake Moody did not miss any kicks, although two of his field goals barely snuck inside the uprights. Mitch Wishnowsky had another amazing day punting.
Share This Story, Choose Your Platform!