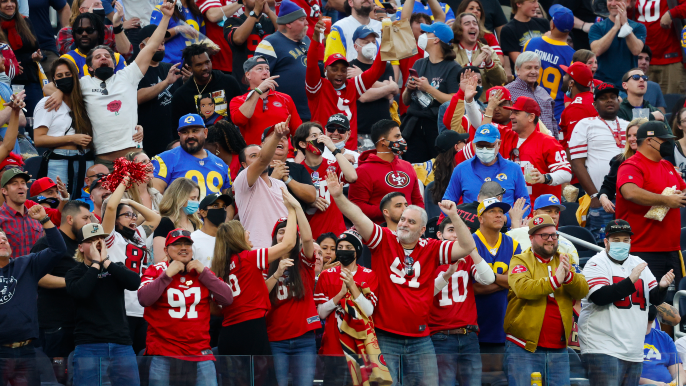 ---
49ers fans are known for traveling well, especially to Los Angeles, and that trend is apparently going to continue on Sunday.
According to Vivid Seats, 49ers fans will make up 59 percent of the crowd at SoFi Stadium in Los Angeles. This is the third road game in a row that 49ers fans have outnumbered the home fans, doing the same in both Atlanta and Carolina.
Last year, so many 49ers fans flooded SoFi stadium that Rams quarterback Matthew Stafford was forced to use a silent count during the regular season finale. According to Vivid Seats, 65 percent of that crowd were 49ers fans.
"It's one of the coolest things I've seen in sports," Shanahan told reporters on Wednesday. "And home-field advantage is a big deal in the NFL because of crowd noise, and when you don't have to worry about that as much on the road, it's huge. And when you actually can get the crowd noise, it doesn't happen very much, but it's a big deal."
Share This Story, Choose Your Platform!