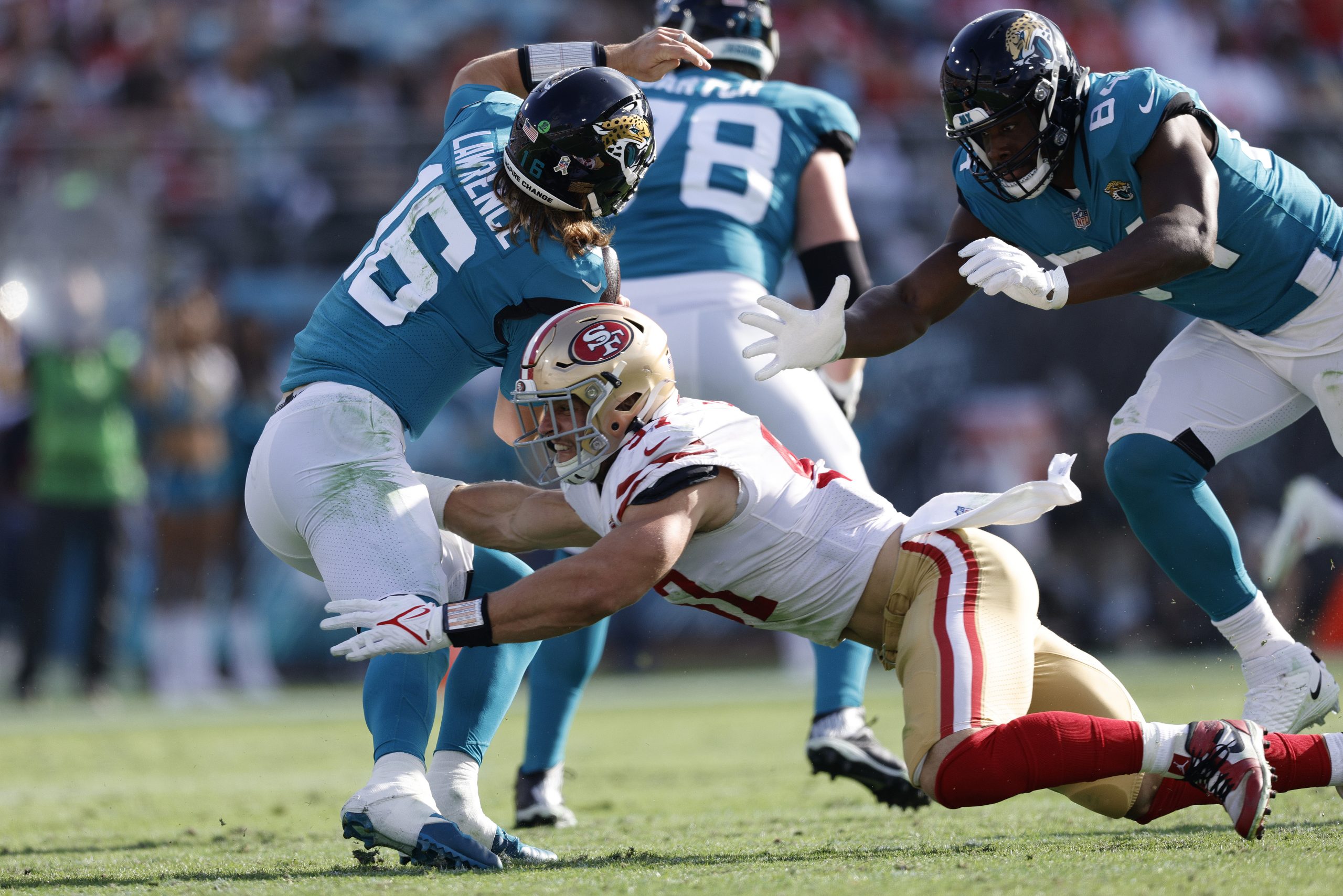 The 49ers defense is going to have its hands full when they face Jaguars quarterback Trevor Lawrence coming out of the bye week.
There are a slew of reasons Lawrence is a challenge. He's a rapidly rising star at the position who carries all of the tools required to be elite at the position. For the 49ers though, making good quarterbacks look worse than they are has been par for the course over most of the last five seasons.
Lawrence, however, poses a unique kind of challenge for a team struggling the way San Francisco has on defense because of how quickly he gets the ball out.
Over the last three weeks the 49ers have had trouble affecting quarterbacks in the pocket consistently enough to force them into mistakes. The pressure numbers are there with 62 in their last three games, but all three have been losses with both Kirk Cousins and Joe Burrow carving up the 49ers defense to the tune of 661 yards, 8.6 yards per attempt, five touchdowns and one interception. Both QBs thrived because they got rid of the ball quickly.
Lawrence has put together an outstanding third NFL season in part by getting the ball out extremely quickly. Per Pro Football Focus, Lawrence gets rid of the football in 2.25 seconds on dropbacks with a pass attempt. That's the second-fastest mark in the league behind Dolphins QB Tua Tagovailoa. His 2.48 time to throw on all dropbacks is fourth fastest in the league. Burrow is No. 3 in that category.
To beat Lawrence and the Jags the 49ers are going to need to do two things.
First, they're going to need to cover effectively enough to get Lawrence to hang on to the ball just a little longer than he'd like to. That'll allow the pass rush to get home and perhaps affect a couple throws.
Then they'll need to tackle. They've struggled mightily with missed tackles the last couple weeks, missing a whopping 22 of them in the last two games. Lawrence is going to get throws off, the 49ers just have to ensure the quick game isn't resulting in a ton of yards after the catch.
Forcing the Jags to live in second or third-and-long will only help in ticking up Lawrence's time to throw and hopefully allow a very talented 49ers pass rush to be the tip of a very good defense's spear once again.
Share This Story, Choose Your Platform!