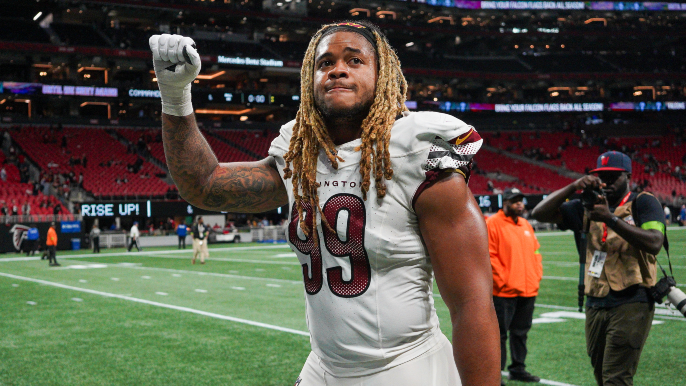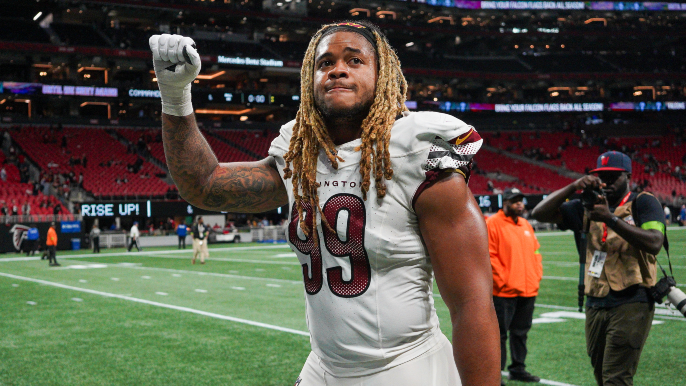 ---
No one can accuse of the 49ers going quietly at the trade deadline. Once again, they've taken a swing.
According to multiple reports, the team is acquiring Washington Commanders defensive end Chase Young, the former No. 2 overall pick, for a third-round pick.
The Ohio State product will reunite along the defensive line with Nick Bosa. Both were coached by legendary defensive line coach Larry Johnson, and spent the 2017 and 2018 seasons together. Young was a freshman in Bosa's breakout college season, though, and Bosa played just three games after a groin injury in his junior year.
Bosa went No. 2 overall in 2019. Young went No. 2 overall in 2020.
Young was arguably the more physically gifted prospect coming out of college, but his NFL career has been marred by injury after suffering an ACL tear in November of 2021. Setbacks in that recovery sidelined him for most of the 2022 season.
From the 49ers' perspective, this is a monumentally straightforward proposition. Their defensive line has not been performing.
They have tried with Drake Jackson, who has gone quiet, if not invisible, since his 3.0-sack opener this season, and with Clelin Ferrell, who has been solid, but not much more than that, and Randy Gregory, who has had some moments as a pass rusher, but isn't a reliable run defender.
Young, meanwhile, has been healthy and effective this season. He has 5.0 sacks on the year, more than any player on the 49ers, who have 14.0 as a team. He has a 18.4 percent pass rush win rate (13th in the NFL) and a 24.1 percent win rate on true pass sets (20th), per Pro Football Focus. He's PFF's 15th-rated pass rusher on the edge among 113 qualified players.
His fellow edge rusher Montez Sweat, who was dealt for a 2nd-round pick to Chicago, is PFF's 49th-rated pass rusher, five spots below former 49er Samson Ebukam. Here's how those two compare as pass rushers and run defenders among edge rushers, per PFF:
Chase Young: 75.4 PFF Grade (31st)
Pass rushing: 5.0 sacks, 79.7 pass rush grade (15th), 18.4 percent pass rush win rate (13th), 24.1 percent win rate on true pass sets (20th)
Run defense: 58.1 grade (78th), 4.6 percent run stop rate (71st)
Montez Sweat: 76.8 PFF Grade (29th)
Pass rushing: 6.5 sacks, 67.2 pass rush grade (49th), 10.6 percent pass rush win rate (60th), 13.0 percent win rate on true pass sets (74th)
Run defense: 83.7 PFF grade (3rd), 7.0 percent run stop rate (39th)
Any excuses for a lack of pass rushing production going forward are now null and void. Run defense may still remain a legitimate concern. At the very least, Young probably won't solve the latter issue.
As for the compensation, it's negligible.
The 49ers were already slated to have three third-round picks this year after being awarded compensation for the hiring of Ran Carthon as Titans general manager and DeMeco Ryans as the Houston Texans' head coach.
That does not include a likely compensatory third-round draft pick for the offseason departure of Mike McGlinchey to the Denver Broncos, who ranks 60th in pass blocking out of 80 qualified tackles by Pro Football Focus.
Oh, and if Young, a pending free agent, signs elsewhere this offseason? The 49ers are likely due another third-round draft pick next year. So, they acquire a (when healthy) star-caliber edge rusher for a superfluous third-round pick that they might get back in a year's time.
Keep in mind that the 49ers' recent third-round picks have not exactly been boons. Here's their third-round pick history under Kyle Shanahan and John Lynch. They have not had a clear success since Fred Warner:
2023:
S Ji'Ayir Brown (26 defensive snaps through eight games)
K Jake Moody (12-of-15, 25-of-25 on EXPs, missed 54-yard field goal and game-winning 41-yard field goal attempt in Cleveland, and a 40-yard attempt in Minnesota)
2022:
RB Ty Davis-Price (40 carries, 120 yards, inactive all season)
WR Danny Gray (on IR, 1 career reception, 10 yards, 1 career rush, 9 yards)
2021:
RB Trey Sermon (51 carries, 210 yards, 1 TD, 4 receptions, 30 yards)
CB Ambry Thomas (Had crucial INT vs. Rams in 2021, has been a backup since)
2020: None
2019: WR Jalen Hurd (never played a snap, retired)
2018:
LB Fred Warner (arguably the best MLB in football)
S Tarvarius Moore (free agent, 61 career games)
2017:
CB Ahkello Witherspoon (up-and-down career, currently playing with Rams, ranked T-72nd out of 125 corners on PFF)
QB C.J. Beathard (hanging out in Jacksonville with Trevor Lawrence and Trent Baalke)
Cap-wise, it's much like the Gregory acquisition. San Francisco has the second-most cap space in the NFL — a $30-plus million pile created through restructures — that it could use if it needed to. John Lynch has stated the team's intention to roll that space over to next year, and Young keeps that plan intact.
He was on a rookie-scale deal that is heavy on bonus money, where Washington absorbs that financial burden. The 49ers only have to take on his roughly $1 million base salary, which is pro-rated for the rest of the season at an estimated cap hit of $561,111, per OverTheCap.
In summary, San Francisco acquired Randy Gregory for a late-round swap that will move them back a few slots in the sixth to seventh round, and Young for one of their three third-round picks — all of which will be late in the third round — which they are likely to recoup in the offseason if they do not re-sign Young.
The only real question here is why Washington dealt Young instead of extending him, or holding out for a second-round pick like they got with Montez Sweat.
Clearly, a second-rounder was not on the table, and they either did not feel comfortable extending Young at his desired price tag, or did not feel like they would be able to retain him this offseason, and would rather have a third-round pick to spend in this year's draft as opposed to the following one, through the compensatory formula.
His health history and complications recovering from his torn ACL in 2021 have to be considered as a substantial factor. If Young was without health concerns, it's hard to imagine a team like Washington not extending him.
To trade both him and Sweat, though, is an interesting bit of business, and puts a massive amount of scrutiny on their general manager Martin Mayhew, who was previously the 49ers' vice president of player personnel.
For San Francisco, this is what draft picks are for, especially in a round they frequently waste them. Even if Young doesn't stay healthy, this is not enough of an investment to be seen as a major risk. He's healthy now, going into a bye week where he can adjust to their scheme, and playing perhaps the best football of his career.
Their run game, however, remains a concern, and that can be argued to be a schematic issue. Unless Young severely complicates their run defense — he profiles as an average run defender — it's hard to see a lens for this trade to be viewed negatively from their side.
Share This Story, Choose Your Platform!