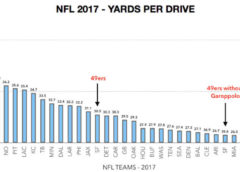 Over the 2018 NFL offseason, we will break down some of the key statistics surrounding the San Francisco 49ers' 2017 season. Today, we will dig into QB Jimmy Garoppolo's effect on the 2017 Niners' yards-per-drive.
When the San Francisco 49ers traded for quarterback Jimmy Garoppolo in late October, they wanted a QB who displayed poise under pressure and an ability to extend drives. The 49ers certainly got more than they bargained for, which is reflected in the teams' ever-important yards-per-drive statistic.
While yards-per-drive isn't the top indicator of a potent offense, it definitely correlates strongly. The reasoning behind yards-per-drive as an important offensive statistic is simple; a team has a limited number of drives per game, and a team is more likely to score the closer they are to their opponent's end zone. If a team can consistently move the ball down the field, then the team will consistently be in a position to score points against their opponent.
As the offensive coordinator for the Atlanta Falcons in 2016, current 49ers head coach Kyle Shanahan's historic offense led the league with 540 points scored, and over 40 yards-per-drive; in fact, three of the NFL's top four point-scoring teams were also in the top-4 in yards-per-drive.
In 2017, the correlation was also strong, as the New England Patriots came in second in points scored, while leading the league with over 39 yards-per-drive; of the top-10 teams in yards-per-drive, six were also top-10 in offensive points scored.
As expected, the 2016 49ers were near the bottom of the league with just 25 yards-per drive. In 2017 — with Shanahan calling the plays — the Niners drastically improved that mark by over five yards-per-drive, and finished the season in the top half of the league:
However, as much as Shanahan helped the team boost their numbers, quarterback Jimmy Garoppolo deserves the majority of the credit for the 49ers' improvement. With quarterbacks Brian Hoyer and C.J. Beathard under center, the 49ers averaged just 26.6 yards-per-drive, which is still an improvement over the previous year. But once Garoppolo was handed the reigns, the Niners' numbers skyrocketed to over 42 yards-per-drive — more than both the top-ranked Patriots, and even Shanahan's 2016 Falcons:
Under Garoppolo, the San Francisco 49ers' improvement in yards-per-drive translated into more points, which translated into five straight wins for the team.
Share This Story, Choose Your Platform!