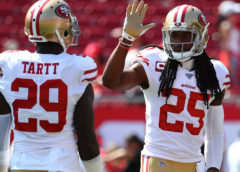 After reviewing the Pittsburgh Steelers' offense during their game last week against the Seattle Seahawks last week, it's obvious the Steelers run a fairly vanilla offense compared to years past. Besides one trick play, the Steelers weren't very creative with their play calling during Week 2.
They ran some basic screen plays, but nothing that the 49ers' defense shouldn't be able to quickly recognize and diagnose during Sunday's matchup. One glaring difference between the Steelers and the majority of NFL teams is their use of the shotgun formation. The Steelers have lined up in shotgun formations on a whopping 86 percent of their plays in 2019, which ranks third in the NFL behind only the Baltimore Ravens and the Arizona Cardinals.
Their use of shotgun formations saw little change when quarterback Ben Roethlisberger was replaced by Mason Rudolph in the third quarter of last week's game. In addition to utilizing shotgun formations more than the majority of teams in the league, they also run a lot of heavy sets with six offensive linemen, Most teams use these types of formations when they need minimal yardage on third-and-short or third-and-goal, but the Steelers run it in a variety of situations including on first downs.
One of the Steelers' primary passing targets is former 49ers tight end Vance McDonald. McDonald was able to haul in a pair of touchdowns in last week's game against the Seahawks. On his first touchdown of the contest, McDonald did a great job of quickly realizing the Seahawks sniffed out the screen pass, finding a hole in the defense, making the catch and taking it in for the score.
On McDonald's second touchdown, he benefited from a good play-action fake by Rudolph and a great block by backup tight end Xavier Grimble. After the fake pulled Seahawks linebacker K.J. Wright out of his zone, Grimble did a great job of engaging Wright to help create a clear throwing lane for Rudolph to deliver the touchdown pass to McDonald.
After Roethlisberger's elbow injury forced him from the game in the third quarter, Rudolph was given his first opportunity to play significant snaps for the Steelers — and he was up to the task. Rudolph had a solid day, going 12 for 19 for 121 yards, including a pair of touchdowns and an interception. His interception came on a perfect third-and-long attempt that bounced off wide receiver Donte Mocrief's hands. Rudolph looked comfortable in the pocket and he did a decent job of going through his progressions, while dumping the ball off when he was under pressure. He also showed the ability to use his legs to convert a critical third-and-long attempt. At times, Rudolph demonstrated his lack of experience by locking in on his primary receiver for an extended period of time, even when his receiver was tightly covered. Although he faced some challenges, Rudolph appeared to be a competent quarterback with the potential to excel at the position.
How to beat the Steelers Offense
1- Get off the field on third down
If the 49ers want to be able to get off the field on third down, they can look for a couple specific play concepts from the Steelers. On third-and-long against Cover-3 defenses, the Steelers often send multiple receivers deep run one or two receivers on either underneath routes or on deep comeback routes. The 49ers' secondary will need to properly diagnose these plays and attack the Steelers' shallower receivers in order to force Pittsburgh into fourth downs.
2- Covering Screen Passes
When the Steelers want to keep opposing offenses off-guard, they often do so through the use of screen passes. They run screens with a variety of players, but McDonald is an obvious favorite. 49ers linebackers K'won Alexander and Fred Warner will be responsible for diagnosing and properly defending the Steelers' screen passes. San Francisco needs to limit McDonald to minimal gains on screens and shorter pass attempts in order to contain one of the Steelers' most explosive offensive weapons.
3- Get to the Quarterback
Quarterback pressure is often the key to defensive success, but the Steelers' offensive line has been one of the NFL's best units in protecting the quarterback this season. Pittsburgh ranks second in this metric, per Pro Football Focus (PFF), and allowed just one quarterback hit and no sacks against the Seahawks' defensive front. If the 49ers' defensive line can beat the Steelers' offensive line and get to Rudolph, San Francisco should fare well in this matchup. With defensive end Nick Bosa and EDGE Dee Ford questionable for Sunday's game, the 49ers hope to have their complete pass-rushing arsenal at their disposal.
Share This Story, Choose Your Platform!