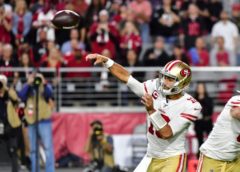 After reviewing each of quarterback Jimmy Garoppolo's passes during his tenure with the San Francisco 49ers, we selected Jimmy G's top 5 plays, and then broke each one down for this edition of 49ers Film Room.
San Francisco 49ers quarterback Jimmy Garoppolo brought a great deal of excitement — and a number of impressive plays — to the Bay Area since general manager John Lynch and head coach Kyle Shanahan acquired the signal-caller from the New England Patriots two years ago.
Jimmy G completed 333 passes over roughly 16 games since he was traded to San Francisco during the 2017 NFL regular season. After a tweet by Locked on 49ers Podcast host Brian Peacock during last week's game sparked a debate about Garoppolo's best throw as a Niner, we decided to participate in the enjoyable task of watching — and ranking — each of those 333 completions.
In the end, we concluded the following five plays are Garoppolo's finest to date, and then we broke each one down [credit goes to Aaron Wilson of Insidethe49.com for the video editing work] for today's edition of 49ers Film Room:
No. 5: Garoppolo and Taylor Improvise for the Score
Like many of Jimmy G's top plays, this one comes on a key third down in the fourth quarter of the contest. Garoppolo's improvisational side-armed touchdown throw to wide receiver Trent Taylor extends the 49ers' lead to two scores over the Jacksonville Jaguars — owners of the NFL's best defense in 2017.
This play makes our list not because the pass was thrown with pin-point accuracy, but because Garoppolo did everything he could to give Taylor an opportunity to score: he extends the play, properly sets his base, changes his throwing motion to fit the pass between three defenders and puts the ball where only his receiver can make the play:
No 4: Garoppolo's Perfect Touchdown Pass in his 49ers Debut
When Garoppolo was thrust into action against the Seattle Seahawks due to injury in 2017, he wasted no time making his mark despite his limited knowledge of Shanahan's playbook. After moving the sticks with an 8-yard completion on fourth down, Garoppolo rushes the 49ers to the line with just two seconds remaining on the clock. Again, Jimmy G gets flushed to his left side, but makes sure to quickly set his feet before throwing the pass into the tightest of windows for his first touchdown as a member of the Niners:
No 3: Garoppolo Shows Grit on Third Down
Garoppolo is best on the money down — third down — and his willingness to stand tall in the pocket is on clear display during this third down completion to tight end George Kittle. The quarterback feels the heat of the Kansas City Chief's pass rush, but despite the free blitzer bearing down on him, delivers the perfect pass needed to move the sticks:
No 2: The Garoppolo-Sanders Connection Is Real
The play that began this conversation comes in on our list at No. 2. On third down, Garoppolo recognizes man coverage, but is forced to release the pass to WR Emmanuel Sanders before his new wideout makes his break, trusting Sanders to run his route to perfection. Despite stepping on his lineman's foot, Jimmy G throws a perfect pass to Sanders, who gets his head around in time to find the ball within his grasp:
No 1: Garoppolo and Pettis Kick off the 49ers' 2018 Season
While it's difficult to top the previous pass, Garoppolo's first touchdown of the 2018 season comes in at No. 1 on our list. This play has checks all the boxes: Jimmy G correctly reads the defense, spins away from pressure, and then has a fraction of a second to find WR Dante Pettis streaking downfield before lofting a perfect 40-yard pass into his receiver's hands in the back of the end zone for the score:
Share This Story, Choose Your Platform!
In the 49ers Film Room, we analyze San Francisco 49ers game film, including offensive and defensive concepts as well as specific player performance. We also break down upcoming opponents, dig into the film of potential free-agent fits, and analyze key trends from across the NFL: