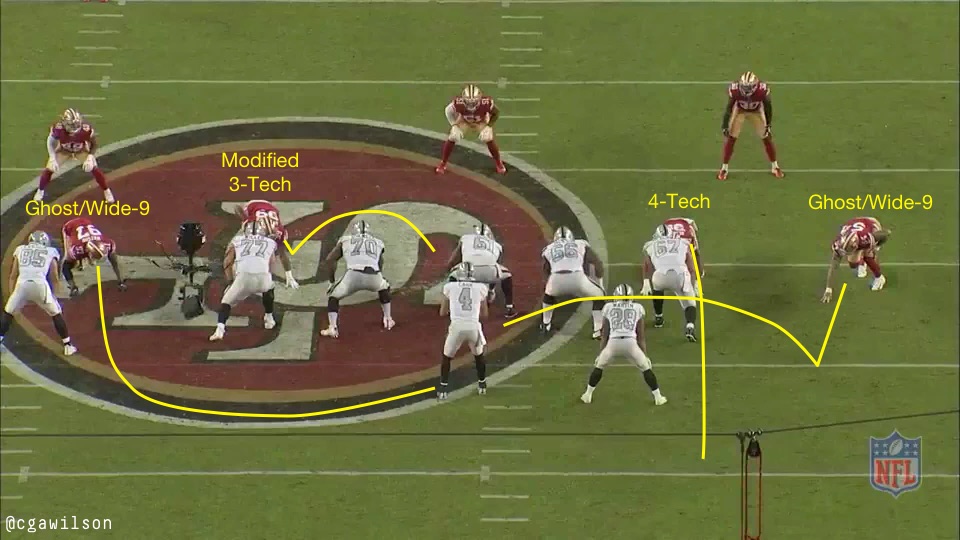 In this series of 49ers Film Room, we break down the "Wide Nine" technique and its effect on the San Francisco 49ers' 2019 defense. In Part 3, we review how Nick Bosa and Dee Ford will attack the quarterback — with the assistance of DeForest Buckner — from "Double Wide-9" defensive alignments.
This is the third installment in our latest 49ers Film Room series analyzing the wide-9 technique the San Francisco 49ers will implement during the 2019 NFL season. You can check out the first two articles here:
1. 49ers Film Room: The Wide-9 in San Francisco's 2019 Defense
2. 49ers Film Room: DeForest Buckner to Benefit from Double Wide-9
In our second segment, we broke down how defensive tackle DeForest Buckner is able to dominate as an interior pass rusher when the San Francisco 49ers utilize two "Wide-9" or "Ghost Nine" defensive ends on obvious passing downs. Today, we'll demonstrate how Buckner's presence will help the 49ers' new premier edge rushers Nick Bosa and Dee Ford attack opposing quarterbacks during the 2019 season.
Per Pro Football Focus, Bosa was the top edge defender in the 2019 NFL Draft and Ford was the highest-graded pass-rusher in the NFL last season. With both players slated to rush from the outside on passing downs, San Francisco should be able to get after the quarterback in 2019. But even with journeyman edge defenders last season, the 49ers found success — thanks to Buckner wreaking havoc from the inside.
49ers' Double Wide-9 When Offenses Focus on Buckner
In order to protect against inside running plays on probable passing downs, 49ers defensive coordinator Robert Saleh has used wide-9 or ghost-9 technique defensive ends on the outside paired with a modified 3-tech defensive tackle and a larger DT or nose tackle on the inside. As we discussed previously, the job of DT Sheldon Day is to occupy the opposing center and right guard to allow San Francisco's three remaining pass rushers to attack the quarterback. Here, Buckner lines up wider than a traditional 3-technique DT — in what we'll call a "Wide-3 Technique" since it's not a true 4i-tech — with his body angled toward Oakland Raiders quarterback Derek Carr: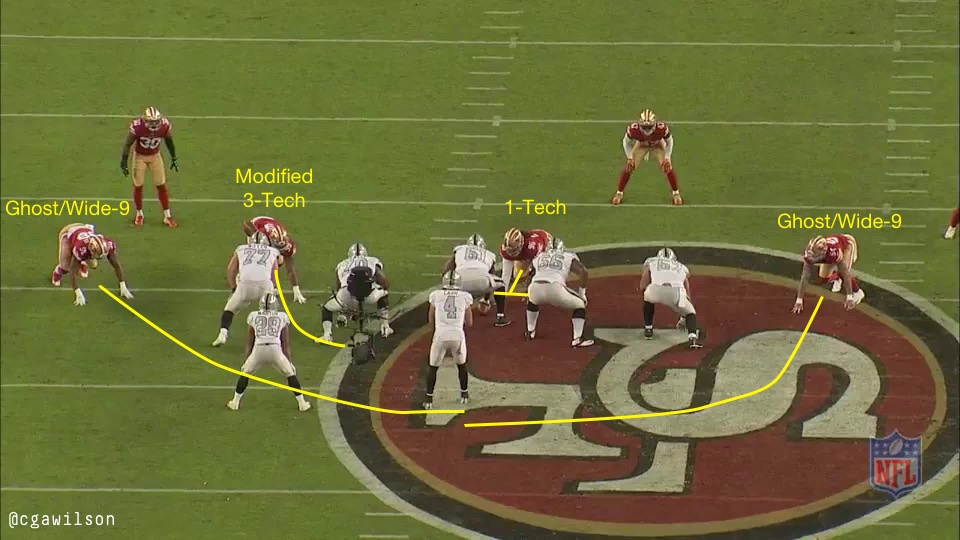 By lining up far to the outside, EDGE Cassius Marsh is able to quickly get upfield and engage Raiders offensive lineman Ian Silberman, who is isolated, off-balance, and ill-prepared for contact. On the left side of the formation, running back Doug Martin purposefully sidesteps defensive end Ronald Blair in order to make contact with Buckner. Meanwhile, left tackle Kolton Miller is so concerned with Buckner — lined up directly in front of him — that his first move is toward the DT, which allows Blair to bull rush him back into the middle of the pocket, forcing Carr to the ground for the sack:
49ers' Double Wide-9 With Buckner as a Decoy
Knowing the Raiders are focusing on stopping Buckner, Saleh calls another variation of his standard "Double Wide-9" pass rush on the following play. Here, EDGE Dekoda Watson lines up wide next to Buckner, with Blair — as opposed to a larger DT — in a 4-tech inside Marsh.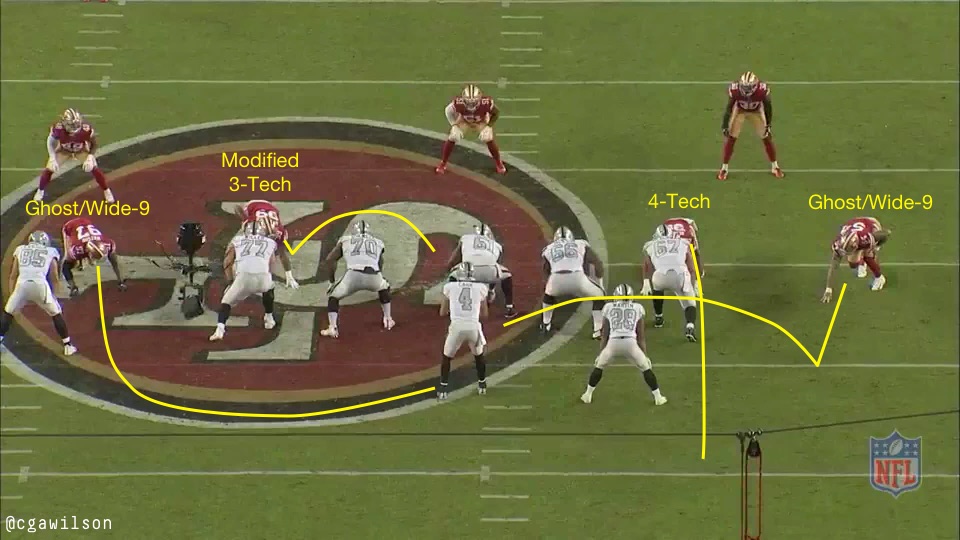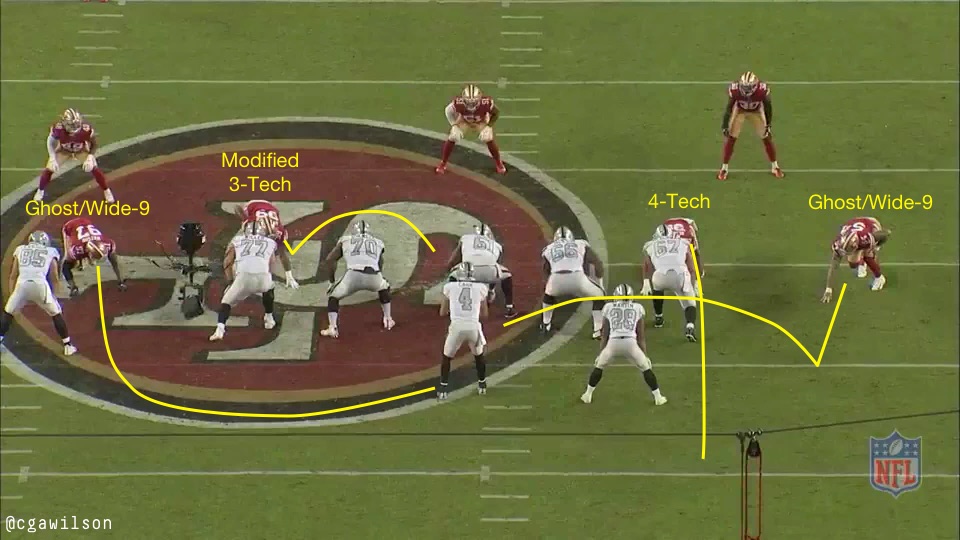 On this play, Buckner takes the inside route toward the center, who is expecting a pass rush from his right side. Instead, Blair fires down the line toward Miller, which surprises guard Gabe Jackson, who attempts to force the defender farther outside. With Blair occupying both linemen, Marsh is able to avoid Martin and cut back inside toward Carr. Jackson's recovery is too late to stop the pass rusher as Marsh and Watson meet at the quarterback for the combined sack:
If "Double Wide-9" or "Double Ghost Nine" defensive fronts can be this effective with EDGEs like Marsh and Watson, the 49ers' new elite pass rushers Bosa and Ford should make these alignments lethal against opposing passing offenses in 2019. Unfortunately, like any defensive scheme or alignment, 49ers defensive line coach Kris Kocurek's favored front is far from perfect — particularly against the run. In our next segment, we'll discuss the downsides of the Wide-9, and break down why the 49ers are unlikely to use the Double Wide-9 alignment as their base defensive front this season.
Share This Story, Choose Your Platform!
In the 49ers Film Room, we analyze San Francisco 49ers game film, including offensive and defensive concepts as well as specific player performance. We also break down upcoming opponents, dig into the film of potential free-agent fits, and analyze key trends from across the NFL: